Manufacturing Data Out Of China Sends Mixed Signals About The Economy's Health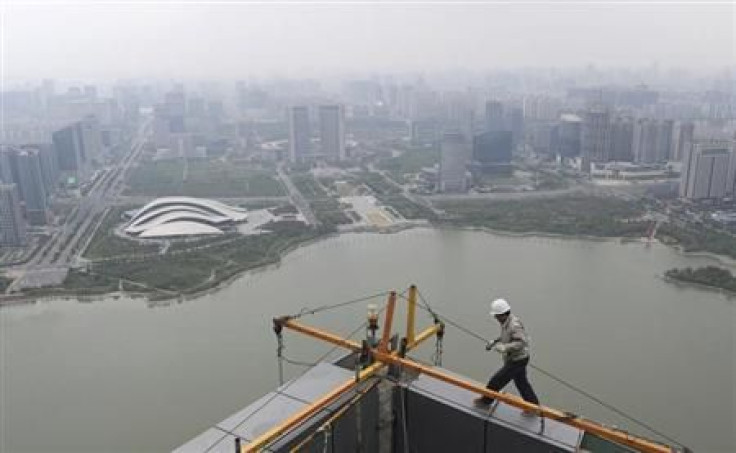 Asian markets began the week on Monday trying to decipher the meaning behind conflicting manufacturing data out of China, the world's second largest economy.
HSBC's Manufacturing Purchasing Managers' Index for China, fell to 49.2 in May from 50.4 in April, a release said on Monday. A reading below 50 indicates a contraction in manufacturing activity across the country, while a reading above 50 indicates expansion.
The latest reading is the first deterioration in operating conditions in seven months, "albeit at only a marginal pace," the HSBC press release noted.
"The downward revision of the final HSBC China Manufacturing PMI suggests a marginal weakening of manufacturing activities towards the end of May, thanks to deteriorating domestic demand conditions," Hongbin Qu, China's chief economist at HSBC, said in the release.
"With persisting external headwinds, Beijing needs to boost domestic demand to avoid a further deceleration of manufacturing output growth and its negative impact on the labour market. The new leaders should strike a delicate balance between reform and growth."
However, China's official manufacturing index -- which came out on Saturday -- showed that manufacturing activity improved as the gauge edged up to 50.8 in May from 50.6 in April.
The official PMI report was higher than all estimates in a Bloomberg News survey of 30 analysts, Bloomberg reported.
"The mixed PMI results and the NBS's new method for seasonal adjustment have made it difficult to gauge the strength of the economy," Jian Chang, an economist at Barclays Plc. wrote in a note today, according to Bloomberg.
Some economists noted that the the official PMI typically does not fully account for seasonal patterns.
In Monday morning trade in Asia, Chinese stocks rose in choppy trade while Japanese shares plunged with a strong yen prompting selling in exporters. The Shanghai Composite index rose 0.28 percent while the Nikkei was down 2.6 percent, marginally up from a 6-week low reached earlier in the day.
The cautious optimism in Asian markets is expected to continue despite worries about the future of the U.S. Federal Reserve's quantitative easing program, which has buoyed up global markets in recent times, especially following reports of concerns among Fed officials about the aftermath.
On Monday, the official index for the non-manufacturing sector, or the services sector, was reported to slide down to 54.3 in May from 54.5 in April, the lowest reading since last September.
© Copyright IBTimes 2023. All rights reserved.