March Madness 2015 Online Betting, Office Pools Test Problem Gamblers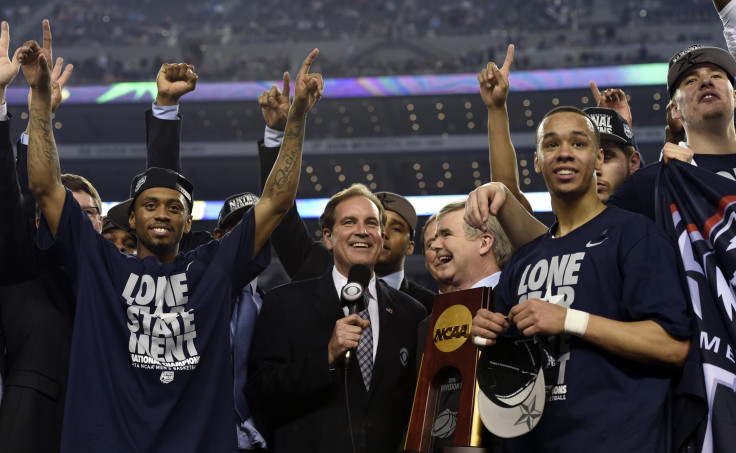 For better or worse, gambling and the NCAA's March Madness college basketball tournament go together like a pick-and-roll. Sports fanatics gather in office corners and dive bars to check point spreads and brackets against a non-stop slate of on-court action.
But for the millions of Americans who are classified as "problem gamblers," the endless barrage of betting lines, television advertisements and office banter are a constant source of temptation. Like St. Patrick's Day for an alcoholic or Halloween candy for a diabetic, the March Madness tournament functions as a prolonged test of a gambling addict's willpower unlike any other they're likely to face for the rest of the year. The rise of online and offshore facilitators, coupled with the mainstream media's implicit support for gambling, has made that challenge more difficult than ever before.
"The Super Bowl used to be, anecdotally, the biggest betting time of the year. Now I think March Madness has surpassed it in terms of broad participation across the country, in terms of money. It's become a national gambling holiday," said Kevin Whyte, executive director for the National Council on Problem Gambling in Washington D.C.
Statistics support Whyte's assertion. For decades, the Super Bowl was considered the pinnacle of sports betting. Gamblers spent $119.4 million on Super Bowl XLVIII in 2014 at legal Nevada sportsbooks alone, according to the Associated Press. The March Madness tournament has become a bigger gambling event, if only because of the sheer volume of games.
Americans will spend an estimated $2 billion on more than 70 million March Madness brackets and an estimated $9 billion in tournament bets in total this year, according to the American Gaming Association's projections. Estimates differ on how much of that money will be wagered in Nevada. The AGA places the number at $240 million, while estimates among Las Vegas bookmakers range from $100 million to $200 million, according to ESPN.
But the vast majority of the money wagered during March Madness – some $7 billion – will go through neighborhood bookies and online, often illegal offshore sports books. "It's huge. It's significantly larger than the legal market," said Christopher Moyer, director of media relations at AGA.
The ever-increasing prevalence of these online sports books are a major issue for problem gamblers. Technological advances and the sheer accessibility of these illegal operations make it easy for gambling addicts to place large bets on sports events without the physical cash a bookie would require. The NCAA tournament consists of 67 games – bad news for a gambler who believes he's just one more bet away from recouping his losses.
"One of the impacts of that accessibility has been making higher-stakes wagering a lot easier. With your local bookie, it might be hard to get down the kind of money that you're able to easily, if foolishly, spend with an offshore bookie," Whyte said.
Approximately 5.5 million adult Americans, or about two to three percent of the nation's population, fit the profile of a problem gambler, according to the National Council on Problem Gambling. Many of these individuals possess a family history or genetic predisposition to gambling addiction. Individuals who grow up in a household of addiction – whether to gambling or substances – are also more likely to become problem gamblers.
Other variables, such as military service and drug or alcohol use, are also risk factors. Some problem gamblers bet to escape their troubles, such as an illness in the family or a bad breakup, while others use gambling to self-medicate grief or depression.
Gambling addicts are predominantly male and are typically between the ages of 18 and 24, though some 500,000 adolescents are considered problem gamblers, Whyte said. The effects are cumulative – the more factors that apply to an individual, the more likely it is they'll engage in risky betting. And the genetic component of compulsive gambling means some families remain in a vicious circle for generations.
While counselors have developed a statistics-based profile of the average problem gambler, experts stressed that it can be difficult to identify the signs on an individual basis. Certain behaviors, such as a marked increase in lying, risk-taking or unaccounted absences can serve as indicators. Many addicts are normal, prosperous members of society who happen to have lost control of their habit, but do not display the signs of physical dependency that often reveal heavy drug or alcohol use.
"They're very high-functioning, very smart. A family member or employer may not see signs," said Damon Dye, a licensed mental health and gambling counselor. "It's not necessarily something that's easy to detect, like drugs or alcohol. You can see that, smell that, tell that someone's under the impairment."
A gambling addiction can be just as destructive to a person's life as an addiction to drugs or alcohol, but many advertisers and media outlets treat sports betting as a given, if not something to be celebrated. Just open most major newspapers around the United States and there will be a page dedicated to point spreads and betting lines.
Television networks devote entire segments to identifying the week's best bets. March Madness brackets are a corporate ritual, often viewed as a positive way to foster camaraderie in the workplace rather than a potential trigger for an at-risk individual.
The NCAA Tournament's all-inclusive nature is part of what makes it so appealing to the mass audience, said Alan Zaremba, associate professor of communications studies at Northeastern University in Boston, Massachusetts. "You don't even have to know what basketball's like. It's kind of being part of the culture and part of the buzz to fill out a bracket. You can even pick teams based on their names," he said.
Zaremba wrote "The Madness of March: Bonding and Betting with the Boys in Las Vegas," a catalogue of his experiences watching the NCAA basketball tournament amongst fans in Nevada. Most people who traveled to Sin City were die-hard sports fans who simply wanted to watch non-stop basketball, or maybe place a bet or two on their favorite team. But a select few were glued to the screen for an entirely different reason.
"You hear whoops and cries when you don't even know what they're yelling about. It's halftime in a game and someone makes a layup and you don't know why someone is screaming bloody murder," Zaremba said. "It's because he had the halftime spread at two points and the guy makes a layup to make it within one point and he's out of 50 bucks."
The prevalence and dangers of problem gambling won't enter the national consciousness until advertisers and media outlets change how they discuss betting, particularly as it pertains to March Madness, counselors said.
"A lot of companies have some very good, socially responsible means of advertising their products, but also sending a message of responsibility. That same kind of ethic that we now see a lot more around New Year's Eve, in terms of drunk-driving, we would now like to see applied to the way that people in the media talk about March Madness," said Whyte.
Awareness to gambling addiction has steadily risen in recent years. The National Council on Problem Gambling expects to receive approximately 300,000 calls from individuals seeking help in 2015, the majority of which will come in March, during a so-called "national gambling holiday." Betting isn't inherently problematic, so long as a person can stick to a set limit of time and money spent gambling. But experts urged individuals who find themselves unable to control their habit, particularly during March Madness or other major gambling events, to seek professional help through Gamblers Anonymous or other counseling services.
"Start by realizing you're not alone. Because it feels like it, because we're not talking about it. There's a lot of shame and guilt and a lot of guys feel like there's something weak about it. It's not until I got into the counseling field that I realized that's not necessarily the only way," said Dye.
FOR FREE to continue reading
✔️ Unlock the full content of International Business Times UK for free
offer available for a limited time only
✔️ Easily manage your Newsletters subscriptions and save your favourite articles
✔️ No payment method required
Already have an account?
Log in
© Copyright IBTimes 2023. All rights reserved.