MARCH MADNESS PREVIEW: Arizona vs. Duke (Tonight, 9:45 PM EST; TV: CBS)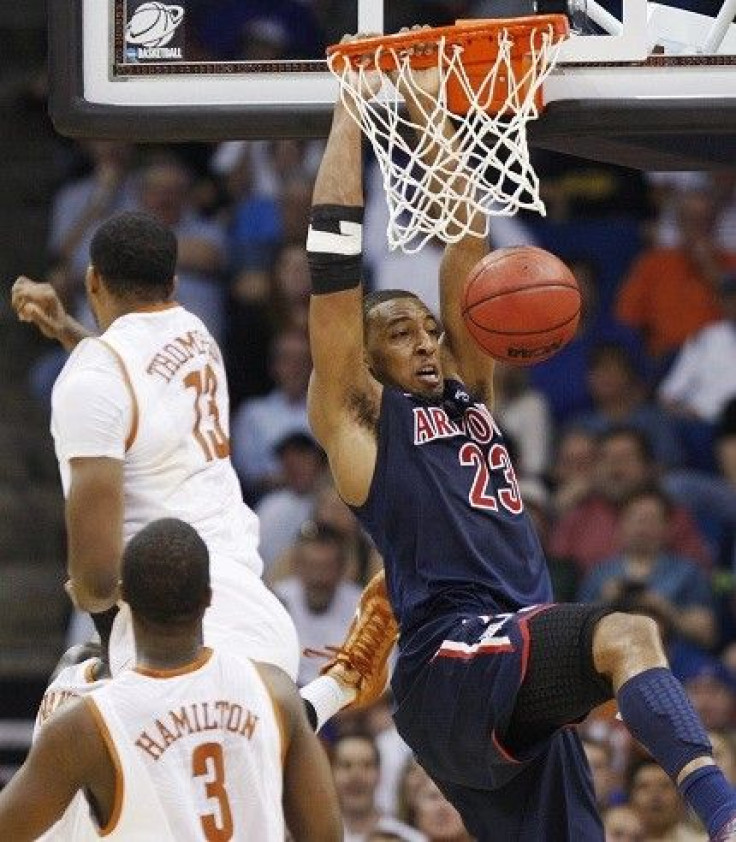 Some may consider tonight's Duke-Arizona game as a matchup between the best team in the nation and the best player in the nation.
Despite all of the discussion about the high-quality point guards in the college game today, the player considered to be the best NBA prospect is Arizona's Derrick Williams.
The 6'8 forward spent most of the game against the Texas Longhorns in obscurity before breaking out in the final 12 minutes, and becoming a major reason the Wildcats were able to squeak out a somewhat controversial victory.
Most NBA Draft experts predict Williams will be drafted first overall, or at least in the top four.
The sophomore is averaging better than 19 points and eight rebounds a game.
The Wildcats were almost a team that would be playing against him rather than having him on their roster. Williams had previously signed with Pac-10 rival USC amongst a stellar recruiting class, but when charges were leveled against the basketball program amid then-head coach Tim Floyd departing, Williams and fellow Arizona starters Solomon Hill and Lamont Jones found their way to Tucson.
Williams and his teammates will have a major test when they face the Duke Blue Devils tonight.
Number one-seed Duke survived a scare against Michigan in the third round. The Blue Devils were leading for nearly the entire game, but the Wolverines edged back in the final minutes.
With freshman Kyrie Irving, a potential lottery pick, and senior Nolan Smith, among the best players in the nation, Duke has arguably the best backcourt in college basketball.
But they may need the defense of senior Kyle Singler to hold off Williams if the Blue Devils expect to beat Arizona in Southern California.
Though Duke spent most of the season as the top ranked team in the nation, and fared no worse than fifth, the game will be played in Anaheim, which gives Arizona the advantage of being close to home.
The winner of the game will play the winner of UConn-San Diego State.
© Copyright IBTimes 2023. All rights reserved.