Marijuana Costs In The US: How Black Market, Retail And Medical Pot Prices Compare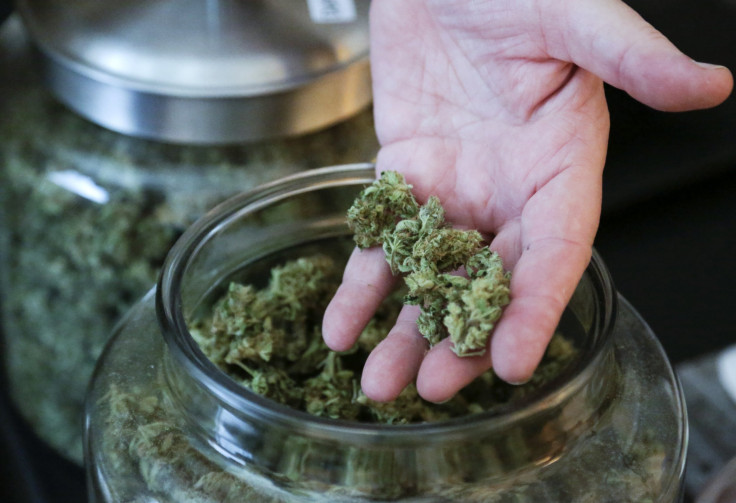 Marijuana suppliers and connoisseurs are watching to see if consumers of legal marijuana in Washington state will take to government-sanctioned weed, which became available on Tuesday, or if illicit suppliers' lower costs will keep consumers from going legit.
This much is known: Legal pot means higher-priced pot -- by a long shot.
According to PriceOfWeed.com, a crowdsourced Internet archive of black market pot prices across the country, the national average cost of an ounce of high-quality black market marijuana is roughly $350. Great pot, as reported by consumers, is most expensive in North Dakota, where an ounce goes for $400. Other states in which users report comparatively high prices for illegal weed include Iowa, Louisiana, New Hampshire, Pennsylvania, Virginia and Wyoming.
Pot smokers can really stretch their dollars on the West Coast. It's cheapest in Oregon, where high-quality pot sells for about $210 per ounce, followed by Washington ($232 per ounce) and California ($245 per ounce).
Those prices are all for illicit recreational marijuana. A step above the black market stuff is medical cannabis, which is legal in 23 states and tends to be more expensive than what consumers can get on the street but is still cheaper than legal recreational weed.
Medical marijuana is usually milder than its black market counterparts, in part because medical cannabis users seek out varieties that treat specific conditions like nausea or arthritis. A patient might prefer a variety that is aggressive in treating his or her symptoms but has a more temperate psychoactive effect.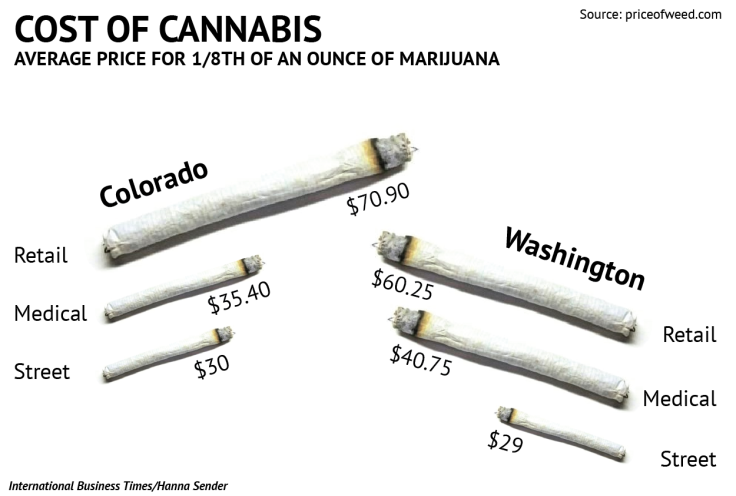 Of the 23 states that have legalized medical marijuana, only Arizona, California, Colorado, Maine, Michigan, Montana, New Mexico, Rhode Island and Washington employ licensed dispensaries to sell medical cannabis. Because the sale and distribution of marijuana of any kind remains illegal under federal law, these dispensaries operate in a gray area at best and frequently face threats of forced shutdowns from federal officials.
Still, medical pot continues to sell, and at competitive prices. In Colorado, medical cannabis is about half the price of recreational cannabis. Denver dispensaries charge medical customers around $10 per gram; prices per gram for the retail stuff range from $15 to $25.
In Seattle, medical dispensaries sell weed for $8 to $15 per gram.
With Washington state's first marijuana retail stores opening this week -- 24 pot shops centered mainly around Spokane, Vancouver, Tacoma and Bellingham (only one license was given to a retail store in Seattle) -- it's not yet clear how consumers will respond to the higher price of legal weed. According to BOTEC, the consulting firm assisting the Washington State Liquor Control Board in rolling out Initiative 502, which made pot legal for recreational use in 2012, the after-tax retail price for a gram of pot will be about $17, or $482 per ounce.
That's about twice as expensive as what high-quality marijuana goes for on the state's black market and in the state's medical marijuana dispensaries -- and that's the lowball figure. Other models put the price of a gram of legal weed at about $723.
One of I-502's selling points was that it would supplant Washington's black market for pot. But a lack of competition among marijuana retailers, price markups, exorbitant taxes and a supply shortage mean the legal product is not going to be cheap. Of the 2,600 growers who applied for certification from the Washington State Liquor Control Board, 80 received licenses. Of those, only about a dozen have begun harvesting, prompting weed shortages of legal marijuana.
Then there are the endless layers of taxes associated with legal marijuana -- a 25 percent wholesale tax, plus another 25 percent minimum retail tax. Tack on a sales tax and ultimately Washington's legal cannabis will have been taxed a total of 75 percent by the time it reaches the buyer.
But most observers expect Washington consumers to embrace the legal paradigm, as they have in Colorado.
Colorado, which opened its first retail dispensaries at the beginning of the year, raked in some $2 million in marijuana tax revenue in January 2014 alone and pulled in an additional $1.5 million in tax revenue from medical marijuana sales that same month. If figures remain on target, something state officials have indicated will likely be the case, Colorado could see itself $40 million richer by the end of the year.
Roger Roffman, a professor emeritus in social work at the University of Washington who has closely watched Washington's rollout of I-502, told International Business Times he thinks "overall … people will be inclined to do it legally" in Washington -- even if it costs more.
© Copyright IBTimes 2023. All rights reserved.
FOLLOW MORE IBT NEWS ON THE BELOW CHANNELS