Mars One Accepting Ideas For Scientific Payloads To Be Sent To The Red Planet In 2018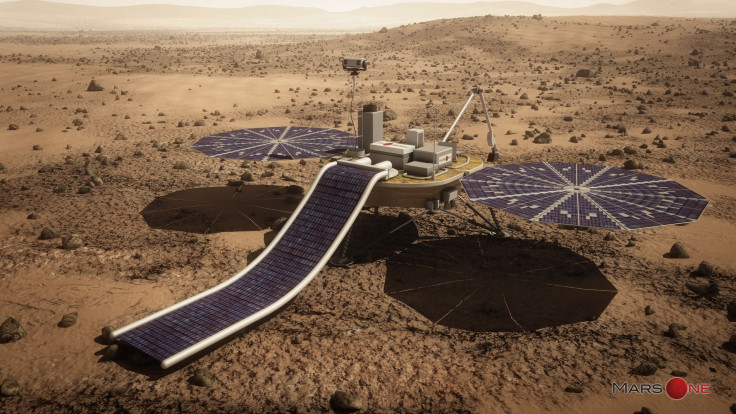 Mars One, a Netherlands-based nonprofit that plans to send humans on a one-way mission to Mars by 2025, announced Monday that it is now accepting proposals for scientific payloads that could be sent to the red planet as part of an unmanned mission in August 2018.
Mars One said that it is looking for ideas for a total of seven payloads -- four of them to demonstrate technologies for the human mission in 2025, one payload to be selected in a worldwide university competition and two payloads for sale to the highest bidder. The last two payloads can be used for scientific experiments, marketing activities or any other purpose that falls in between, according to the organization.
"We are opening our doors to the scientific community in order to source the best ideas from around the world," Arno Wielders, co-founder and chief technical officer of Mars One, said in a statement. "The ideas that are adopted will not only be used on the lander in 2018, but will quite possibly provide the foundation for the first human colony on Mars. For anyone motivated by human exploration, there can be no greater honor than contributing to a manned mission to Mars."
According to Mars One, the lander for the 2018 mission will be built on the same platform used by NASA for its Phoenix mission in 2007. The organization also said that it has signed a contract with Lockheed Martin to develop the mission's concept.
The four demonstration payloads will experiment some of the technologies that would be needed for a permanent human settlement on Mars while the payload to be selected from universities worldwide will be related to scientific experiments, technology demonstrations or "any other exciting idea." Payloads for sale are being offered for ideas ranging from scientific experiments, technology demonstrations, marketing and publicity campaigns, or any other suggested payload, Mars One said.
"Previously, the only payloads that have landed on Mars are those which NASA has selected," Bas Lansdorp, co-founder and CEO of Mars One, said in the statement. "We want to open up the opportunity to the entire world to participate in our mission to Mars by sending a certain payload to the surface of Mars."
© Copyright IBTimes 2023. All rights reserved.