Mars Opposition Live Stream: Where To Watch And How To View The Opposition Of The Red Planet [VIDEO]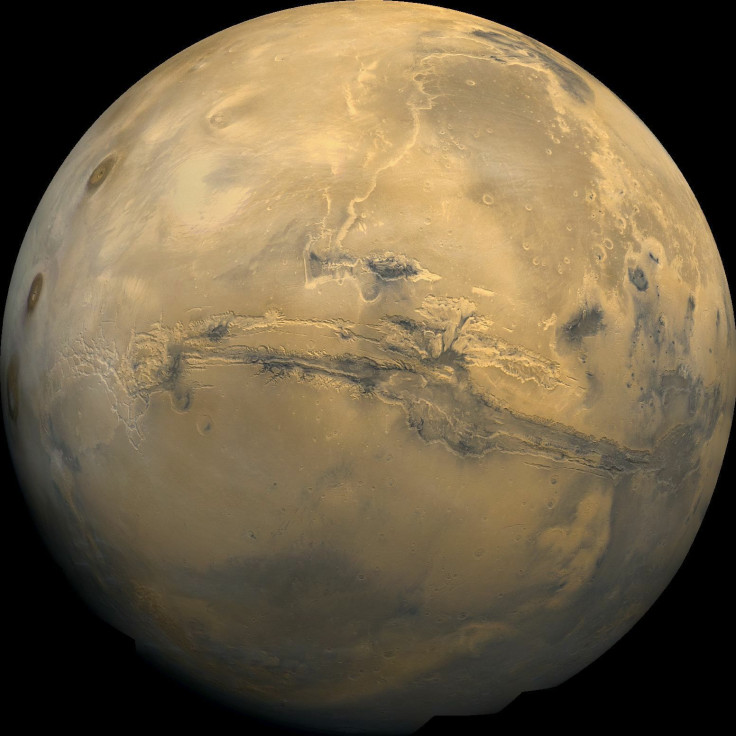 April's first astronomy event will be one that is hard to miss. Mars opposition occurs on Tuesday, and the Red Planet will be the brightest it has been in six years. On Earth, Mars will be easily viewed, and a live stream, courtesy of Slooh, lets viewers get an in-depth look at the Mars opposition.
Mars will be almost directly opposite the sun, with the Earth in the middle, in a process known as opposition. Mars opposition happens once every two years, and it previously occurred on March 3, 2012. The planet will be incredibly bright on Tuesday, which makes for a perfect star-gazing event.
Mars will visible to the naked eye and should be easily visible after sunset on Tuesday. EarthSky has a handy viewing guide for the Mars Opposition and notes that the planet is the brightest it has been since December 2007. Mars can be found to the east, in the Northern Hemisphere, and EarthSky suggests drawing an imaginary arc from the Big Dipper to one of the brightest stars in the sky, Spica. Mars will be below Spica, and those with telescopes will be able to get a great look at the Red Planet. NASA has a handy viewing guide of the opposition, which you can view below.
For those that cannot escape the city, or have unfavorable viewing conditions, there will be two Mars opposition live streams available. The Virtual Telescope Project will feature the first opposition live stream, which will begin at 7 p.m. EDT. The live stream can be viewed here.
SLOOH, the international group of astronomers and observatories, will provide its own Mars opposition live stream beginning at 10 p.m. EDT. The broadcast will originate from SLOOH's observatory in the Canary Islands and will include a discussion on NASA's Mars rover Curiosity and the search for life on Mars. Slooh astronomer Bob Berman said in a statement that Mars is "the most earthlike body in the known universe, with oxygen copiously bound into its soil, and water contained in its ices. Therefore, during the brief few weeks when it comes near to us every 26 months, it deserves the limelight. This year it hovers next to Virgo's hot blue 'alpha' star Spica, creating a striking orange-and-blue color contrast that's out all night long, and impossible to miss." Viewers can submit questions to the broadcast using #Mars.
While Mars will be in opposition, it will not be at its closest point to Earth; that event happens six days later, on April 14.
The Mars opposition live stream, courtesy of Slooh, begins at 10 p.m. EDT and can be viewed below.
© Copyright IBTimes 2023. All rights reserved.