Martian Litter? NASA's Perseverance Rover Spots 'Unexpected' Object [Photo]
KEY POINTS
The Perseverance Mars Rover snapped a photo of a shiny object on Mars
It's likely a piece of a thermal blanket from the rover's landing in 2021
The rover and the Ingenuity helicopter had previously captured other remnants of the landing
NASA's Perseverance Mars Rover has spotted a rather "unexpected" object. It may look like a piece of Martian litter, but it's actually a remnant from the rover's landing.
Perseverance is well on its mission to search for signs of ancient life on Mars, but it can also spot some rather interesting things on the way. In a photo shared on the rover's Twitter account, one can see what appears to be a piece of silver object wedged between rocks.
"My team has spotted something unexpected: It's a piece of a thermal blanket that they think may have come from my descent stage, the rocket-powered jet pack that set me down on landing day back in 2021," the tweet read.
Thermal blankets are the glinting materials spacecraft are wrapped in for temperature regulation. They are sewn together by a team of "spacecraft dressmakers," and they provide spacecraft with the right amount of heat to make sure they function properly.
In a follow-up tweet, the team explained that finding the object was a "surprise." This is because the descent stage actually landed some 2 kilometers (1.2 miles) away.
"Did this piece land here after that, or was it blown here by the wind?" they added in the tweet and shared a more close-up photo of the object.
This is not the first time Perseverance and its companion, the Ingenuity Mars Helicopter, have spotted remnants of their 2021 landing. In April, for instance, Perseverance was able to snap a photo of the parachute and capsule that helped bring it down to the Martian surface.
"Definitely wouldn't be where I am without them!" the Perseverance Twitter account noted at the time.
Although the Perseverance photos were taken from a distance, the Ingenuity Helicopter captured stunning close-up photos of the objects during its 26th flight.
So far, Perseverance continues on its all-important science mission. Those who would like to keep tabs on it can do so through this map provided by NASA, wherein one can see the rover and helicopter's latest locations.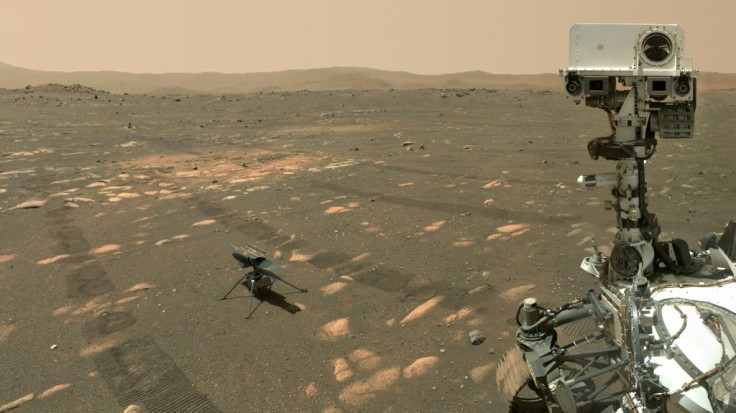 © Copyright IBTimes 2022. All rights reserved.
FOLLOW MORE IBT NEWS ON THE BELOW CHANNELS