Martin McGuinness: Irish Presidential Candidate Downplays IRA Past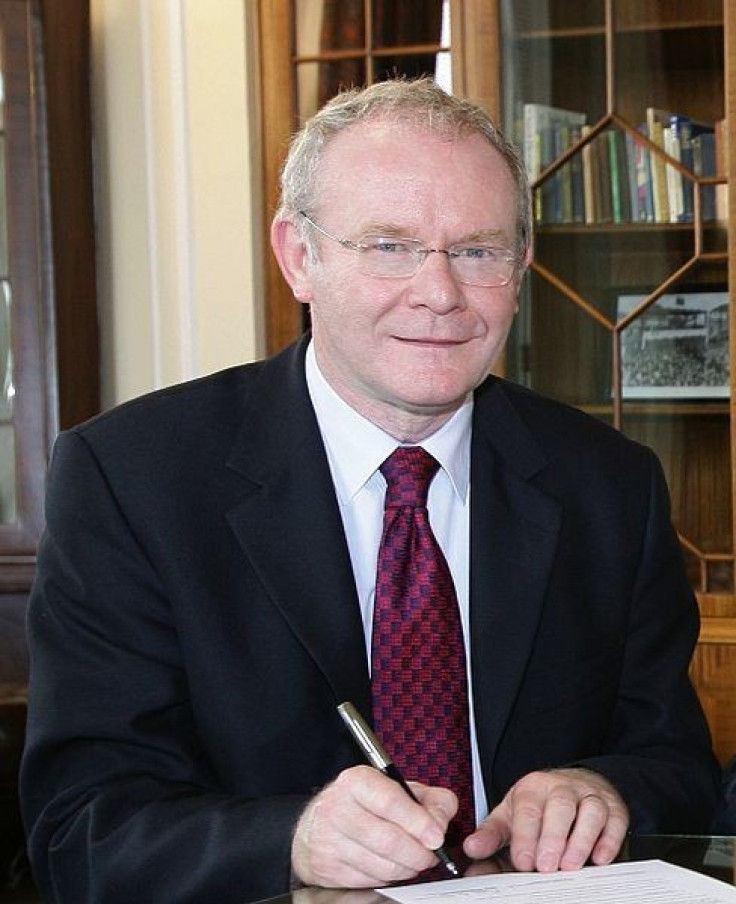 Martin McGuinness, a former member of the Irish Republican Army (IRA), who is now standing for the presidency of Ireland has conceded that some accidental killings by IRA soldiers might be considered to have been "murders."
McGuinness, who currently serves as Deputy First Minister for Northern Ireland, told the Independent newspaper of Britain that the IRA was involved in incidents which resulted in the accidental killing of innocent people," adding that the term used by the relatives of those people who were killed was that they were murdered. I'm not going to disagree with their analysis of what happened to their loved ones.
He added: "I accept that, in the circumstances where innocent people lost their lives, then it's quite legitimate for the term 'murder' to be used."
His characterization differs sharply from the point-of-view of the party he represents, Sinn Fein, who usually refuse to condemn IRA activities during the time of the Irish Troubles.
Typically, in the past, when IRA operatives killed innocent civilians or bystanders (that is, not "legitimate targets" like members of the security forces or loyalist paramilitaries), Sinn Fein typically described such deaths as accidents or terrible mistakes."
However, McGuinness also accuses the media of being overly obsessed with his past IRA affiliation. Indeed, he has expressed his condolences for the deaths of British and Ulster Defense Regiment soldiers and Royal Ulster Constabulary police officers who lost their lives in IRA bombings and attacks.
McGuinness claims he has not been an IRA member since 1974 -- an assertion ridiculed by his opponents.
He has admitted, however that he served as second-in-command of the IRA in Derry in 1972. He also served two prison terms for his IRA membership,
I know this is a debate that has been raging, but the media are more interested than the ordinary man and woman in the street," McGuinness told the Independent.
"When I went to the all-Ireland final -- Kerry against Dublin -- I couldn't get away for an hour and a half with people coming up and wishing me all the best. Not one of them said, 'Martin, when did you leave the IRA?' But every one of them knew I was in the IRA at one stage.
McGuinness also said that if he is elected President of Ireland he would be glad to meet with Britain's Queen Elizabeth and any member of the royal family.
Over the weekend, McGuinness even received the support of Reverend David Latimer, a prominent Presbyterian minister from County Derry.
McGuinness has also come under attack from within the Republic of Ireland's political establishment -- namely, the ruling Fine Gael party.
Phil Hogan, the Environment Minister, charged that if McGuiness became President, it would scare off potential foreign investors, particularly from the US, and would risk Ireland sinking into the level of a "banana republic."
Fine Gael's chief whip Paul Kehoe used his Twitter account to deride McGuiness, saying that he wouldn't trust Martin McGuinness to take my dog for a walk."
McGuinness' opponents have also linked him to a multi-million- pound robbery of the Northern Bank in 2004, which police blamed on the IRA.
McGuinness has expressed his outrage over such allegations.
Meanwhile, McGuiness is one of seven candidates for the Irish Presidency in an election where the poor economy and high unemployment are foremost in voters' minds, not past IRA membership.
While the Irish President only holds ceremonial power, the election of a former senior IRA member would be seen as a watershed event.
Irishmen and women go to the polls on October 27.
© Copyright IBTimes 2023. All rights reserved.