Massive Coordinated ISIS Attack On Fallujah Expected In Days, Thousands Stranded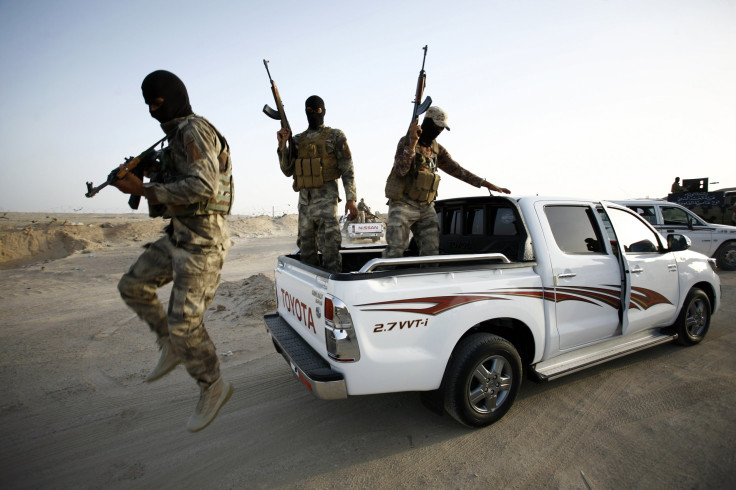 The Islamic State group is poised to extend its string of military victories in Iraq's Anbar province by capturing Fallujah, a city less than 50 miles from the capital. If successful, it would put Baghdad squarely in ISIS' crosshairs.
The apparently imminent attack on Fallujah comes as a new group of U.S. military advisers arrive in Anbar province to work with their Iraq counterparts to develop a strategy to defeat ISIS in Anbar. The U.S. advisers are arming and training a new group of Sunni fighters to re-take Ramadi, the capital of Anbar in western Iraq that the militant group seized recently, and to prevent it from capturing Fallujah.
Fighters in the area reported Friday from Fallujah that several explosions had killed more than 15 Iraqi Security Forces fighters. The explosions were the latest in a string of ISIS attacks in the last two weeks, marking a dramatic uptick in violence in the area. Earlier this week ISIS claimed responsibility for an attack that killed at least eight people in a local government office and injured more than 17. Iraqi military officials said on social media Friday that the attacks over the last two weeks caused them to retreat from the villages of Mushaniya, Qanatir and Dulaymiya on the northeast side of Fallujah.
Thousands of people are still living in Fallujah and ISIS is preventing them from leaving, Sunni fighters in Anbar said. Unable to leave their homes for safer ground, residents of Fallujah and surrounding villages are living under consistent bombardment from the U.S.-led coalition planes that are targeting ISIS hideouts. But the militants are dispersing themselves among the residents to avoid detection, Sunni sheiks in the area said, making it difficult for the U.S. coalition to bomb them without also hitting civilians.
The U.S. coalition has been dropping bombs on Fallujah and its surrounding area for months, fighters said, but the attacks have not succeeded in eliminating ISIS' presence in the area. That's because many of the Sunni sheiks in the area are supporting the militant group with cash and weapons. Some have even pledged allegiance to the group.
In anticipation of the attack on Fallujah, Iraqi forces, including those from the Shiite volunteer forces largely funded by Iran, are dispatching to outposts between Ramadi and Fallujah. The newly trained Sunni fighters armed with American weapons are also preparing the try to push back the militants from Fallujah.
The newly dispatched U.S. military advisers will be stationed at a base between Ramadi and Fallujah during the assault. Those advisers, the U.S. Defense Department said Wednesday, are joining thousands of others already helping the Iraqi military train and arm volunteers from Anbar province to retake land lost recently to ISIS. But front-line fighters say the new advisers, while welcome, can't address an acute lack of coordination among the three main forces opposed to ISIS, the Iraqi security forces, Shiite militias and Sunni tribesmen.
In interviews with International Business Times, Sunni tribesmen in Anbar province involved in a new training program at the Habbaniya base near Ramadi said there are fundamental problems with the fight against the Islamic State group that "no amount of U.S. military advisers" can change. (The Sunni fighters, who completed training by the U.S. advisers last week, did not want to reveal their names for security reasons.)
Clarification: While ISIS has maintained control over parts of Fallujah since 2014, it is preparing to take over the entire city and its surrounding areas in the coming days, routing all pro-government forces.
© Copyright IBTimes 2023. All rights reserved.