Iraqi Sunni Sheikhs In Anbar Pledge Allegiance To ISIS, Aid Militant Group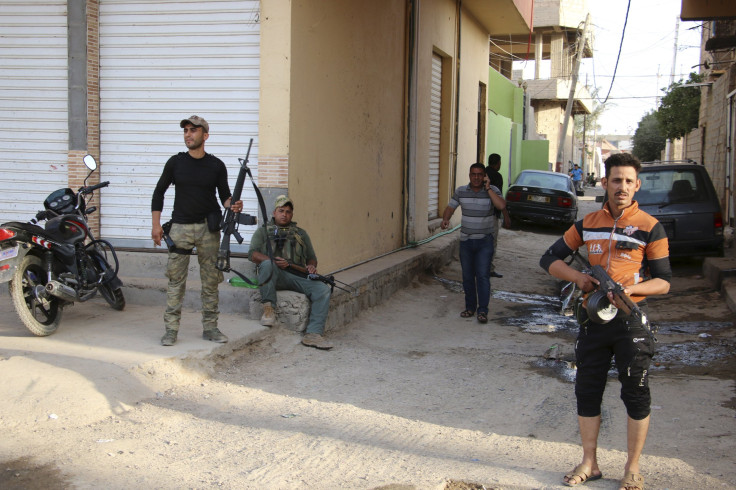 Some of the most prominent Sunni tribal leaders in Iraq have pledged allegiance to the Islamic State group, raising questions about the ability of the Iraqi military to retake the city of Ramadi that was recently lost to ISIS. The pledge of allegiance from the Sunni sheikhs in Anbar province marks the first time since the rise of the Islamic State group in Iraq, one year ago, that a Sunni tribe formally declared its alliance. It also comes as the Baghdad government scrambles for a strategy to defeat the extremist group in the country's Sunni heartland.
The sheikhs and tribal leaders made the pledge in a statement read out by Sheikh Ahmed Dara al-Jumaili, after meeting in Fallujah on Wednesday, Al Jazeera reported. The al-Julaimi tribe is the richest and most powerful tribe in Anbar province, which covers a large area of western Iraq.
The announcement comes one week after International Business Times exclusively learned that tribes in Anbar had provided cash, weapons and intelligence to the Islamic State group, or ISIS, during the battle for Ramadi, giving their fellow Sunni Muslims the upper hand against the Iraqi security forces.
After taking Ramadi, ISIS now holds a huge swath of Iraq stretching from the Syrian border east to the outskirts of Baghdad and north to Mosul, Iraq's second-largest city.
The fall of Ramadi and the tribes' declaration of allegiance confirm what Sunni tribal fighters in Anbar have been saying about ISIS, which they warn will not easily be defeated in the province. ISIS has found a haven, as well as money and weapons that will help it to stave off attacks by the Iraqi military.
As this reality grows clearer in Baghdad, the Iraqi Defense Ministry and its U.S. advisers are trying to put together a new plan to fight ISIS in Anbar. Sunni fighters, armed with American weapons and fresh from training by U.S. and Iraqi military advisers, are being deployed near Ramadi. But they will not be able to count on help from the only Iraqi fighters with a credible record of defeating ISIS, the Shiite militias that spearheaded the drive to get ISIS out of the northern city of Tikrit earlier this year.
Those militias aren't welcome in Sunni-majority Anbar, and therefore are largely absent from the fight against ISIS there. The Islamic State group is Sunni extremist and considers the Shiite Muslims who dominate the Iraqi government to be heretics. Fielding an all-Sunni fighting force equipped with American weapons in Anbar is also intended to avoid trust and communication issues with the Shiite volunteer forces -- but with the defection of the biggest name in Sunni politics in the province, the fight against ISIS has just become more complicated.
© Copyright IBTimes 2022. All rights reserved.
FOLLOW MORE IBT NEWS ON THE BELOW CHANNELS