Massive Security Operation In Hong Kong For Visit Of Most Senior Chinese Official Since 2012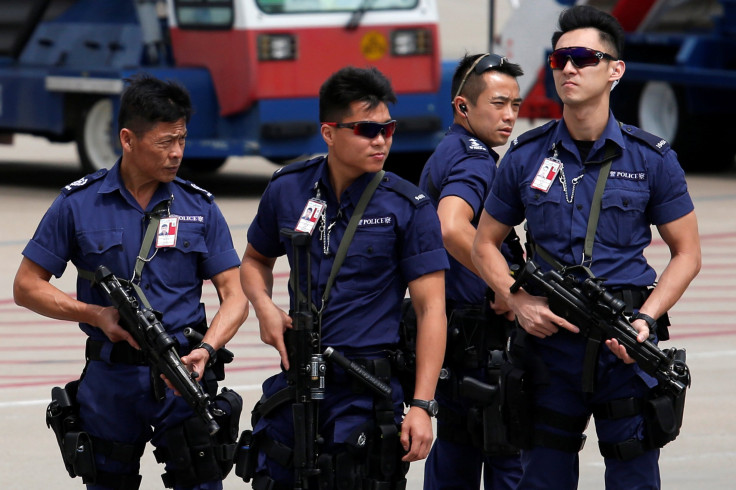 SHANGHAI -- Hong Kong has launched its biggest-ever security operation for a visiting Chinese official, as top legislator Zhang Dejiang arrived in the city Tuesday on the highest-level visit by a mainland leader in four years. Six thousand police officers – one-fifth of the city's force – have been deployed to provide security, amid tensions over Hong Kong calls for greater democracy from its Chinese rulers, and China's criticisms of groups in the city seeking self-determination or even independence.
Zhang, also a member of the Communist Party's ruling standing committee, is officially visiting to attend a conference on China's New Silk Road economic belt investment strategy. But he will also meet government officials and politicians, including some from the city's democratic camp – in the first visit by a Chinese leader since the Occupy Central pro-democracy protests that paralysed the city in 2014.
On arrival, he told media at Hong Kong airport that he came to show "the care of the central government" and would "listen to all sectors of society about what recommendations and requirements they have about implementing the principles of 'one country two systems,'" and about maintaining the city's "high degree of autonomy" -- as promised when it reverted to Chinese sovereignty from British rule in 1997.
However, while Zhang is scheduled to visit a housing estate, it's not clear just how many ordinary people he is likely to meet during his visit. A large cordon of two-meter high plastic barricades has been erected around the hotel where he is staying and the convention centre where the investment forum will be held.
Four protests, including a march toward the convention center on Wednesday, have been approved by police. But on Tuesday afternoon, several protesters with small posters calling for democracy were questioned by police, and one grappled to the ground, according to one local report – while journalists meeting Zhang at the airport were reported to have had umbrellas – symbols of the 2014 protests – confiscated by officials. Paving stones in the city are also reported to have been glued in position to prevent protesters using them as weapons
Police also camped out on top of Hong Kong's iconic mountain, Lion Rock, in an attempt to prevent pro-democracy activists unveiling a huge banner from the peak, as they did in 2014. Yet demonstrators succeeded in unveiling one banner calling for "genuine universal suffrage" from nearby Beacon Hill Tuesday morning. Organizers of the protest described it as a "souvenir" from the city to remind Zhang of Hong Kong's democratic aspirations, and "tell visiting state leaders that they cannot pretend to be blind," the South China Morning Post reported. Another banner was also suspended from a road bridge near the airport where Zhang landed.
It's a reminder of the deep divisions in the city, which have intensified since the Occupy Central movement in 2014. This began as a protest over China's plan to allow only a handful of heavily vetted candidates to contest Hong Kong's planned first direct election of its Chief Executive in 2017, but later developed into a two-month occupation of major roads outside government headquarters, after police angered many citizens by using tear gas on unarmed protesters.
China said the protests were illegal, but their aftermath has left the city largely politically gridlocked. Last year, democrat members of Hong Kong's legislature blocked the government's attempt to pass its electoral reform bill, and have also derailed many other government proposals since.
The city has also seen the rise of what is known as the "localist" movement, which began in protest at large numbers of shoppers from mainland China, and forced a change in government policy for cross-border visitors, leading to a decline in spending by mainland visitors over the past year. Some members of the group were also involved in violent clashes with police on the streets of the city's Mongkok region early this year – but while China views such activists with great suspicion, and has accused them of seeking independence, one of their leaders won unexpected popular support in a recent by-election in the city.
And Hong Kong suspicions that the mainland has not kept its promise to protect the city's separate legal system have deepened in recent months, following the sudden disappearance of several staff members of a book-shop and publishing house known for their books critical of China's leaders. The men later resurfaced in China, and said in public that they had gone there voluntarily to help Chinese police with an investigation. But the fact that one of them, Lee Bo, a British passport holder, had not passed through Hong Kong immigration on his way into mainland China, led to widespread suspicion that he had been effectively kidnapped and spirited over the border by Chinese officials.
Zhang Dejiang's visit also comes just a few months before key elections for the city's legislative council in September, with both localist groups and a new party set up by former student leaders of the 2014 protests planning to run candidates.
Some analysts say Zhang may try to avoid the independence issue during his visit, and say China has sought to present a more conciliatory image in Hong Kong in recent months. Zhang has invited several democrat lawmakers including Emily Lau, Chairwoman of the Democratic Party, and western diplomats to a reception.
Yet tensions are likely to be hard to sweep under the carpet. Lau has said she will raise the case of Lee Bo when she meets the visiting Chinese leader. And Chinese state media Tuesday quoted an expert who said Zhang might reiterate Hong Kong's duty to protect China's national security – something seen by some in the city as a way of increasing control over Hong Kong. The academic added that "local society lacks a correct concept of mainland Hong Kong relations," according to the official Global Times.
Observers will, however, be watching to see whether there is any indication that China may seek to replace current chief executive C.Y. Leung, who remains unpopular with many democracy supporters in Hong Kong, ahead of the selection of the city's new leader next year. Leung has not ruled out serving another term – but experts say a change of China's choice as candidate would suggest that Beijing was really paying some attention to public opinion – in a city where some observers believe the Chinese government has been badly advised by its representatives in the city over recent years.
Zhang Dejiang may also seek to win support by offering China's backing for Hong Kong's economy, which has faced headwinds from China's own economic slowdown in recent months. Zhang told legislators at the annual session of China's legislature in March that Hong Kong's "biggest advantage" is having the support of the mainland, Chinese state media reported.
FOR FREE to continue reading
✔️ Unlock the full content of International Business Times UK for free
offer available for a limited time only
✔️ Easily manage your Newsletters subscriptions and save your favourite articles
✔️ No payment method required
Already have an account? Log in
© Copyright IBTimes 2023. All rights reserved.