'Missing' Hong Kong Publisher Lee Bo Returns From China After 3 Months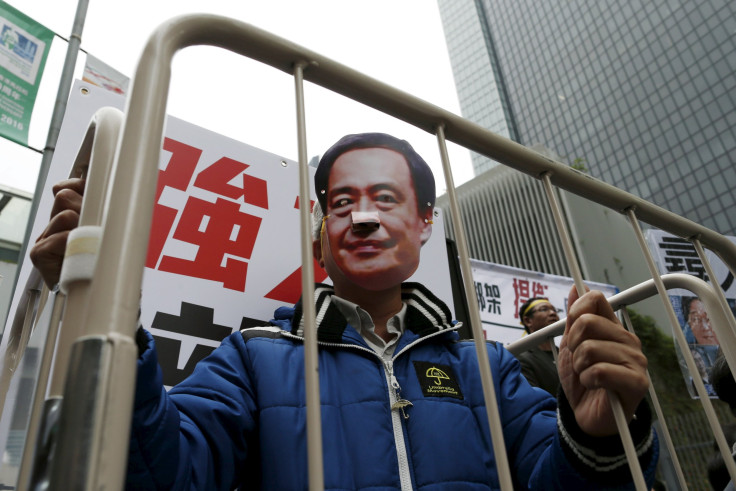 HONG KONG — A Hong Kong book seller, whose mysterious disappearance and subsequent reappearance in mainland China sparked concerns about the city's freedoms, and led to a diplomatic row between Britain and China, has reappeared in Hong Kong after three months. Lee Bo, also known as Lee Po or Paul Lee — a major shareholder in a book store that sold books critical of China's leaders — crossed the border into Hong Kong Thursday from the Chinese city of Shenzhen, the Hong Kong government announced.
But Lee's return may do little to dispel widespread concerns about the erosion of freedoms in Hong Kong, which was returned to Chinese sovereignty by the U.K. in 1997 with promises that its separate political system would remain unchanged for 50 years. Lee is one of five Hong Kong booksellers, including one who was living in Thailand, who have vanished unexpectedly in recent months, only to reappear in China. Lee, who holds British citizenship, and Gui Minhai, a Swedish national, both subsequently appeared on Chinese television to say that they had chosen to return to China voluntarily to assist the Chinese authorities with an investigation. However, their supporters argue that these remarks were made under duress.
The Hong Kong government said in a statement that Lee had been "handed over" to immigration officials at the border Thursday afternoon. It also said that he had not provided "thorough information" about how he had left Hong Kong for China without passing through immigration — something that has previously led to speculation that he was effectively kidnapped by China's security apparatus.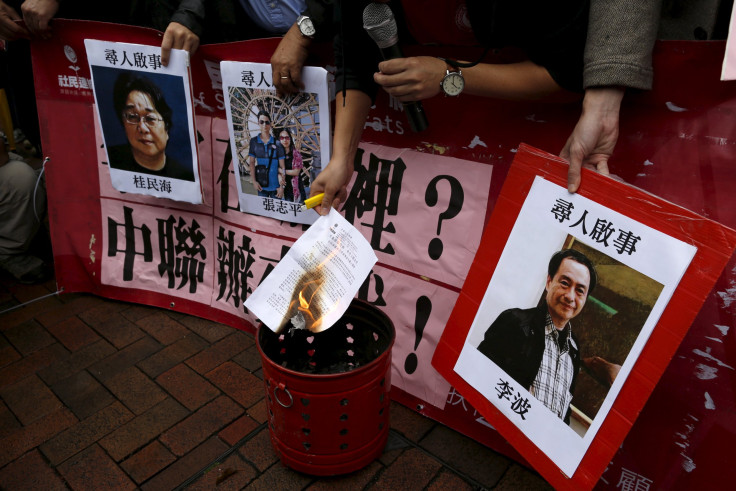 Lee also reportedly asked the Hong Kong government to cancel an investigation that had labeled him a missing person. He also told local media that he might return to China to continue assisting in the case. Two of his detained colleagues previously returned to Hong Kong briefly in early March and asked the authorities to drop their missing persons cases, before quickly returning to China.
In total, three of Lee's associates are believed to be on bail in southern China, accused of smuggling in books that could endanger China's national security. On Thursday evening, Lee said in an interview with selected Chinese and Hong Kong media that he would never publish or sell such books again, saying they had "made things up."
"The freedom of publication and of speech does not mean that people can make things up," Lee was quoted as saying, and expressing hope that others in Hong Kong would not do so either.
Some observers believe the Chinese intervention was prompted by plans by Mighty Current, a publishing house with which Lee was associated, to publish a book about the private life of China's President Xi Jinping. Over the recent years, the company has published many books purporting to reveal details of Chinese political struggles and the personal lives of Chinese leaders. These books are popular with mainland Chinese visitors to Hong Kong, but often contain content that Hong Kong analysts say is exaggerated or unsubstantiated. However, Hong Kong experts have also raised questions why China did not simply sue the authors in a Hong Kong court if it was opposed to the content.
Some have seen the case as a warning to Hong Kong citizens, who angered China's government by protesting in support of greater democracy in 2014, not to challenge Beijing's authority in the city. Either way, the case — and the perception that Hong Kong citizens could disappear on the city's streets and be spirited to China — has contributed to sense of erosion of Hong Kong's freedoms and the loss of the high degree of autonomy promised by China in its joint accord with the U.K. before the handover. Before his disappearance, Lee is reported to have told his daughter that he believed his colleague Gui was "taken by special agents from China for political reasons" the South China Morning Post reported.
Earlier this year, the U.K. government described the disappearance of Lee Bo, a British passport holder, as "involuntary" and a "serious breach" of the joint accord. But Beijing responded by accusing London of groundless allegations, and told it to stop interfering in Hong Kong affairs.
However, whether Lee's return will assuage such concerns is unclear. Willy Lam, a specialist in China's politics at the Chinese University of Hong Kong, said Thursday that Lee appeared to have been only released on condition that he will not talk about his detention in China.
Meanwhile, a survey released this week by the Hong Kong Journalists' Association showed that public perceptions of press freedom in the city have fallen over the past year.
© Copyright IBTimes 2023. All rights reserved.