May Day In France: Le Pen Refuses To Endorse Either Sarkozy Or Hollande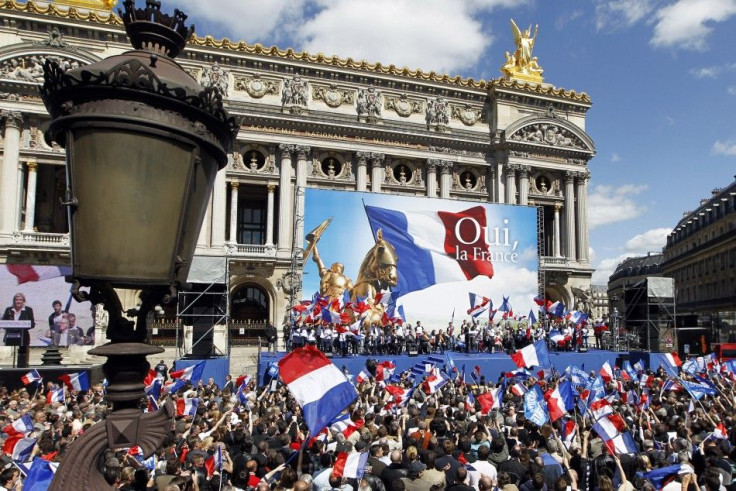 Marine Le Pen, the leader of France's extreme right wing National Front (FN) party who gained an unprecedented 18 percent of the vote in the first round of the French presidential elections, said she won't endorse either of the two remaining candidates.
In the April vote, Le Pen fell third behind front-runner Socialist candidate Francois Hollande and the incumbent, President Nicolas Sarkozy.
Speaking to a crowd of supporters at Place de l'Opera in Paris, she said vote according to your conscience. Each one of you will make your choice."
In protest, Le Pen declared she will cast a blank ballot in the May 6 poll.
She also urged her supporters to focus on the upcoming parliamentary elections in June to help place National Front candidates into the National Assembly, where the party hasn't held any seats in 26 years.
We have become the centre of gravity for French politics, she said, celebrating her party's historic breakthrough.
It's unclear how Le Pen's decision will impact the campaign of Sarkozy, who has co-opted some of the FN's anti-immigrant and anti-Muslim stance in a bid to win over some of Le Pen's constituency.
In fact, Le Pen attacked Sarkozy for, among other things, surrendering too much sovereignty to the European Union and not doing enough to protect jobs for the French.
With Hollande leading Sarkozy in the polls – by anywhere from six to 10 percentage points – the Associated Press speculated that Le Pen is seeking to obscure Sarkozy so that she can become the face of the opposition under a Socialist administration.
Sarkozy, however, continues to trumpet the far-right line with respect to immigration, suggesting he thinks he can tap into Le Pen's base of support.
Our system of integration doesn't work. Why? Because before we were able to integrate those who were received on our territory, others arrived. Having taken in too many people, we paralyzed our system of integration," Sarkozy told France's RMC radio on Tuesday morning.
I will never argue for zero immigration, but the reality is that when you invite more people than you can handle, you no longer integrate them," he added.
Douglas Yates, assistant professor of political science at the American University of Paris and professor at the American Graduate School in Paris, thinks Le Pen's decision to abstain from backing a candidate will lead significant numbers of FN voters to boycott Sunday's second-round poll.
If she [Le Pen] can convince them [FN supporters] that it is more important to defeat Sarkozy (and thus become the main opposition on the Right) than it is to defeat Hollande (and thereby prevent the Right from having to be in the opposition) then more will abstain, he said.
Yates noted the last polls indicated 60 percent of FN voters would vote for Sarkozy in the second round.
[Sarkozy] has been sending rather strong messages in their direction, leaving little doubt about his desire to court the FN vote in the second round, he said.
[The President] explicitly stated that he 'needs' their vote to defeat Hollande. The question is whether or not he will succeed in drawing them out to vote next Sunday. He still needs to gain three points, and Hollande to lose three points, to win.
Sarkozy and Hollande will face off in a televised debate on Wednesday.
© Copyright IBTimes 2023. All rights reserved.