Mayweather vs. Pacquiao 2015: Rematch In The Works? Pacquiao Claims He Won The Fight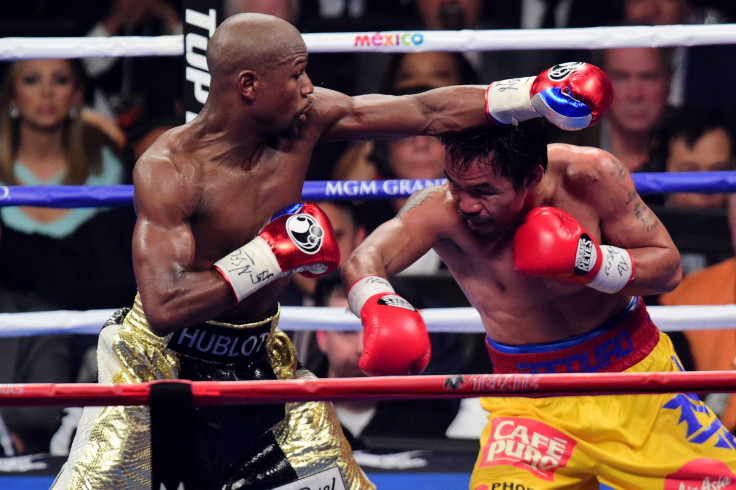 It was arguably the most anticipated boxing event in history, and when it was over there was a unanimous decision. Undefeated welterweight champion Floyd Mayweather defeated Manny Pacquiao on Saturday night in Las Vegas, with Mayweather winning the fight on all three judges' scorecards by at least four rounds.
While there are many who believe the final result was decisive, the possibility is still open for a rematch. Both Mayweather and Pacquiao are the most recognized boxers in the sport, and both are close to retirement. Even before Saturday's fight, there was talk about a rematch due to enormous appeal of both boxers. Saturday's mega-fight was such a big draw that cable networks experienced technical problems throughout the U.S.
There is plenty of precedent for a rematch despite a decisive conclusion, and it doesn't have to go back very far. Mayweather gave Marcos Maidana a rematch in 2014, despite the Argentine lacking in name recognition. Many boxing experts believed that Maidana battered Mayweather enough that he nearly beat the champ, which might provide hope for Pacquiao's camp to get a second shot at Mayweather.
And Pacquiao is no stranger to fighting the same opponent more than once, having stepped in the ring against Juan Manuel Marquez four times over the course of eight years.
Meanwhile, there is some dispute of how convincing Mayweather won. Pacquiao believed he deserved to be the winner on Saturday.
"I thought I won the fight," Pacquiao told Max Kellerman minutes after the scorecards were read. "I caught him many more times than he hit me. I was very surprised at the scores.
"I got him with more solid punches. I hit him many more times than he hit me. It's not easy to throw a lot of punches with him moving around."
Famed heavyweight Evander Holyfield also claims that Pacquiao won the fight. Shane Mosley, a former welterweight champion who fought both Mayweather and Pacquiao, didn't believe the final scorecards should have been unanimous and thought some rounds could have gone either way.
International Business Times scored the fight 116-113 for Mayweather. ESPN's Dan Rafael scored the fight 116-112 for Mayweather.
Mayweather, who has a well-known reputation for being brash and outspoken about his own abilities, was quick to pay his nemesis a compliment.
"I see now why Manny Pacquiao is one of the fighters at the pinnacle of boxing," Mayweather said in the post-fight interview. "He had his moments in the fight. I had to keep moving on the outside. I was a smart fighter. He never figured out my left jab or my right hand. I outboxed him."
Another factor in the bout was the health of the fighters. Pacquiao's camp claims he was fighting with a serious shoulder injury, and there were reports of Mayweather dealing with a shoulder and hand injury.
Bobby Ilich contributed to this report.
© Copyright IBTimes 2023. All rights reserved.