Mayweather vs. Pacquiao Rematch Takes A Step Closer To Fruition
The speculated Floyd Mayweather Jr. and Manny Pacquiao rematch may have taken a step closer to reality.
It is not new to every boxing fan that everytime Pacquiao wins a fight, the name of Mayweather is usually linked to his. In fact, shortly after the Filipino legend defeated Keith Thurman, the Mayweather rematch instantly became a hot topic in boxing.
Pacquiao and Mayweather have been going at it on social media these past few weeks. However, despite the fan-engaging social media war the two legends got themselves into, no official announcement has been made.
But just recently, Mayweather announced that he will be flying to Saudi Arabia to finally talk about the rematch with Pacquiao. In a short video clip, the undefeated boxer said that he is honored to come to Saudi Arabia and discuss the rematch, The Sun reported.
"I want to say thank you, it's an honour to come to Saudi Arabia to sit down with you guys to talk about the Mayweather vs. Pacquiao rematch. Saudi Arabia, Floyd 'Money' Mayweather, I'm on my way," Mayweather said.
Prior to the his fight against Thurman, Pacquiao's camp had already been rooting for another shot at Mayweather. In fact, Pacquiao's long-time trainer, Freddie Roach, even explained why his fighter deserves a second showdown with the undefeated boxer.
According to Roach, Pacquiao couldn't use his shoulder anymore during the fourth round of the fight. And they are truly embarrassed with the way the fight went down.
"We both want Floyd tremendously because, again, we're both embarrassed the way that fight went. At the fourth round Manny told me he couldn't use his shoulder anymore, I said 'Do the best you can' and that was all we could do. We'd like to get that one back because we didn't fight the best fight we could and we feel we can do much better," Roach told Boxing Scene.
Even the older generation boxing personalities think that a Mayweather vs. Pacquiao 2 should still happen despite the fact that both fighters are in their 40s. Boxing icon Sugar Ray Leonard is confident that people will watch the rematch, and in "crazy way," the match will be good for boxing.
Pacquiao's former promoter, Bob Arum, is also in favor of the rematch. However, Arum had a different reason to support it, explaining that Mayweather is the thus far the only fighter who would not cause severe damages on Pacquiao's body now that he's already aging.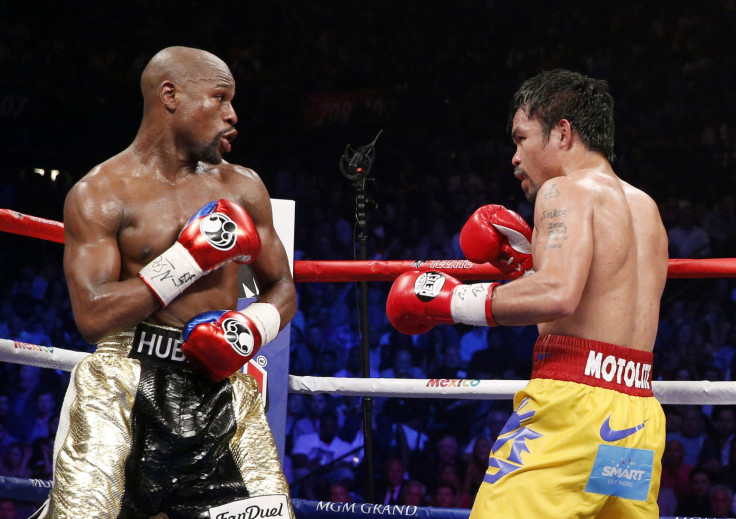 © Copyright IBTimes 2023. All rights reserved.
FOLLOW MORE IBT NEWS ON THE BELOW CHANNELS