Measles Outbreaks Outside US: Lack Of Vaccine Access Fuels Epidemics From Africa To Asia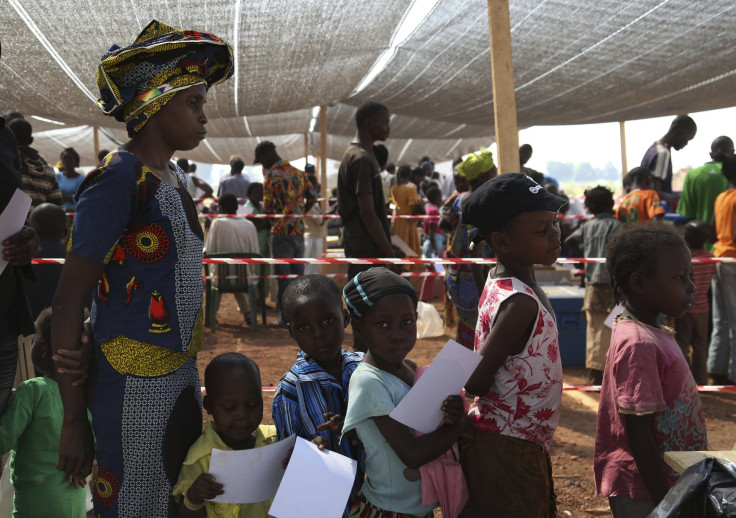 Like a contagious disease at a party where every attendee is unvaccinated, the measles outbreak in the U.S. has spread through the media, igniting feverish discussions among the public about anti-vaccination sentiment amid a rash of news stories debating where the blame lies for the outbreak of more than 150 cases so far. But beyond America's borders are other measles epidemics, ones that few talk about and that the media is all but immune to.
From the Democratic Republic of the Congo to China, developing and war-torn nations have seen measles cases in the thousands, sometimes tens of thousands. In both these countries and industrialized ones, lower immunization rates are helping the virus spread, health experts say. The irony is that in developing countries without stable health care systems, people are often unable to access vaccinations, much less decide they don't want to use them, which is increasingly the case in some developed countries. Either way, experts say, the world is seeing the resurgence of a virus that science long ago proved how to prevent.
In developing countries, "people are anxiously demanding vaccines because they know that measles is a real killer," said Dr. Alan Hinman, director for programs at the Center for Vaccine Equity, which is an arm of the Task Force for Global Health. "It's a fair generalization that in developing countries, the problem is more a lack of access to vaccines than it is resistance to vaccines," he said of recent measles outbreaks.
Data recently released by the World Health Organization shows that countries all across the globe experienced measles outbreaks in 2014 -- the year with the most updated data available -- some of which have continued into this year. According to Andrea Gay, executive director of children's health at the United Nations Foundation, most of the countries in greatest need of measles vaccines are in Africa, including Ethiopia, Uganda and Niger, but nations in other regions need those vaccines too, such as Azerbaijan, Indonesia and Tuvalu, the Polynesian island nation.
The Democratic Republic of the Congo had 1,581 confirmed cases of measles in 2014, Nigeria had 7,055, and Angola more than 12,000. In Europe, Bosnia and Herzegovina had 2,204 confirmed cases of measles, but Georgia had 3,190 cases -- the highest rate of measles cases per 100,000 people in 2014 out of all countries for which the WHO presented data. Indonesia confirmed 7,928 cases of measles last year, the Philippines had 53,803, and China had 52,485 cases. Rates of measles cases, a statistic that takes a country's population into consideration, provide different insights about the extent of the outbreak. China had 3.77 measles cases per 100,000 people in 2014, compared with 53.75 cases for every 100,000 people in the Philippines.
In the world's poorest countries, namely in Asia and Africa, there are non-governmental medical organizations, such as Gavi, the global vaccine alliance, and Doctors Without Borders carrying out vaccination campaigns, but these programs are no substitute for a functioning health care system or substantial immunization programs. "The countries themselves need to be putting substantial resources into this," said Hinman. Because the poorest countries are often the ones receiving international aid, lower middle-income countries can also struggle to fund vaccines for measles, he added.
Children in developing countries can have limited or no access to vaccines for a variety of reasons, but the main ones are high prices and poorly developed health care systems that often have shortages of workers. In countries with violence or war, getting vaccinated can be even more difficult. Thus, case of measles tend to increase there. In August 2014, for example, Doctors Without Borders was forced to halt a measles vaccination campaign in eastern Democratic Republic of Congo after clashes erupted and workers from the organization were threatened, resulting in the organization reaching less than half of the people it had hoped to immunize.
"Where you have conflict and civil strife, it increases reported numbers of cases of measles, basically because you have lower immunization coverage," said Dr. Alya Dabbagh, a scientist at the World Health Organization's Department of Immunization, Vaccines and Biologicals. For instance, two countries with high numbers of reported measles cases in 2014 were Nigeria and the Democratic Republic of the Congo. In Nigeria, where measles vaccination coverage is just 59 percent, according to WHO, ongoing conflicts between government forces and the militant group Boko Haram have been in effect for the past several years, and in the Democratic Republic of the Congo -- where vaccination coverage for measles is 73 percent -- armed conflicts and clashes have persisted for years, despite the signing of numerous peace deals.
In war-torn countries, "the health system is not functioning optimally, and children are not being vaccinated, so you get this buildup of an unvaccinated population," Dabbagh explained. "Then you get a case of measles and it becomes an explosive outbreak," added Dabbagh, who said that in these kinds of settings where people are malnourished and health care infrastructure is weak, 10 percent of measles cases can end in death. By comparison, in developed countries, 1,000 cases can result in one to three deaths.
If getting vaccinated is a matter of access and infrastructure in some countries, then in others it is about convincing people that vaccines are safe and that the danger of measles is real. "It's a very serious disease that people forget, and it's very easily preventable with a very cheap, safe vaccine that has been used for the past 50 years," Dabbagh said. In developed countries, "just because we don't see the disease doesn't mean it's not there."
In the U.S., a vast minority of people decide against vaccinating their children for a variety of reasons, including those of a religious nature or the belief that vaccines are harmful or can cause autism, a claim that has been disproved. Even though vaccination is a requirement in all 50 states, people can seek exemptions based on those personal beliefs and not have their children vaccinated, which is one reasons the U.S. had an uptick in measles cases last year, with 644 cases. So far this year, cases are exceeding that rate, according to the Centers for Disease Control and Protection.
Measles was declared eliminated in the United States in the year 2000, but ironically, the achievement seemed to diminish a public understanding of how serious the virus really can be, Hinman suggested. "In countries like the U.S., where we rarely see measles…it's a little more difficult to picture it as this severe epidemic." When people haven't seen for themselves the consequences of the virus, "people may not fully appreciate how terrible a disease it can be," he said.
Even though the overall vaccination rate for measles in the U.S. is fairly high, at 91 percent according to WHO data, the problem with national statistics is that they can often conceal concentrated pockets of unvaccinated people where infectious diseases like measles can take hold. Dr. Ross Silverman, a professor of health policy and management at Indiana University Fairbanks School of Public Health, pointed to a measles outbreak of hundreds of cases last year in an Amish community in Ohio. "It was in a very tight pocket of vulnerability," he said; one that was surrounded by a population that was otherwise largely protected.
Immunization rates don't necessarily reflect the number of shots a person has had, either, Hinman said. In the U.S., the standard measles vaccine includes two shots that ensure that highest level of coverage, but not all countries follow that standard. "Some countries don't, as yet, have as high second dose coverage as they might," Hinman said. That could be another reason Georgia had the highest incidence of measles, at 73.79 cases per 100,000 people in 2014, of all the countries in the WHO data, despite having national measles immunization coverage of 96 percent in 2013, according to the WHO.
Every year, 146,000 people around the world die from measles, the CDC estimates. But the U.S. has not had a death from measles since 2003. As a result, the prospect of catching measles, much less dying from it, can feel like less of a threat to those who opt not to vaccinate, but it can also appear all the more worrisome when cases of the virus do surge, as they have in the America "It's really wonderful, in a way, that we can be as concerned about 150 cases of measles in the U.S. as we are," Hinman said.
© Copyright IBTimes 2023. All rights reserved.