Mecca's Grand Mosque Attack Ahead Of Eid Al-Fitr Foiled; How Terrorists Target Mosques During Ramadan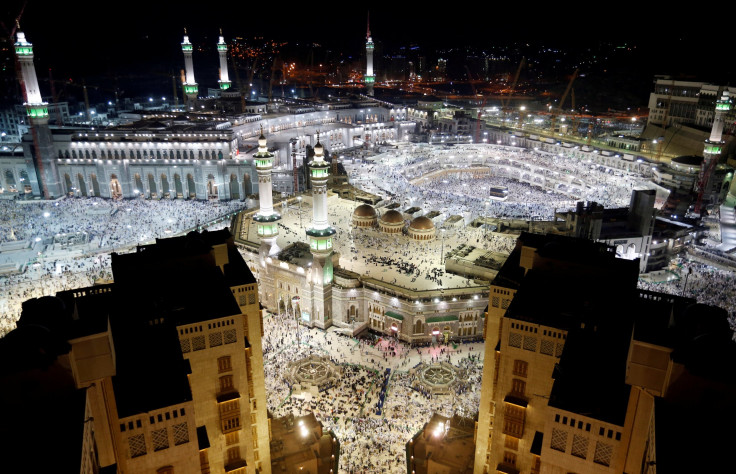 In what could have been a major attack on the largest mosque in the world, authorities in Saudi Arabia prevented it when security forces surrounded a house where a potential attacker was hiding, officials said. At least 11 people, including five policemen, were wounded when the suspect blew himself up, Saudi interior ministry said, according to reports.
Five people, including one woman who were suspected to be involved in the attack plot were arrested. The attack was planned by three groups — two based in Mecca and one based in Jeddah — the ministry said, according to reports.
Some images were circulated on social media which showed an alley filled with bricks and debris apparently from a blast.
Read: ISIS Targets Jakarta Bus Station In Double Suicide Bombings Just Days Before Ramadan
This was not the first mosque targeted during the holy month of Ramadan. Earlier this week, militants attacked the Great Mosque of al-Nuri in Mosul, Iraq on Wednesday with the Islamic State group (ISIS) allegedly responsible for it. The ancient landmark with its famous leaning minaret was where ISIS leader Abu Bakr al-Baghdadi proclaimed a "caliphate" in 2014.
Aerial photos showed the mosque and its minaret were largely destroyed.
Last week in the U.K., a 47-year-old van driver hit worshippers who were leaving from Finsbury Park Mosque in London after evening prayers. The incident left one dead and 11 injured, the police said.
The Metropolitan Police Service said the attacker was arrested on suspicion of the commission, preparation or instigation of terrorism including murder and attempted murder in the immediate aftermath of the incident, the Guardian reported.
The rising attacks on mosques during the month of Ramadan is reportedly due to extremists' believing the month is a good time to attack, targeting mosques crowded with people. Deakin University counterterrorism expert Greg Barton told news.com.au "the risk of terror attacks being carried out 'on mosques ... or large sporting events where there are lots of people' was increased during Ramadan, particularly on the 'Night of Power.'"
The "Night of Power" is the the holiest day in the Islamic calendar, which this year was Wednesday evening. Known in Arabic as "Laylat al-Qadr," it marked the night during the holy month of Ramadan that Muslims believe was when the Prophet Muhammad received the first revelations of the Quran.
While it's considered to be the best time in the year to pray for blessings and forgiveness by Muslims worldwide, extremist groups like ISIS exploit the date to urge brutal acts of violence, Fox News reported.
Barton added: "It's supposed to be a time for peace, reconciling with family and friends, and asking for forgiveness but for IS, in this kind of perverse way, it's an even better time to launch a terror attack."
Read: Airline Data Could Be Target Of Criminals, Terrorists
Pro-ISIS messages were reportedly said to be circling on encrypted apps such as Telegram in recent days which were calling on Muslims to "wake up, the war is starting," particularly in the wake of the mosque attack in London.
Last year too, when the "Night of Power" fell on July 2, there was a message pushing for "calamity everywhere for the nonbelievers" that was being widely shared
There was also a message from the spokesman of Islamic State calling on followers to launch attacks on the U.S. and Europe during Ramadan, according to Reuters.
A recent report from the Washington-based Institute for the Study of War, as reported by the Telegraph, argued ISIS was seeking to use Ramadan "as an occasion to reorient its strategy" with attacks both in its core arena of operations in Iraq and Syria as well as abroad.
© Copyright IBTimes 2023. All rights reserved.