Medal Hopes Slim But Hosts South Korea Excited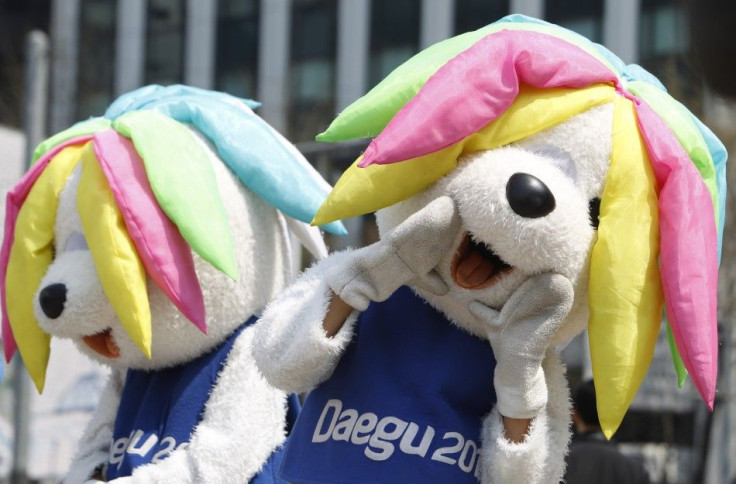 The South Korean city of Daegu has vowed to make its mark on the global stage with a stunning athletics World Championships starting on Saturday, though the hosts' medal ambitions are far less grand.
While South Korea has been in the top 10 of the medal standings at the last two summer Olympics, winning 13 golds in Beijing, they have never won a medal of any color at a World Championships.
Even their impoverished neighbors North Korea have a better record, thanks to Jong Song-ok's gold in the women's marathon at the 1999 event in Seville.
Much of South Korea's recent sporting success has come from specializing in a small number of events. Of their 22 gold medals from Beijing and Athens, archery and the Korean martial art of taekwondo have accounted for half.
For the August 27-September 4 event in Daegu, the hosts have set themselves the modest target of finishing in the top 10 in 10 events including the marathon, long jump and racewalking.
We can't say for sure if we'll earn our first ever medal, but we have some hope in the 20km fast walk and marathon events, said a Korea Association of Athletics Federations spokesman.
Our goals for the tournament are quite modest; we've announced the '10-10 project' where we aim to have 10 players enter the final rounds of 10 different events.
TRACK RECORD
South Korea's outside hopes for a medal at the championships suffered a setback when Asian Games gold medalist Ji Young-jun was cut from the marathon team after he failed to return to form following a series of injuries.
The hosts' marathon team had also come under scrutiny amid doping allegations in June, but police eventually cleared the country's coach and runners after an investigation.
The KAAF spokesman said that while South Korea was aware of how far it lagged strong athletics countries, it was determined to catch up.
Korea isn't a powerhouse in track and field mainly because of our physical disadvantages compared to many foreign athletes, said the spokesman.
But we're striving to become more competitive by continuing to support various youth development and leadership training programs around the country.
Oh Dong-jin, KAAF president, told the South Korean team that taking part in the championships was the most important thing.
Even if you fail, don't hang your head, and walk with pride, Oh said at a ceremony for the team launch. I hope you all try your utmost best until the end.
South Korea has a good track record of hosting major sporting events, impressing under the international spotlight with the 1988 Seoul Olympics and co-hosting a colorful and successful soccer World Cup with Japan in 2002.
After heartbreaking back-to-back losses in the bidding process for the 2010 and 2014 Winter Olympics, South Korea's Pyeongchang was awarded the hosting rights at the third time of asking and will host the 2018 Games.
Daegu Mayor Kim Bum-il has already promised to deliver the best ever World Championships in the history of the IAAF while South Korean President Lee Myung-back is confident Daegu will showcase the country's ability to host large-scale events.
I firmly believe that the Daegu athletics championships will be successful, President Lee told local media, adding that the championships would greatly increase the global awareness of South Korea's fourth-largest city.
A successful staging of this will lead to a successful hosting of the Pyeongchang Olympics.
South Korea has launched a task force to oversee stadium security and the safety of officials, spectators and the some 2,500 athletes from than 200 countries who will be competing.
© Copyright Thomson Reuters 2023. All rights reserved.