Medvedev, Putin clash over Libya in rare moment of public discord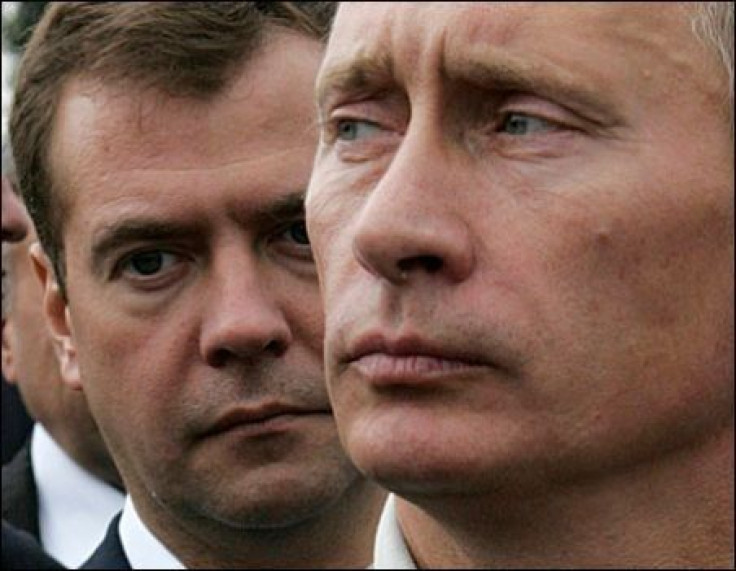 The crisis in Libya has led to the revelation of a rare public disagreement between the two most powerful political leaders in Russia, according to the RIA Novosti news agency.
The president of Russia Dmitry Medvedev criticized his boss, Prime Minister Vladimir Putin, for comparing the air strikes by Western militaries on Libya to a "medieval crusade."
Medvedev lambasted the comment as "unacceptable," in the most public clash yet between the two Russian leaders,
Specifically, after the UN Security Council passed a resolution to establish a no-fly zone over Libya, Putin said the measures were deficient and flawed and reminiscent of a medieval call for a crusade.
The UN Security Council resolution is certainly faulty and deficient... It allows for an invasion of a sovereign country," Putin said.
In a rare moment of friction, Medvedev responded: under no circumstances is it acceptable to use expressions which essentially lead to a clash of civilizations, such as 'crusade' and so on. It is unacceptable. Otherwise, everything may end up much worse compared to what's going on now. Everyone should remember that.
Along with China, India, Brazil and Germany, Russia abstained from voting on the UN's resolution in Libya, although the Russians did not use its veto power to defeat the measure.
Medvedev said his government conscientiously refused to veto the resolution.
I do not consider this resolution wrong," he said.
"On the whole it reflects our understanding of what is happening... It was a qualified refusal to veto [it]. We did it conscientiously. Such were my instructions to the Foreign Ministry."
Medvedev, as president, officially has the final say on foreign policy.
Both Putin and Medvedev have said they may be candidates for the presidential elections in Russia next year.
Putin continued with his disagreement on the UN resolution.
"Under Bill Clinton they bombed Yugoslavia and Belgrade. Bush sent troops into Afghanistan and under completely false pretenses, they sent troops to Iraq and liquidated the entire Iraqi leadership," Putin said on a visit to Votkinsk in central Russia. "Now it's Libya's turn, under the pretext of protecting the civilian population."
According to media reports, the discord between the two men may point to Putin's growing disenchantment with Medvedev. (Update: In a subsequent article, RIA Novosti reports that Putin denies split with Medvedev over Libya)
Fyodor Lukyanov, an analyst at the Council on Foreign and Defense Policy in Moscow, was quoted as saying: "it seems as though Putin wasn't fully informed about this decision [on Libya] and is irritated that Russia made what he considers a foreign policy mistake"
There is also a difference in philosophy between the two men. Putin is more of a nationalist (which is popular with most Russian voters), while Medvedev has advocates for closer relations with the West.
The Christian Science Monitor reported that Alexander Konovalov, president of the independent Institute for Strategic Assessments in Moscow, said: Russia's leadership is clearly split over this issue, with Medvedev being most interested in seeing Russia become a member of the Western group of democratic countries. The Kremlin's view is that we have a long list of good reasons to cooperate with the West, so why jeopardize our improving relations with the US and European Union over Libya?
Dmitry Babich, an expert on Russian politics, said, according to the Monitor: The liberal wing of Russia's establishment is winning so far. But if difficulties arise, the supporters of the Arab world are going to push harder [for condemnation of Western intervention]. Medvedev sympathizes with the West, but not to the extent that he will risk losing his power over it.
© Copyright IBTimes 2023. All rights reserved.