Meet Emil Hegle Svendsen: Norwegian Biathlete Celebrates Too Early, Nearly Loses Gold Medal In 15K Mass Start [PHOTO]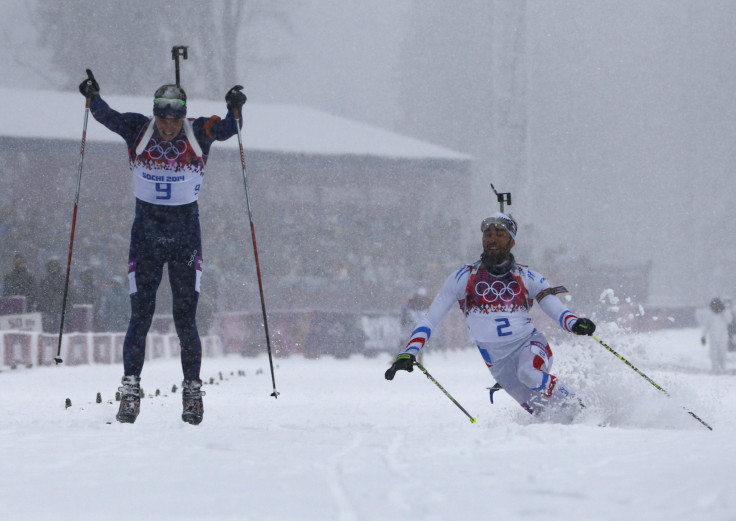 Norwegian biathlete Emil Hegle Svendsen nearly allowed a premature celebration to cost him a gold medal in Sochi.
Svendsen, 28, held a narrow lead in Tuesday's 15 km mass start event when he made his final approach to the finish line, with France's Martin Fourcade close behind him. Rather than ski through the finish line, Svendsen raised his hands in celebration, allowing a hustling Fourcade to make a final stretch toward victory.
Upon a close inspection of a photo finish, judges determined that Svendsen secured a gold medal in the event by a small margin. In fact, the Norwegian crossed the finish line just one-tenth of a second ahead of Fourcade, the Associated Press reports. An image of the photo finish can be viewed at For The Win.
After the race, Svendsen admitted that he probably should have been more careful about crossing the finish line before engaging in a celebration. "But I actually had pretty good control even though it looked very, very close," he said, via the Associated Press.
If Svendsen had lost to Fourcade, he would've become the latest athlete to allow a hasty celebration to cost him at a key moment. In 2006, U.S. Olympic snowboarder Lindsey Jacobellis appeared ready to coast to a gold medal in the snowboard cross event when she decided to showboat during one of the final jumps. Instead of winning, she wiped out and had to settle for silver.
Regardless of the margin of victory, Svendsen's victory marked a successful conclusion to his second Olympic campaign. The Norwegian now has four career Olympic medals, including a pair of gold medals and a silver medal from the 2010 Games in Vancouver.
"I've been shooting good and feeling good, but the skis were going very, very bad. But today they were perfect, and I'm glad we're back where we're supposed to be," the biathlete added, via the Associated Press.
© Copyright IBTimes 2023. All rights reserved.
FOLLOW MORE IBT NEWS ON THE BELOW CHANNELS