Meet Sam Tageson: San Jose Sharks, Make-A-Wish Foundation Invite Teen With Heart Condition To Join Team [PHOTO, VIDEO]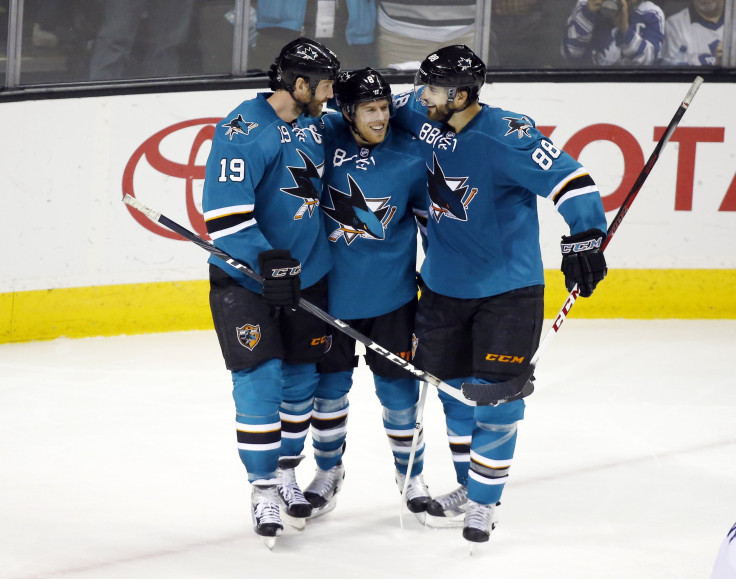 The San Jose Sharks allowed a 17-year-old hockey player with a serious heart condition to fulfill his dream by spending Tuesday as a full-fledged member of the franchise's roster.
Sam Tageson was born with hypoplastic left heart syndrome, a debilitating condition in which the affected person has two heart chambers as opposed to the usual four, the San Jose Mercury News reports. The birth defect typically prevents patients from engaging in any form of strenuous physical activity.
The Sharks Foundation teamed up with the Make-A-Wish Foundation to make Tageson's hockey dreams a reality, signing him to an honorary contract. The teenager skated with the team during practice and got a chance to practice his moves on San Jose's backup goaltender, Alex Stalock.
On Tuesday night, Tageson skated onto the ice with the rest of the Sharks and stood with the team for the playing of the National Anthem. The event proved to be emotional, as the hometown crowd gave a tearful Tageson a standing ovation.
"No way to top today," Tageson told reporters on Tuesday, via the newspaper.
Despite his doctors' advice, Tageson began playing hockey at the age six and has been a fan of the game ever since. In fact, his mother, Lisa Mills, says that doctors have "given up" on stopping him.
"It's supposed to be debilitating," Mills told the Mercury News. "They said he would be the child that would never ride a bicycle, never do any of that. He rides a skateboard. He plays hockey. The doctors all through the years have said give him golf clubs, take the hockey stick away. We tried. It doesn't work."
A video of Tageson's Sharks debut can be viewed below, courtesy of For The Win.
© Copyright IBTimes 2023. All rights reserved.