Meet Theresa May, New UK Prime Minister Who Will Preside Over Brexit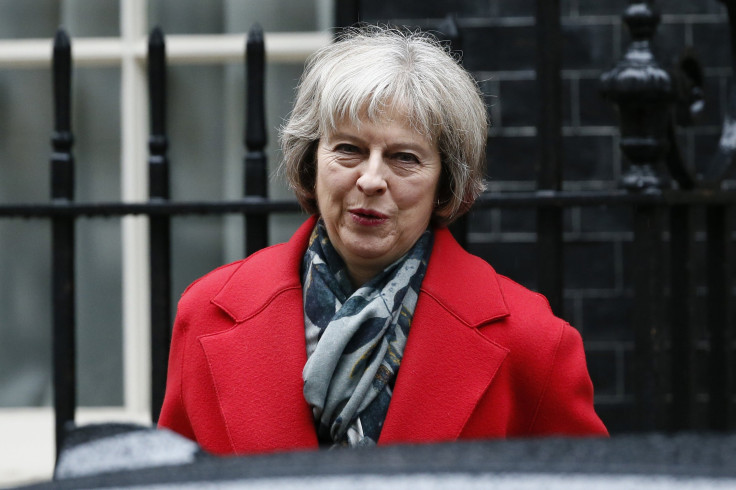 Interior minister Theresa May will become Britain's prime minister on Wednesday, with the task of steering its withdrawal from the European Union, after rival Andrea Leadsom abruptly terminated her disastrous leadership campaign.
May, 59, will succeed David Cameron, who announced he was stepping down after Britons unexpectedly voted last month to quit the EU. Britain's planned withdrawal has weakened the 28-nation bloc, created huge uncertainty over trade and investment, and shaken financial markets.
May and Leadsom had been due to contest a ballot of grassroots Conservative party members, with the result to be declared by Sept. 9. But Leadsom unexpectedly quit on Monday after a campaign dogged by ill-judged comments about her rival's lack of children and questions about whether she had exaggerated her CV.
"I am honored and humbled to have been chosen by the Conservative Party to become its leader," said May, who favored remaining in the EU but has made clear there is no going back on the result of the June 23 referendum.
"Brexit means Brexit, and we're going to make a success of it."
Earlier, Cameron told reporters in front of his 10 Downing Street residence that he expected to chair his last cabinet meeting on Tuesday and take questions in parliament on Wednesday before tendering his resignation to Queen Elizabeth.
"So we will have a new prime minister in that building behind me by Wednesday evening," he said.
May will become Britain's second female prime minister, after Margaret Thatcher.
Her victory means that the complex process of extricating Britain from the EU will be led by someone from the losing side of the acrimonious referendum campaign. She has said Britain needs time to work out its negotiating strategy and should not initiate formal divorce proceedings before the end of the year.
In a speech earlier on Monday in the city of Birmingham, May said there could be no second referendum and no attempt to rejoin the EU by the back door.
"As prime minister, I will make sure that we leave the European Union," she said.
The White House said U.S. President Barack Obama was confident that the "special relationship" between the United States and Britain would continue after May becomes prime minister.
Theresa May: Britain's next PM | Graphiq
RELATIVE UNKNOWN
Leadsom, 53, is a junior energy minister who has never served in cabinet and was barely known to the British public until she emerged as a prominent voice in the successful Leave campaign.
She had been strongly criticized over a newspaper interview in which she appeared to suggest that being a mother meant she had more of a stake in the country's future than May, who has no children. Some Conservatives said they were disgusted by the remarks, for which Leadsom later apologized, while others said they showed naivete and a lack of judgment.
Leadsom told reporters she was pulling out of the race to avoid nine weeks of campaign uncertainty at a time when strong leadership was needed. She acknowledged that May had secured much greater backing in a vote of Conservative members of parliament last week.
"I have ... concluded that the interests of our country are best served by the immediate appointment of a strong and well supported prime minister," she said. "I am therefore withdrawing from the leadership election and I wish Theresa May the very greatest success."
Graham Brady, head of the Conservative party committee in charge of the leadership contest, confirmed that May had been elected with immediate effect.
The pound, which has hit 31-year lows since the referendum on concern about potential damage to the British economy, bounced slightly on the news that the Conservative leadership question would be resolved much sooner than expected.
It was trading around $1.2970, up 0.1 percent on the day but still down around 13 percent since the day of the vote. The FTSE 250 index of mid-sized companies rose 3.27 percent.
"Welcome news we have 1 candidate with overwhelming support to be next PM. Theresa May has strength, integrity & determination to do the job," finance minister George Osborne tweeted.
FORGING NEW ROLE
The 52-to-48 percent vote to quit the EU after 43 years of membership was a stunning rebuke to Britain's political leaders and especially Cameron, who had argued that breaking away would bring economic disaster.
Britons ignored his warnings, swayed by the arguments of the Leave campaign that 'Brexit' would enable them to regain 'independence' from Brussels and clamp down on high immigration, something hard to achieve under EU rules allowing people to live and work anywhere in the bloc.
May's leadership hopes had appeared at risk of being damaged by her failure, in six years as interior minister, to bring immigration down, and the fact she found herself on the losing side of the referendum campaign.
But her two best-known rivals on the Leave side were felled by political back-stabbing when Justice Secretary Michael Gove brought down former London mayor Boris Johnson and was then punished for his perceived treachery by being eliminated from a ballot of Conservative MPs.
In her speech in Birmingham on Monday, May set out her vision for the economy, calling for "a country that works for everyone, not just the privileged few".
In a pitch for the political center, she said she would prioritize more house-building, a crackdown on tax evasion by individuals and companies, lower energy costs and a narrowing of the 'unhealthy' gap between the pay of employees and corporate bosses.
"Under my leadership, the Conservative Party will put itself completely, absolutely, unequivocally, at the service of ordinary working people ... we will make Britain a country that works for everyone," she said.
LABOUR DISARRAY
May's biggest challenge will be to map out the course of Britain's withdrawal, a process still clouded in uncertainty, and to sort out new terms of trade with the other 27 EU nations.
"We will have difficult negotiations with Britain, it will not be easy," said German Chancellor Angela Merkel who insisted that Britain would not be able to get free access to the EU's single market without accepting free movement of people.
European Economics Commissioner Pierre Moscovici said: "We should open the negotiations as quickly as possible in order to limit uncertainty."
More than 1,000 British lawyers said in a letter to Cameron that members of parliament should decide whether Britain leaves the EU because the referendum was not legally binding.
Opposition members of parliament, responding to the impending appointment of May, demanded a general election.
"It is crucial, given the instability caused by the Brexit vote, that the country has a democratically elected prime minister," Labour party election co-ordinator Jon Trickett said.
Labour too has been thrown into upheaval by the referendum, with leader Jeremy Corbyn widely criticized for failing to make a sufficiently passionate case in favor of staying in the EU.
Minutes before Leadsom's announcement, Labour lawmaker Angela Eagle launched a leadership challenge to Corbyn.
"Jeremy Corbyn is unable to provide the leadership that this party needs -- I believe I can," Eagle said.
Corbyn was elected last year with overwhelming support from grassroots Labour activists. He has ignored a vote of no confidence from the party's lawmakers, saying he has a responsibility to carry out that mandate.
(Editing by Anna Willard and Robin Pomeroy)
© Copyright IBTimes 2023. All rights reserved.