Memogate Scandal Korea: South Korean President Apologizes, Critics Not Impressed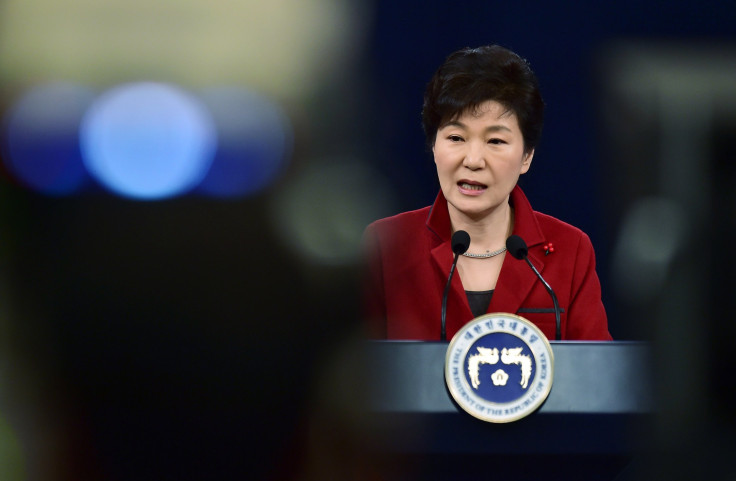 South Korea President Park Geun-hye apologized on Monday in a press conference over a memo leak alleging that her former aide had influenced her state affairs decisions. The apology was made early in her New Year's press conference, which was broadcast live from the presidential office in Seoul, also known as the Blue House.
"My heart is heavy and [I am] sorry for the people who are feeling despondent because of the document scandal," Park said, adding that it was unforgivable for high-level officials to seek personal gain and that she would reinforce discipline within her government. She also spoke about her administration's dedication to economic recovery and Korean Peninsula reunification issues.
In a scandal that some local media dubbed "Memogate," a classified document alleging that Park's former aide Chung Yoon-hoi discussed state affairs with presidential secretaries and plotted to oust presidential Chief of Staff Kim Ki-choon was leaked, according to local paper Segye Ilbo. Park denied such allegations, noting that Chung had left his position years ago and stressing that "far from having real influence, he has nothing to do with state affairs." Park had called for investigations into the memo, and prosecutors later determined it was false. The prosecution had also said that the presidential house's intelligence report about the memos were fabricated by police superintendent Park Gwan-cheon and leaked to the media by two police inspectors, according to the Korea Herald.
"An imminent reshuffle must be carried out," Representative Lee Jae-oh said during a Supreme Council meeting on Jan. 8, according to Korea JoongAng Daily. "That shows the Blue House trusts the people."
But Park said she would not dismiss the three presidential secretaries involved in the memo scandal, despite calls for her to do so even after prosecutors found them innocent. "If I were to dismiss such secretaries only because of such allegations, who would work at my side?" said Park in her press conference.
Park also apparently took extra effort to field questions from reporters in an attempt to counter the perception that she is hard to communicate with. Park spent 65 minutes of the 90-minute conference answering questions – something that she has often skipped or minimized in the past, according to the Korea Times.
However, analysts say that critics were not impressed with her attempts to improve her image. Park's decision to retain Kim and the three implicated secretaries made her appear aloof, detracting from her message about economic recovery, critics said. "A series of negative assessments on the president is likely to continue this year," Bae Jong-chan, the chief director at political pollster Research and Research, said in a statement, according to Korea Times. He speculated that the opposition party was likely to capitalize on such sentiments during April's parliamentary by-elections.
© Copyright IBTimes 2023. All rights reserved.
FOLLOW MORE IBT NEWS ON THE BELOW CHANNELS