Memories Pizza GoFundMe Campaign Collects $842,387 For Indiana Couple Opposed To Gay Marriage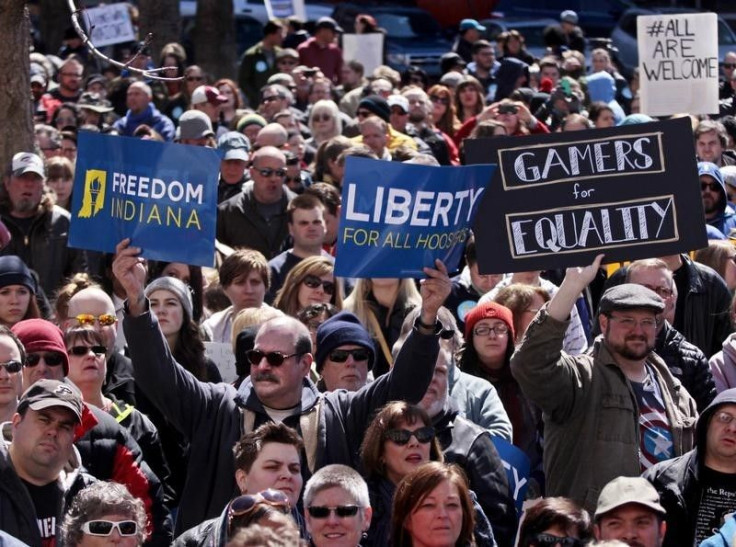 The crowdfunding campaign for the owners of the Indiana pizzeria that became a flashpoint of the national debate over the state's religious freedom law closed donations Friday after raking in $842,387. The campaign's creators, employees of conservative news station Blaze TV, said the next step was to transfer the funds to the pizzeria owners and set them up with a financial adviser.
The campaign was launched on GoFundMe Wednesday in an effort to support Memories Pizza, based in Walkerton, Indiana, after owners Kevin and Crystal O'Connor faced a storm of backlash for their comments on serving same-sex couples. Donations had poured in at a breakneck pace since then, but the campaign creators closed the funding period Friday evening shortly after 9 p.m. EDT, with 29,160 individual contributions.
In a post at the website of "The Dana Show," a Blaze TV program that hosted an interview with the couple Wednesday, staffers said they would give the Indiana couple's contact information to GoFundMe so they could access the funds. They also wrote that they were coordinating with financial adviser Ed Butowsky to help the couple manage their money "so that a blessing doesn't become a burden."
The O'Connors faced a barrage of criticism after they told local media Tuesday that they supported Indiana's Religious Freedom Restoration Act. Critics have warned that the controversial law, passed last week, could allow for discrimination against the lesbian, gay, transgender and bisexual community in the state.
"If a gay couple was to come and they wanted us to bring pizzas to their wedding, we'd have to say no," Crystal O'Connor told news station WBND-TV, saying it would contradict their Christian values. But she noted that the pizza shop would still serve gay customers.
The O'Connors appeared on Blaze TV's "Dana Show" Wednesday, saying that the backlash the pizzeria faced after the interview aired – including a flood of denunciations on its Yelp page and one Twitter user's threat to burn down the shop – forced them to close the pizzeria's doors.
On the GoFundMe page, Blaze TV contributor Lawrence Jones wrote that he and several producers set up the campaign to support the couple shortly after the interview. "The intent was to help the family stave off the burdensome cost of having the media parked out front, activists tearing them down and no customers coming in," he wrote.
The campaign's original goal of $200,000 was met by Thursday afternoon. But donations were still flooding in to support the O'Connors up until the campaign closed Friday evening.
Jones wrote that all the money raised, aside from the 5 percent GoFundMe charges in donation fees, will go to any bank account of the couple's choosing.
© Copyright IBTimes 2023. All rights reserved.
FOLLOW MORE IBT NEWS ON THE BELOW CHANNELS