Memphis Police Department Say 'Person Of Interest' In Custody In Shooting Death Of Officer Sean Bolton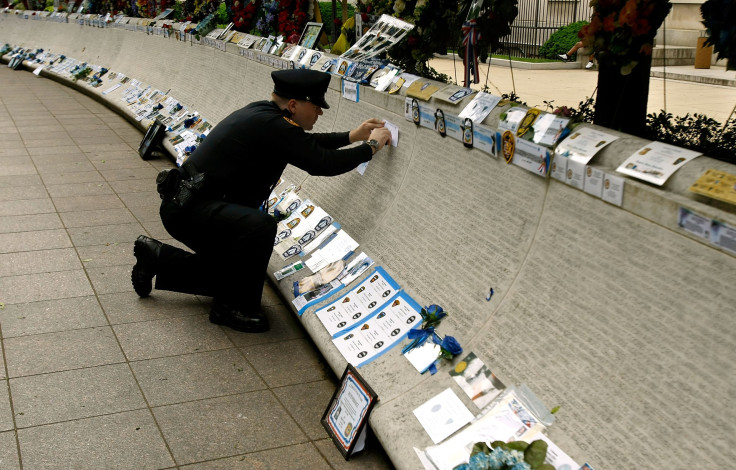 Memphis police are holding a "person of interest" in custody in connection with the killing of a police officer this weekend. The investigation is ongoing, but no charges have been filed, the Associated Press reported Sunday.
Memphis Police Department spokeswoman Karen Rudolph declined to provide the news agency with further details.
A manhunt began early Sunday after Officer Sean Bolton, 33, died from multiple gunshot wounds. He was discovered critically wounded at around 9:15 p.m. local time on Saturday.
Memphis police said a civilian used Bolton's radio to notify police about the shooting, which occurred near one of the main arteries in a working class neighborhood of southeast Memphis, according to a police statement.
Bolton is the third Memphis officer to be shot and killed in four years. Officer Martoiya Lang was shot in December 2012 while serving a warrant. Officer Tim Warren was killed in July 2011 while responding to a shooting at a downtown hotel. Bolton had reportedly served in the U.S. Marine Corps -- including a tour in Iraq -- prior to joining the Memphis police in 2010.
Memphis police said they are searching for potential witnesses and are asking for citizens who have information about the suspect to come forward.
Memphis Mayor A.C. Wharton Jr. said Bolton's death "speaks volumes about the inherent danger of police work." He asked others to "pray for the family, and pray for our city," according to the AP.
"The men and women in blue have certain rules of engagement that they have to follow, but at any given minute in a 24-hour day, they're dealing with folks who have no rules of engagement," Wharton said.
Supporters of the Memphis Police Association, a professional group, expressed their condolences on the group's Facebook page. Mike Williams, a candidate in the 2015 mayoral race in Memphis, urged residents, religious leaders and politicians to gather outside City Hall on Tuesday to pray for Bolton and his family "and any other citizen that has been the victim of a crime," he wrote on Facebook. " Let's just come together to pray for peace and unity in our city."
© Copyright IBTimes 2023. All rights reserved.