Ménage à Trois: Francois Hollande Refuses To Discuss Allegations Of Sexual Affair That Put His Companion In Hospital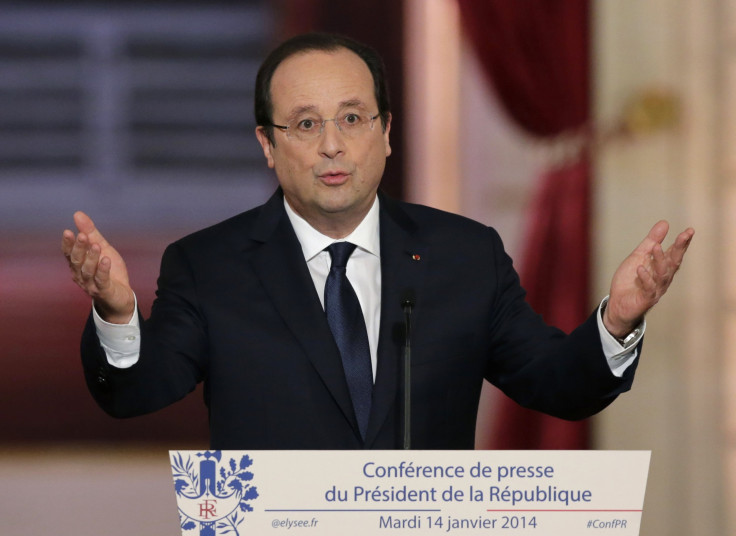 After delivering a lengthy and rambling speech at Élysée Palace on his plans for the French economy and other global issues related to France, President François Hollande refused to provide an answer to the question on everyone's minds.
Alain Barluet, head of the Presidential Press Association, after offering gratitude to Hollande for his support of French hostages in others parts of the world, asked the president if his partner, Valerie Trierweiler, is still the "first lady" of France. Barluet was referring to a sensational report last week in Closer magazine, a celebrity tabloid, that Hollande is having a sexual affair with film actress Julie Gayet, causing Trierweiler to be hospitalized, reportedly in a "state of shock." (Hollande's office did not deny the relationship but complained that the publication invaded his privacy, raising the likelihood of a lawsuit in the near future.)
After Barluet politely stated that the French public needs "clarification" on the affair, a stone-faced Hollande responded coldly that although public figures often endure "difficult periods" in private, he nonetheless asserted that, on principle, "private matters should be dealt with in private."
Then, to shut the door on any further questions about his complicated personal life, Hollande stated: "This is not the place, this is not the time" to discuss such topics. However, Hollande suggested he may address the matter later in a more appropriate setting, most likely prior to his scheduled visit to Washington in February.
Prior to that rather testy exchange, Hollande delivered a lengthy speech on the country's economy, which is suffering from high deficits and high unemployment (10.3 percent of the total workforce is jobless), particularly among the youth.
Among other things, Hollande stated that:
*France desperately needs to have a strong economy if it wants to maintain its historic influence in Europe and in the world.
*He wants France to enjoy "vigorous" economic growth in 2014, by "simplifying" and "modernizing" the country's taxation system and by reducing the "constraints" over corporate activities.
*He wants the government to make job training and employment for France's youth a priority.
*Between 2015 and 2017, Hollande wants to generate some 50 billion euros in savings, which he admits will be difficult.
*Hollande wants to establish what he called a "responsibility pact" that will be negotiated with both trade unions and employer groups. Under this pact, social charges will be lowered in exchange for increased hiring.
*He claimed that the country's social model will not be compromised by his proposed changes, suggesting France will adhere to the economic social welfare patterns found in Scandinavia.
*His government will be tough on racism, xenophobia and anti-Semitism.
*Hollande also praised the results of French military intervention in Mali last year, which he asserted was a "victory against terrorism, and victory for democracy and development."
*Hollande also wants to deepen France's defense relationships with powerful neighbor and sometimes rival Germany.
However, despite the gravity of France's economic problems, some of the public will likely be more concerned with the currently hospitalized Trierweiler, who has been with Hollande since 2007 (they are unmarried), raising questions about her "status" -- both in the president's personal life and in the political sphere. Hollande has children with Socialist lawmaker Segolene Royal (whom he left for Trierweiler), but he has never married.
BBC reported that Trierweiler has a staff of six people in the presidential palace who are supported by taxpayers. But she has no official title in government, not even "first lady" as in the United States. "She [Trierweiler] knows it must be cleared up because the debate has turned political," Frederic Gerschel, a journalist for daily newspaper Le Parisien, told RTL radio. Socialist Senator Francois Rebsamen (a close ally of the president) has urged Hollande to take Trierweiler off the public funds. "These arrangements are outdated and out of keeping with the times and should be ended – [Hollande] even said it himself once," Rebsamen told RTL radio.
David S. Bell, emeritus professor of French government and politics at the University of Leeds, noted Trierweiler is widely disliked in France, and many people resent having to pay for her lifestyle. "There is a constitutional issue here - in what capacity is the 'first girlfriend' employed at the state's expense?" Bell noted. "It is not a big issue, but it is not obvious that the current squeeze should have an office and a series of duties."
Another matter is the tradition of French privacy versus the new age of social media and extremely intrusive reporting on the personal lives of public figures. Douglas Yates, a professor of political science at the American Graduate School in Paris as well as the American University of Paris, said that most Frenchmen and women are not interested in the president's personal life, citing a recent poll that revealed that 77 percent of the French believe that this is a private affair that should not be publicized in the media.
"The French still believe in their private sexual lives," Yates said in an interview. "The French political class is outraged at the [Hollande] revelations, but the French press corps [has] a different opinion. Professional journalists, and especially their publishers, are watching social media cut in front of traditional French media on [these] scandal revelations. As newspaper subscriptions are plummeting, it seems unfair to muzzle the printed word."
In fact, he added, the institutional press is caught in a dilemma. "Either they report on the scandals, and break French privacy laws, or they respect the longstanding tradition of privacy, and lose their credibility with the Internet public," he noted. "The fact that foreign media is reporting on the scandal also changes the game. Tonight the president was scheduled to talk about his economic programs, but it is clear that all anyone wants to hear is an apology, or an explanation of his affair. In the past, all of this would have been discretely swept under the mat. Those days are gone."
Dr. J. G. Shields, professor of French politics and modern history at Aston University in Birmingham, England, commented that the French media are wary of reporting on politicians' personal lives, given the country's strict privacy laws. "What is most striking in the comments on this affair is the stress on invasion of privacy, which is still a highly prized right in French public life," Shields said in an interview.
"Compared to their British or American counterparts, French politicians have long enjoyed protection from overintrusive media -- and many of them have had very colorful private lives on which the media could have had a feeding frenzy. But the extensive reporting of this affair by foreign media shows that news reporting in an age of Twitter is no respecter of national borders. "
© Copyright IBTimes 2023. All rights reserved.