Meningitis 2012 Outbreak: NECC Compounding Pharmacy Owner, President Arrested In Tainted Steroids Case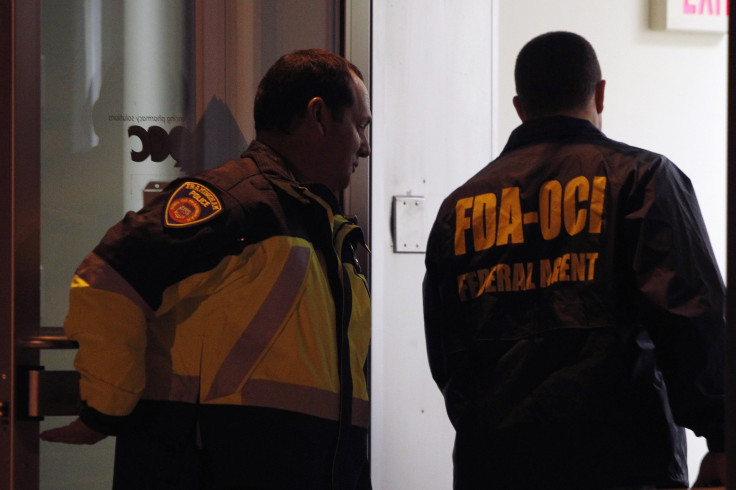 The owner and president of a Massachusetts compounding pharmacy were among several people arrested by federal agents Wednesday morning on charges connected to a deadly meningitis outbreak in 2012 that led to 64 deaths and made more than 750 victims ill from tainted steroids across the country, Boston ABC-affiliate WCVB reported. The steroids were linked to the New England Compounding Center's facility in Framingham, Massachusetts.
Greg Conigliaro, the owner of the New England Compounding Center, and Barry Caden, its president, were among those arrested in an early morning raid, WCVB reported. Conigliaro and Caden were arrested in their homes, according to Boston's Fox affiliate.
The compounding center, which manufactures specialized drugs that can't be handled by a commercial pharmacy, allegedly made steroid injections that were contaminated with black mold, leading victims to develop fungal meningitis in September 2012, CBS Boston reported. There have been 750 cases identified in 23 states from New Hampshire. Michigan had nearly a third of all cases with 264, according to this map from Peter Wilson of CBS Boston:
The New England Compounding Center shuttered its doors and gave up its license to a Massachusetts pharmaceutical board in October 2012, according to CBS Boston.
The 2012 meningitis outbreak was the subject of congressional hearings in November 2012. Cadden refused to testify before Congress about the circumstances that led to the outbreak.
Among those who did testify were Kentucky resident Joyce Lovelace, whose husband, Eddie Lovelace, 78, was the first death linked to the tainted steroids. She urged Congress to adopt laws that monitor compounding pharmacies.
"My family is bitter, we are angry, we are heartbroken and devastated. I come here begging you to do something about the matter," she said, according to a CBS Boston story on the hearing.
© Copyright IBTimes 2023. All rights reserved.