Merkel, Sarkozy Meet to Tackle Differences Over Euro Crisis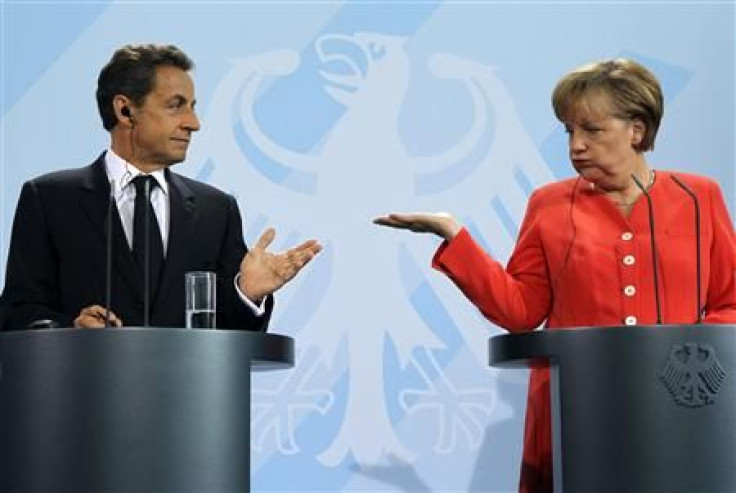 German Chancellor Angela Merkel will thrash out differences with French President Nicolas Sarkozy Sunday over how to use the Eurozone's financial firepower to counter a sovereign debt crisis threatening the global economy.
With the turmoil threatening to spiral into financial meltdown as the value of banks' sovereign bond holdings slide, Merkel and Sarkozy are likely to discuss in Berlin both how to manage Greece, prevent contagion, and strengthen lenders.
The implosion of Belgian lender Dexia, the first victim of the crisis, has added a sense of urgency to the talks.
Dexia will be among the topics that will be discussed but the main topic is Greece and the euro zone, as banks are only a consequence of the crisis, a source at the French finance ministry told Reuters.
Sarkozy is due to arrive in Berlin Sunday afternoon and hold a meeting with Merkel followed by a working dinner.
Talks are continuing over a vital aid tranche for Greece, which could run out of cash as soon as mid-November.
There is a high risk that this crisis further escalates and broadens, German Finance Minister Wolfgang Schaeuble was cited as saying by a newspaper Sunday.
Bolstering Banks
Germany and France have so far been split over how to recapitalize Europe's banks, which Ireland estimated Saturday may need more than 100 billion euros ($135 billion) to withstand the sovereign debt crisis, while the International Monetary Fund (IMF) has said the banks need 200 billion euros ($170 billion) in additional funds.
Paris wants to tap the Eurozone's 440 billion-euro European Financial Stability Facility (EFSF) to recapitalize its own banks, while Berlin insists the fund should be used as a last resort.
Another key dispute is how to use the EFSF to buy sovereign debt to prevent contagion of the crisis, particularly crucial if Greece fails to secure its next aid tranche.
France does not want to set guidelines for the EFSF on the matter, whereas Germany wants to limit the sum used for each member state and set a time limit for bond purchasing, Handelsblatt reported.
Given that the EFSF is limited overall, it makes sense also to limit the purchases on the secondary market for each country, Michael Meister, deputy parliamentary leader of Merkel's conservatives, told Reuters Saturday.
Otherwise, there is a danger the funds could be quickly used up, he said.
The two Eurozone heavyweights have come under pressure worldwide to resolve Europe's crisis, which is roiling financial markets. U.S. President Barack Obama Thursday urged Europe to act fast, calling the common currency bloc's crisis the largest obstacle to the United States' own recovery.
World Bank President Robert Zoellick told Wirtschaftswoche magazine there was a total lack of vision in Europe and that Germany in particular needed to show more leadership.
Merkel will visit Vietnam and Mongolia this coming week.
(Additional reporting by Yann Le Guernigou; Editing by Louise Ireland)
Reuters
© Copyright Thomson Reuters 2023. All rights reserved.