Message For Pelosi? China Releases Live Fire Footage Of D-17 'Carrier Killer' Missile For The First Time
KEY POINTS
The video coincided with the 95th founding anniversary of the PLA
Analysts said the video is a "message" to the U.S. against "provocations"
China is also holding drills near Taiwan ahead of Pelosi's potential visit
China has released a video of what appears to be a DF-17 hypersonic missile, aka the "carrier-killer," amid tensions surrounding House Speaker Nancy Pelosi's potential visit to Taiwan. The video shows the live-fire launch of a missile from a transporter erector launcher on a highway in a desert.
Analysts believe the video release, coinciding with the 95th founding anniversary of the People's Liberation Army (PLA), was a message to the U.S. that "if it insists on provocation, the PLA will take every manner of countermeasures."
The video titled "The capabilities of the Chinese troops shown in 81 seconds" was aired on the state broadcaster China Central Television on Saturday to celebrate China's Army Day, which falls on Monday.
However, a report by Chinese mouthpiece Global Times suggests the video has far more significance as it comes amid uncertainties over Pelosi's visit. Though Pelosi has begun her Asia tour, her itinerary has not mentioned a Taiwan visit. China has repeatedly warned the U.S. against Pelosi visiting Taiwan, but the Biden administration or Pelosi is yet to make any official confirmation about the trip.
Despite the uncertainities, China's decision to release the footage now has attracted the attention of military enthusiasts and analysts. The DF-17 hypersonic missile was publicly displayed at the National Day military parade on October 1, 2019, in Beijing.
The "carrier-killer" is considered a vital weapon and the PLA believes it will help safeguard China's territorial integrity. According to experts, all regions, including the South China Sea, the Taiwan Straits and Northeast Asia, are within the missile's striking range.
"Being able to launch on a highway in a desert demonstrated that the new-type missile does not require a preset launch position to launch," Song Zhongping, a Chinese military expert, told Global Times. He added that the missile can be launched independently at any time and place, making it very agile and flexible.
Meanwhile, China is reportedly preparing to celebrate Aug. 1 Army Day by not only displaying its latest weaponry but also with "concrete and realistic combat preparations." According to Global Times, these drills will warn off "Taiwan independence" secessionist and external interfering forces, who are "paper tigers."
China is also holding live-fire, realistic scenario exercises across South China Sea, the East China Sea and the Yellow Sea, including one in waters off Pingtan, over the last few days. Pingtan is just 125 kilometers away from Taiwan and is divided by only the Taiwan Strait.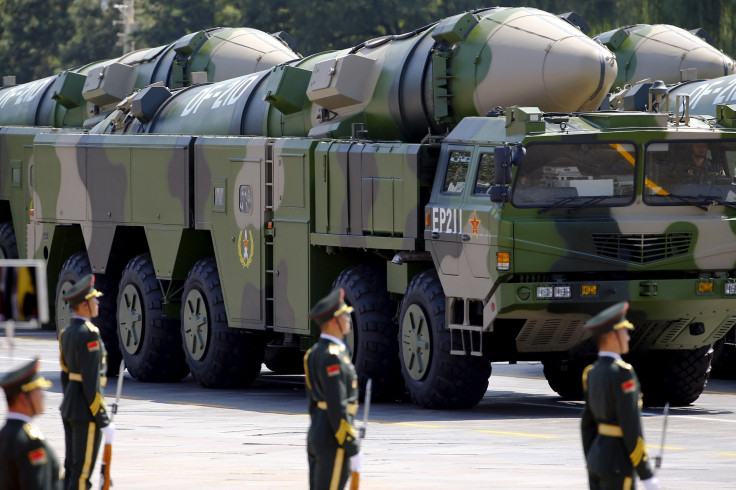 © Copyright IBTimes 2023. All rights reserved.