US - China Relations: Nancy Pelosi Won't Confirm Whether She'll Visit Taiwan Amid Beijing Warnings
Amid strained relations between Washington and Beijing, Speaker of the House Nancy Pelosi will tour Asia this week but has yet to confirm whether she plans to make a stop in Taiwan after China issued a stern warning against visiting the island.
On Sunday, Pelosi's office revealed she would lead a Congressional delegation to Singapore, Malaysia, South Korea, and Japan.
During her time in each country, Pelosi revealed meetings will be held to "further advance our shared interests and values, including peace and security, economic growth and trade, the Covid-19 pandemic, the climate crisis, human rights, and democratic governance."
"Today, our Congressional delegation travels to the Indo-Pacific to reaffirm America's strong and unshakeable commitment to our allies and friends in the region," Pelosi said in a statement.
The statement comes after Pelosi's stop in Hawaii, where she visited the Pearl Harbor Memorial and the USS Arizona.
However, the announcement did not state whether Pelosi would visit the self-governing democracy of Taiwan, which Beijing claims as its own territory.
During a call with President Joe Biden on Thursday, Chinese President Xi Jinping warned the U.S. against interfering in Beijing's business dealings with Taiwan. While China's communist party claims Taiwan as a territory, both sides are only linked by trade and investments.
Biden previously suggested that the U.S. military thought a trip to Taiwan was not "a good idea right now."
However, Biden insisted that if Pelosi visited the island, it would not represent a change in U.S. policy, which supports Taiwan and Beijing as being one country.
Led by Pelosi, the Congressional delegation are a group of Democrats, who include Rep. Gregory Meeks, of New York, who serves as Chair of the House Foreign Affairs Committee, as well as Rep. Mark Takano, of California, who serves as Chair of the House Committee on Veterans' Affairs. Also on the trip are Rep. Raja Krishnamoorthi of Illinois, Rep. Andy Kim of New Jersey, and Rep. Suzan DelBene of Washington.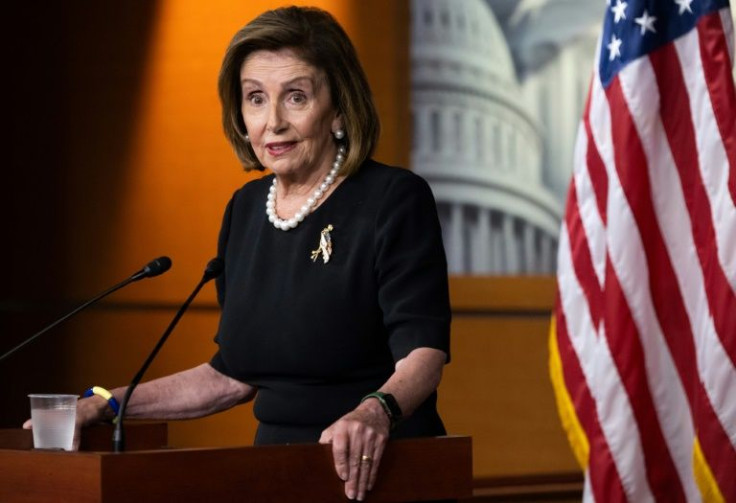 © Copyright IBTimes 2023. All rights reserved.