Mexican Soccer Player Alan Pulido Rescued After Kidnapping Triggered Massive Search Operation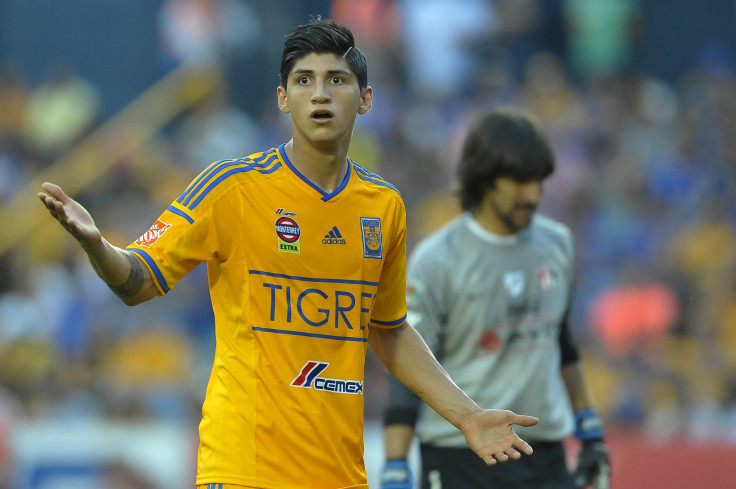 UPDATE: 2:49 a.m. EDT — Mexican authorities said early Monday Alan Pulido has been rescued after hourslong kidnapping in the border state of Tamaulipas. The Tamaulipas security coordination group said in a statement that the rescue operation occurred shortly before midnight and that the soccer player was being medically assessed.
Original story:
The kidnapping of Mexican soccer player Alan Pulido triggered a massive search operation in the country Sunday. The abduction happened in the crime-infested northeastern state of Tamaulipas.
Pulido, 25, was part of Mexico's 2014 World Cup squad and is currently a forward for Olympiakos of Greece.
He was reportedly abducted late Saturday night after he and his girlfriend left a party and were traveling back to his hometown, Ciudad Victoria.
"We have information that he was intercepted by armed persons and since then his whereabouts are unknown," State Attorney General Ismael Quintanilla said.
According to BBC, six masked men took the striker away "by force" while his girlfriend was left unharmed.
The Tamaulipas Coordination Group that includes federal and state security agents reportedly said it was searching for the player. According to the Associated Press, reporters in the city saw an unusual deployment of troops and police in the streets. At least two police or military-style helicopters were noticed flying overhead.
Many took to Twitter to express their concern over the kidnapping.
Members of Mexico's national team also took to social media. Goalkeeper Jesus Corona said on Twitter, "A shame what happened with @puliidooo. My prayers are with him and his family at this difficult time."
Mexican player Guillermo Ochoa, defenders Diego Reyes and Miguel Layun and strikers Javier Hernandez and Oribe Peralta also wrote on Twitter in support of Pulido. The national team is currently in the U.S. for the Copa America competition.
Pulido had not been called up for the tournament that starts this week. Carlos Osorio, national team manager, recently said Pulido has the quality to be on the squad but was left off due to a legal dispute with his former club, Tigres, the AP reported.
Pulido joined Olympiakos last July and finished the season with six goals in 15 games.
© Copyright IBTimes 2023. All rights reserved.