At Mexico City March, Thousands Of Protesters Call For President Peña Nieto's Ouster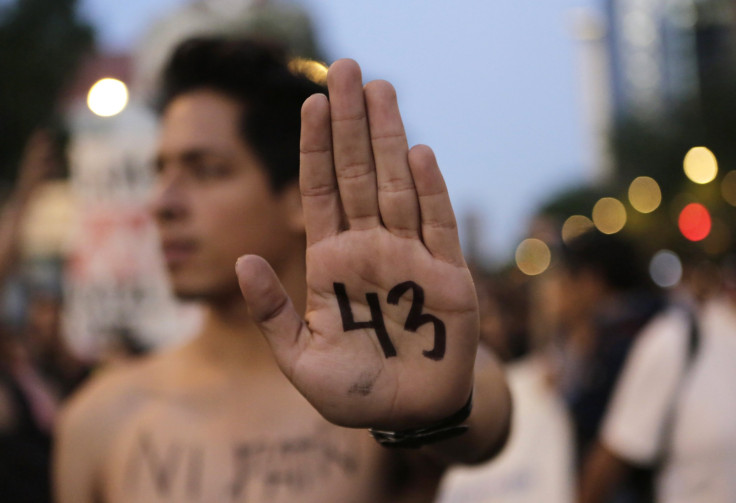 MEXICO CITY — Thousands of protesters filed down the megacity's main thoroughfare to call for the resignation of President Enrique Peña Nieto, who took office two years ago as of Monday. Chants of "Fuera Peña" ("Peña Out!") echoed across Reforma Avenue as demonstrators waved black Mexican flags and carried posters defacing the president's mug.
"We want everyone out: the president, his cabinet, everyone," Nadia Godoy, an anthropologist, said in the historic Zócalo square at the start of the march. She held up a paper banner with black-and-white photos of the missing 43 students from Guerrero State, whose disappearance and apparent murders in September sparked the latest wave of anti-government protests across Mexico.
Throughout the evening's protests, which drew about 7,000 people and later turned violent, demonstrators demanded that Peña Nieto answer for the Guerrero students. Teachers, parents, students and residents shouted "Vivos los queremos!"("We want them alive!") repeatedly, though Godoy acknowledged that most people believe the 43 young men are dead. "If [politicians] can't bring them back to us alive, then they have to go," she said.
Peña Nieto's approval rating has dropped 11 percent since August as citizens lose faith in the administration's ability to tackle violence and corruption concerns. According to a Grupo Reforma survey, only 39 percent of Mexican citizens now approve of the president, while 58 percent say they disapprove of Peña Nieto.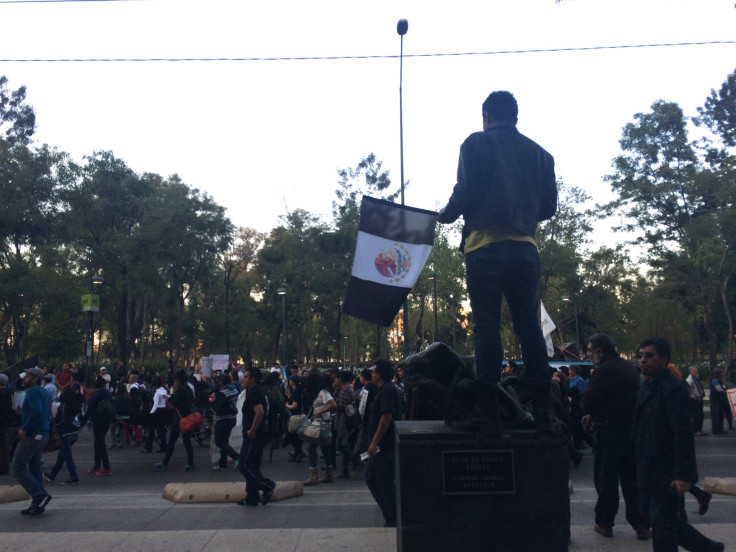 The Monday march was largely festive in its first few hours, with people walking arm-in-arm and vendors hawking tamales and roasted corn along the route to the Angel of Independence monument. Demonstrators hoisted paper lanterns into the sky, and human rights observers, donning red T-shirts, ambled slowly down the avenue. Around La Palma, a wide traffic circle on Reforma, a pick-up truck blasted Mexican "ranchera" music from its rooftop speakers.
As the evening wore on, however, younger demonstrators began smashing and spray-painting store windows, statues and benches, leading to bloody clashes with Mexico City police and resulting in at least three arrests. Members of Mexico's National Human Rights Commission later intervened to prevent police from making sweeping detentions of protesters. In central metro stations, rowdy groups crowded subway platforms as passengers squeezed their way on and off trains.
Not all protesters at the march were demanding Peña Nieto's ouster.
Esther Flores, a professor at the National Autonomous University of Mexico, said she was calling on Mexico's entire political system to provide more economic and social justice for citizens. Nearly half of Mexicans live in poverty, and human rights group say the country is failing to protect its citizens from violence and insecurity. "It's not just the president, it's all politicians and all parties," Flores said during the march. "We're desperate for change."
Other demonstrators marched on behalf of political prisoners in Mexico, including the nearly 100 people who were detained at a Dec. 1, 2012, protest on Peña Nieto's inauguration. Abram Alonzo, who was arrested that day, said that only about 60 people have been released.
"All the charges against us were made up," he said while carrying a white cloth banner with the slogan "Colectivo #1DMX," the name of the group of current and former prisoners. "We're here to demand justice not just for our own cases, but also for the other cases of political prisoners in Mexico."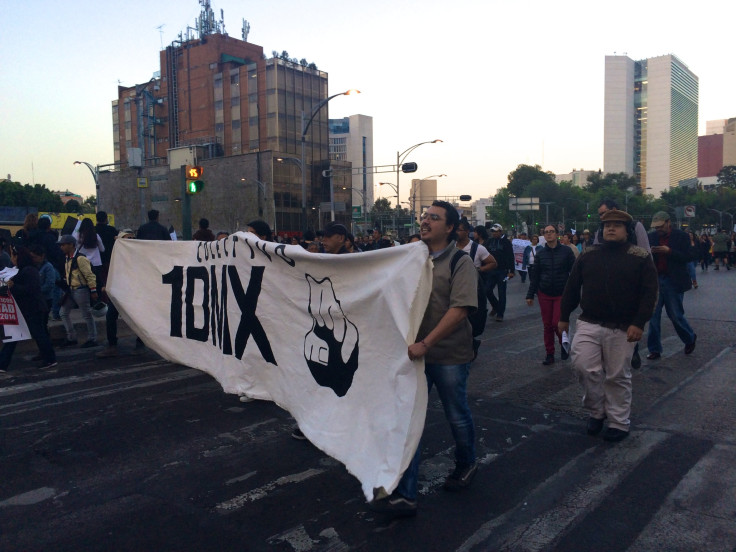 He noted that Bryan Reyes Rodríguez, one of the students arrested two years ago, is back in prison after police captured him and his girlfriend, Jacqueline Santos, on Nov. 15. The couple is accused of robbing over a dozen federal agents by brandishing a kitchen knife, Reyes's mother, María del Carmen Rodríguez Nava, explained in an earlier interview.
She was marching at a Nov. 25 protest to demand the release of her son and the 11 people who were detained at a Nov. 20 march and initially accused of terrorism. The group was released last weekend after a judge found Mexican prosecutors didn't have enough proof to keep the demonstrators behind bars.
As night fell on the Monday march, some protesters splintered off toward subway stops and taxi stands. But others doubled back toward the Zócalo, their chants and disdain for Peña Nieto echoing throughout the historic center.
© Copyright IBTimes 2023. All rights reserved.
FOLLOW MORE IBT NEWS ON THE BELOW CHANNELS