Mexico Disappearances: 30 People Missing From Chilapa, Guerrero After Community Police Raid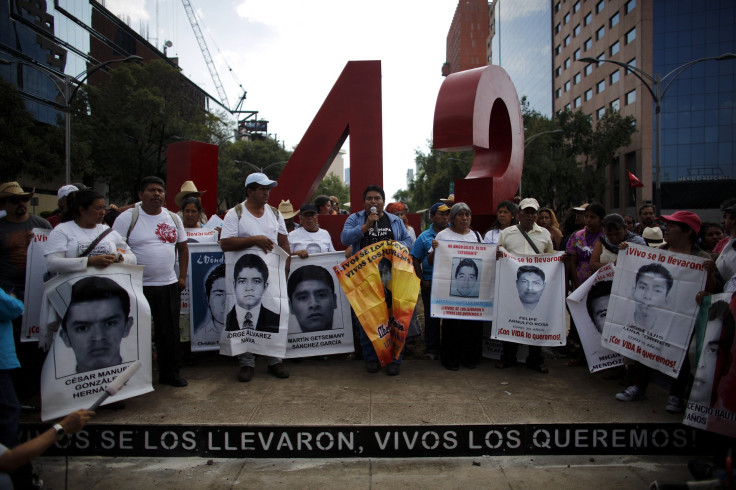 At least 30 people were reported missing this week from Chilapa, a city in Mexico's Guerrero state, where 43 students famously disappeared in September, and relatives of the newly missing again blamed the government. Residents told the State Commission for Human Rights of Guerrero on Monday that dozens of people between ages 15 and 31 vanished during a six-day invasion by a group of civilians acting as police, Telesur reports.
The residents took aim at the government for its inaction. "There were kidnappings, threats and intimidation by the gunmen, and nobody did anything to stop them, not even you," one of the residents reportedly yelled at the meeting with Inspector General Fernando Esteban Ramirez.
From May 9 through Thursday, about 300 men armed with guns, machetes and sticks stormed through Chilapa, a city with more than 100,000 people about 30 miles from Guerrero's capital. They took over the official police force and established checkpoints in an effort to quash violence in the region. The group's presence forced residents indoors, canceled school and drove Mayor Javier García out of the city, Angulo 7 reports.
The community police left after six days but said they would return if the army did not capture the leaders of local gang Los Rojos. As residents recovered, they told authorities that 16 people were missing. The families of an additional 14 suspected their loved ones had been kidnapped, El Diario reports.
The missing come from 14 villages within Guerrero, which the National Public Security System recently named Mexico's most violent state, Univision reports. One of the municipality's mayoral candidates, Ulises Fabián Quiroz, was fatally shot 15 times in Chilapa on May 1, indicating to many that the area could be a hot spot in the run-up to Mexico's June 7 elections.
Guerrero made headlines last fall, when 43 male students from the Raúl Isidro Burgos Rural Teachers' College of Ayotzinapa disappeared on their way to protest a speech by the Iguala mayor's wife. The students were taken into police custody. The officers were thought to have then turned the 43 men over to the Guerreros Unidos gang to be murdered. Only one body has been identified, causing victims' families to protest what they see as a corrupt government and inefficient investigation.
© Copyright IBTimes 2023. All rights reserved.