Mexico Missing Students Anniversary: One Year After Disappearances, Little Has Changed For Mexican Security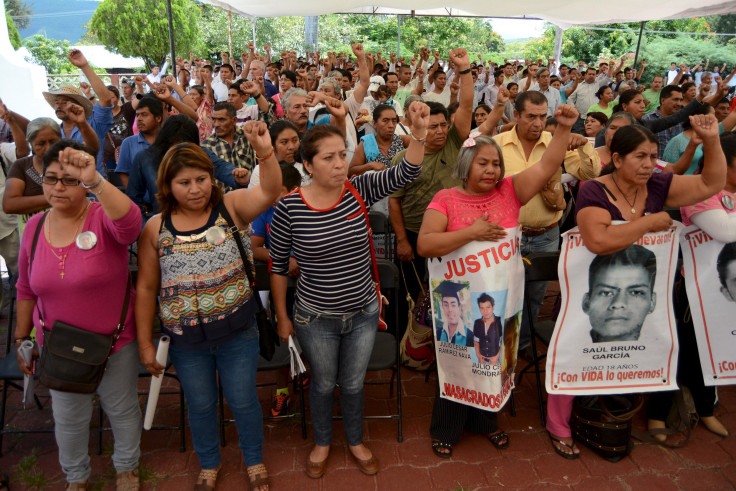 In the year since her 22-year-old son went missing, Hilda Hernandez Rivera's life has been uprooted from her home in Tixtla, Mexico, to a whirlwind of protest marches, sit-ins and fervent speeches that have spanned continents. One thread of hope has kept her going through the exhausting international campaign: The faith that her son may still be alive, despite the Mexican government's insistence that he was killed last year.
"They took what I loved most: My child," she said. "My pain is very, very great, but my love for my son gives me the strength to continue."
Her son, Cesar Manuel Gonzalez Hernandez, was among the 43 Mexican students who vanished under murky circumstances following a police shootout in the southern state of Guerrero Sept. 26, 2014. The harrowing case, which marks its one-year anniversary Saturday, sparked an outpouring of anger across the country and exposed an ugly nexus between organized crime, politics and police in Mexico under a glaring international spotlight.
The mass outrage that arose in the wake of the disappearances was supposed to be a watershed moment for Mexico. Years of spiraling violence, corruption and impunity had reached a tipping point for tens of thousands of Mexicans who protested vehemently for months after the incident. Pressure was higher than ever on President Enrique Peña Nieto to address security after he had spent much of his term trying to rebrand Mexico as a thriving, modern economy. But a year later, little has changed in Mexico's security situation. The government's policies on crime and policing have essentially remained the same, analysts say, and families of the disappeared are no closer to the truth of what happened to their loved ones.
Questions around the case are reaching new heights after an international panel of experts, working under regional human rights authority the Inter-American Commission on Human Rights, issued a damning report earlier this month that rejected the Mexican government's longstanding theory of the case. Only a few basic facts remain undisputed: A group of around 100 students from the Ayotzinapa teachers' college in Guerrero traveled to the town of Iguala Sept. 26, 2014 to raise funds for an upcoming demonstration in Mexico City. While commandeering a set of buses to take them out of town, a common tradition among rural teachers' college communities, police confronted and shot at them, killing three students and three other bystanders. Dozens of survivors eventually returned to their hometown, but 43 remained missing. Eyewitnesses said they had seen several students being hauled away in police vehicles after the attack.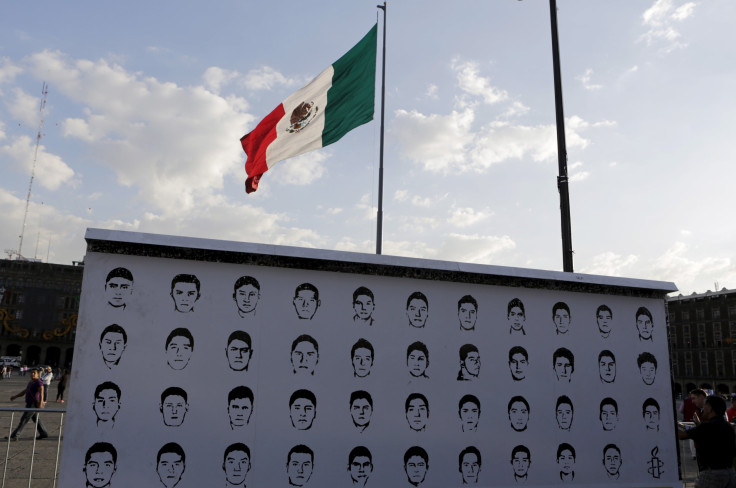 The federal government's investigation, based chiefly on confessions from dozens of people arrested after the incident, concluded that Iguala's mayor ordered police to go after the students out of fear they would interrupt a speech his wife was giving that afternoon. After the confrontation, the police turned the students over to a local gang, the Guerreros Unidos, who then killed them and burned their bodies in a dumpster in the nearby town of Cocula. That was the "historic truth," then Attorney General Jesús Murillo Karam said in January after declaring the case essentially closed.
But the international panel's investigation asserted that the mayor's wife's speech was already over by the time the students arrived in town, and that it was physically impossible for all the bodies to have been burned in the Cocula dumpster in the manner or timeframe described. It also reported that federal security forces had been tracking the students throughout the day and were at two of the scenes where the students were later attacked, but the government did not question any of them.
"The so called historic truth that the government closed the case with in January was a historic lie," Hernandez said.
Pena Nieto authorized the panel to continue its investigation for an additional six months. But the new report signals that closure for families of the disappeared remains a long ways away.
"Even in an iconic case where the reputation of the Mexican government was at stake, where a lot of resources were deployed to solve the case, what you see is a very primitive form of investigation," said Alejandro Hope, a security analyst based in Mexico City. "It has gotten increasingly confusing as to why [the attack] happened."
What galvanized Mexico's torrent of outrage was not just the missing 43, but the seemingly endless trail of mass graves investigators discovered in the search for the students. Sixty hidden graves containing at least 129 bodies, all unconnected to the missing students' case, were found in Guerrero over the past year, according to the Mexican Attorney General's office, underscoring violence and impunity that has remained pervasive in Mexico over the past decade.
August marked the highest number of homicides in Mexico in more than a year and a half, according to federal statistics, and 12,319 people have been murdered in 2015 alone. More than 22,000 Mexicans remain missing, nearly half of whom disappeared during Pena Nieto's term. The president has largely continued the security strategies of his predecessor, Felipe Calderon, focusing on taking down drug kingpins to dismantle criminal organizations that are largely responsible for perpetrating violence. But that approach has been credited with splintering the groups and spurring more territorial battles.
"There's been no change in strategy in terms of reducing the violence," said Hope.
Weeks after the Iguala attack, Peña Nieto pledged to crack down on crime by unifying municipal police forces under states' control and authorizing federal forces to take over local governments thought to be colluding with organized crime groups. He submitted a 10-point plan to Congress with these measures, but it hasn't advanced.
Initiatives to assemble local police forces under state control were not new or innovative, Hope said, adding that previous proposals had failed. "It implies a massive redistribution of power and resources in the country. It's not going to happen," he said.
But it's a lack of political will, not capacity, that prevents the federal government from tackling the security crisis effectively, said Laura Carlsen, the Mexico City-based director of the Americas program at the Center for International Policy, a research group headquartered in Washington, D.C.
"Complicity between the government and organized crime goes up to the highest levels," she said. "It's gotten to the point where we can't identify it as just a few bad apples. It's a structural part of the Mexican state, and a lot of people make a lot of money off of it."
Hernandez, the mother of one of the missing students, has continued to tour multiple countries in a bid to drum up international pressure on Pena Nieto's government to deliver justice. She and four other mothers are hoping to bring their cause to Pope Francis' attention during his visit to Philadelphia Saturday, and other victims' families are meeting with Pena Nieto Friday for the first time since October. Hernandez acknowledges the uphill battle in finding answers or justice for her son, but it hasn't deterred her.
"Evil and injustice have always existed in our government," she said. "We're not giving up the fight."
FOR FREE to continue reading
✔️ Unlock the full content of International Business Times UK for free
offer available for a limited time only
✔️ Easily manage your Newsletters subscriptions and save your favourite articles
✔️ No payment method required
Already have an account? Log in
© Copyright IBTimes 2023. All rights reserved.