Mexico Oil Production To Rise After President Enrique Peña Nieto Mexico Oil Reform Finalized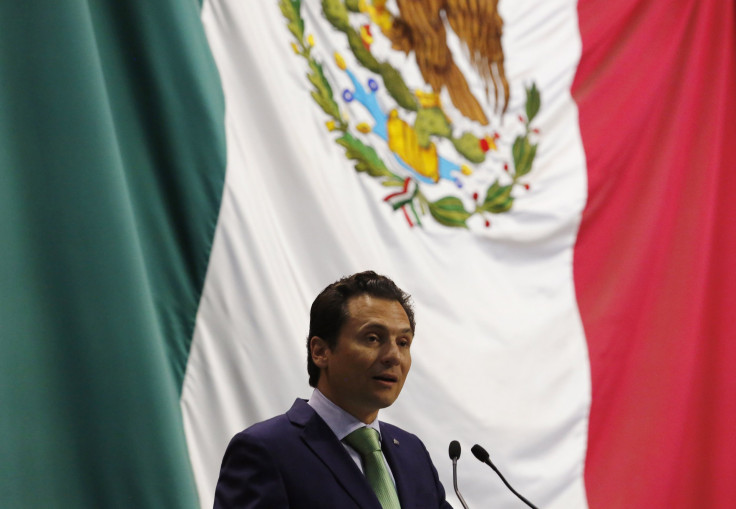 Mexican President Enrique Peña Nieto's oil policy came one step closer to fruition on Wednesday when Mexico's Congress finalized an overhaul of the country's energy sector. The move is expected to boost Mexico energy production and open Mexico's oil fields through privatization.
The legislation cleared Mexico's Senate on Tuesday and passed the lower chamber early on Saturday following several months of debate. President Peña Nieto is expected to announce the Mexican energy reform package in a speech this evening.
"This is monumental," Jorge Piñon, an oil expert at the University of Texas at Austin, told International Business Times about the measures. "It shows the commitment of the Mexican government to move forward."
The new Mexican energy reform rules hash out the fine print of the wider policy approved in December, which revised the Mexican Constitution to allow private and foreign firms to explore for and produce energy in the country, ending the 75-year Pemex monopoly. Pemex is Mexico's state-run oil company. The new laws govern changes in areas such as energy regulation, tax policy, concessions and joint ventures.
Proponents of Mexico's energy reform hope it can stem declining production from Mexico's onshore and offshore oil fields by attracting outside expertise. Mexico is among the world's top 10 oil producers, but the Pemex monopoly has made it difficult to attract technology and resources needed to tap abundant, unconventional oil reserves in the Gulf of Mexico and in shale deposits in the northern states, they say.
Last year, Pemex produced about 2.5 million barrels of crude oil per day, a slight dip from 2012 and a stark fall from the 2004 peak of nearly 3.5 million barrels per day, according to U.S. Energy Information Administration statistics. Pemex expects its crude output to fall farther to 2.41 million barrels a day this year -- its lowest production in two decades, Bloomberg News reported in July.
Major oil companies such as Exxon Mobil Corp. (NYSE:XOM), Chevron Corp. (NYSE: CVX) and Royal Dutch Shell Plc (NYSE:RDS:A) have long expressed interest in tapping Mexico's oil reserves, as have mid-sized companies and petroleum services firms like Baker Hughes Inc. (NYSE: BHI) and Halliburton Co. (NYSE: HAL). Under the new laws, Mexico could attract an additional $20 billion in foreign direct investment as soon as 2015, according to Bank of America Corp.
"We think that it would be a win-win if ever there was one," William Colton, Exxon's vice president of corporate strategic planning, told reporters in December ahead of the constitutional reform.
President Enrique Piñon Nieto listed two key reasons for the global oil industry's interest in Mexico. First, the country's resource base is largely proven, and U.S. oil companies already have experience tapping offshore reserves and shale deposits north of the border. The Burgos Basin, one of Mexico's largest shale deposits, for instance is estimated to hold 600 trillion cubic feet of recoverable shale gas and 13 billion barrels of recoverable shale oil, the sixth-largest and eighth-largest resources in the world, respectively.
Mexico is "not a new frontier area that has to be discovered, and in which there will be high-risk exploratory drilling," he said.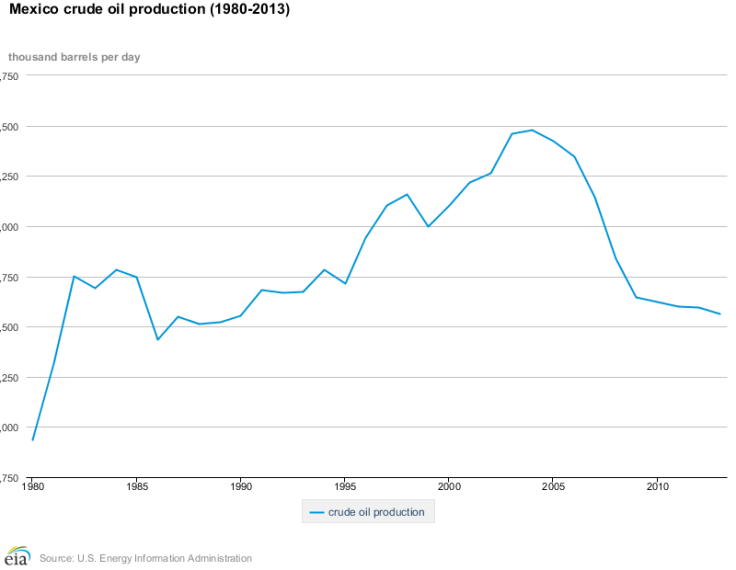 Second, Mexico's proximity to the United States makes it easier and cheaper to transfer equipment, personnel and technical support from company headquarters in Texas or Louisiana, compared to setting up shop in the Middle East, "There's an attractiveness from a cost perspective," Piñon said.
Mexican energy officials have modest ambitions for oil and gas output under the new energy landscape, saying they expect to increase output by roughly 500,000 barrels a day -- to reach about 3 million barrels a day – by 2018, the New York Times reported this week. Over the longer term, the government hopes that private investment in offshore and shale fields will boost output even higher.
Mexico's energy reform still faces fierce opposition from legislators on the left and much of the public, who fear that Mexico's oil wealth will flee the country and instead line the pockets of private and foreign companies. But Piñon said he doesn't think a public referendum to reverse the reforms is likely, since the ruling Institutional Revolutionary Party (PRI) and conservative opposition National Action Party (PAN) control the majority of seats in Congress and the bulk of Mexico's 31 states. "I think this is irreversible," he said of the overhaul.
© Copyright IBTimes 2023. All rights reserved.
FOLLOW MORE IBT NEWS ON THE BELOW CHANNELS