Mexico Organized Crime Only In 'Some Areas Of The Country': Mexican President Peña Nieto Comments Anger Media, Civil Rights Groups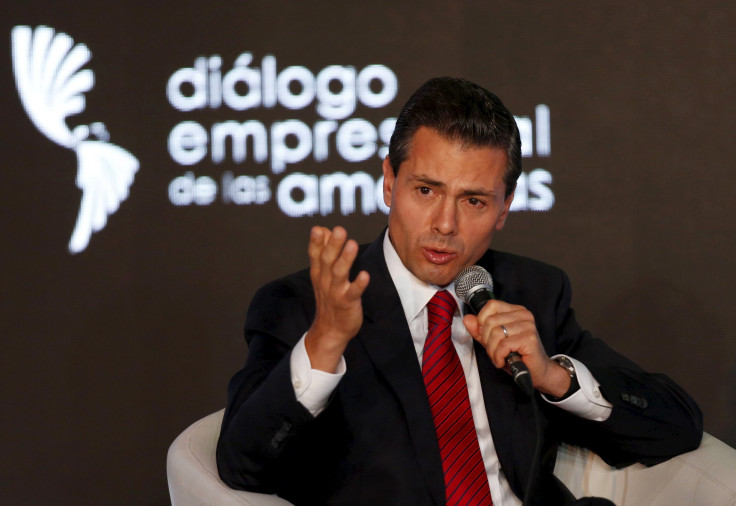 Mexican President Enrique Peña Nieto raised eyebrows among the media and the Mexican public when he said Monday that organized crime affected only "some areas of the country," Latin American media outlet teleSUR reported. Critics of the president have said that violent crime has spread to more parts of Mexico since he took office in 2012.
"In some areas of the country, organized crime still threatens our security. In those places the Mexican state has continued strengthening its capacity to reduce violence," Peña Nieto said while addressing a pledge ceremony for navy cadets, teleSUR reported Tuesday. The president also mentioned last month's capture and arrest of Alejandro Trevino-Morales, head of the ruthless Zetas drug cartel.
In addition, he pointed to progress being made against violence in general, including a 27 percent drop in murder investigations and a 24 percent drop in kidnappings in the first quarter of 2015 compared with the same period in 2012, Mexican newspaper El Universal reported. "These are clear examples of positive results and major shocks against the command structures of all the organized crime groups that, unfortunately, operate in the country," Peña Nieto said, as the paper reported.
But media outlets and civil rights groups in Mexico said Peña Nieto's statements about crime being a localized problem weren't true, and that kidnappings and killings have risen sharply since he took office. Mexican daily newspaper Reforma said one kidnapping occurs in Mexico every five hours and 2 million Mexicans have been displaced by violence, teleSUR reported.
Crime is the top concern among the Mexican public, an August poll by Pew Research Center suggested. Nearly 8 in 10 Mexicans said crime was a "very big problem" in the country, larger than the 72 percent who said both corrupt political leaders and drug-cartel-related violence were big problems.
© Copyright IBTimes 2023. All rights reserved.
FOLLOW MORE IBT NEWS ON THE BELOW CHANNELS