Mexico Stalled Independent Probe Into Disappearances of 43 Students, Investigators Said To Reveal In Final Report Sunday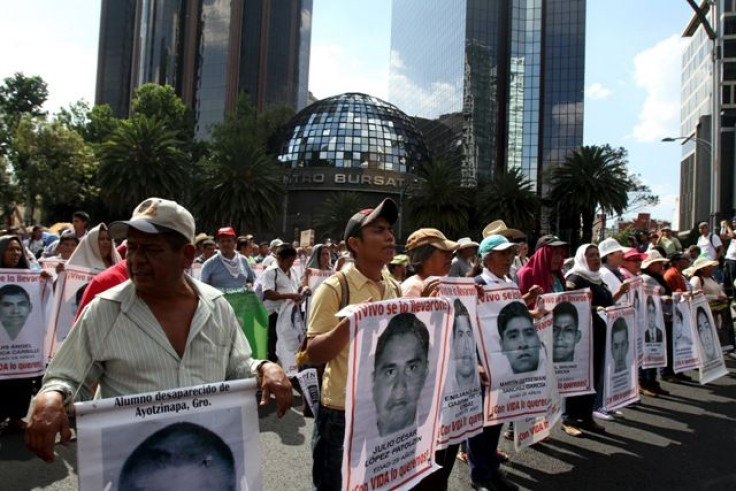 A team of independent investigators, probing the disappearance and alleged killing of 43 college students at the hands of criminal gangs in 2014 in Mexico, is set to dispute the government's account of what happened, reports said Friday. The investigative team sent by the Inter-American Commission on Human Rights, which will reveal its final report Sunday, is expected to say it was unable to solve the case due to unwillingness by the government to cooperate.
The international panel faced a sustained campaign of harassment, stonewalling and intimidation, the New York Times reported. The panel of experts alleged that the investigators endured planned attacks from Mexican news media and a refusal by the government to turn over documents or grant interviews with essential figures.
"We have not found the political conditions to keep working in Mexico," one of the people close to the investigation told the Wall Street Journal.
However, the Mexican government refuted the claims Friday, and reportedly said that it "has shown at all times collaboration and disposition to work" with the probe, "giving its full support to uncover the truth on these tragic events."
The Mexican government had earlier concluded that the 43 students, who were in the city of Iguala in southwestern Mexico as part of a protest, were kidnapped by police officers working for criminal gangs, who then killed and incinerated them in a garbage dump of a nearby town.
The attorney general, who led the government probe, reportedly called the office's finding the "historic truth."
The independent investigators have opposed this version and maintained that the government's account of the events was based in part on confessions apparently extracted by torture. The panel also dismissed the theory that the students were burnt beyond identification at a rubbish dump as physically impossible.
"The conditions to conduct our work don't exist," Claudia Paz y Paz, a panel member, told the Times. "And in Mexico, the proof is that the government opposed the extension of our mandate, isn't it?"
Relatives of the disappeared students have also disputed the government's account of what happened in September 2014, and protested the government's refusal to let the soldiers, who were in the area at the time of the disappearance, be questioned by anyone but government prosecutors.
Mexico's government has increasingly been accused by activists of serious human rights violations in recent years, including extrajudicial killings, enforced disappearances and torture. In 2015 alone, there were 453 cases of disappearances, local media reported, earlier in April.
© Copyright IBTimes 2023. All rights reserved.