MH17 Crash: At Least 22 Bodies Found At Ukraine Wreckage Site, Associated Press Journalist Says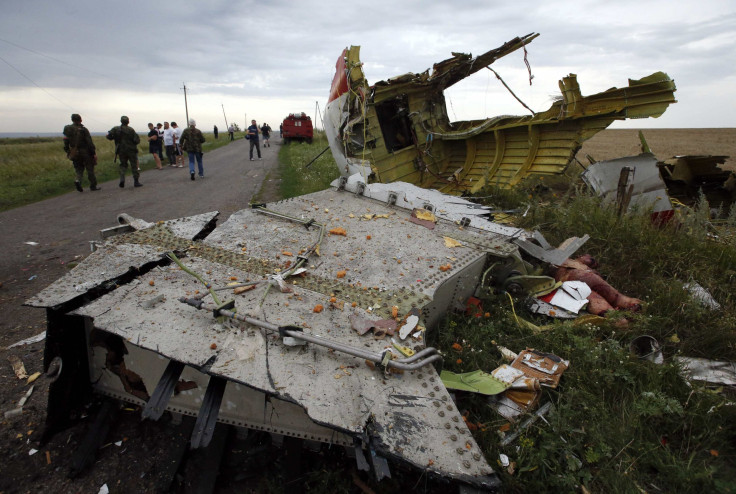 Update (2:20 p.m. ET): Interfax quotes a Ukrainian Interior Ministry official as saying that the death toll stemming from the MH17 incident is over 300 people, 23 of whom are United States citizens, Reuters reports.
-
However, despite the Ukrainian official saying more than 300 were on board, the airline said the total number of people on the aircraft was 295.
An Associated Press journalist has reportedly counted 22 bodies among the wreckage of the Malaysia Airlines plane that was allegedly shot down over Ukraine around noon local time Thursday.
Flight MH17 was en route from Amsterdam to Kuala Lumpur when it came down in territory controlled by pro-Russian rebels in Ukraine, killing all 295 aboard, a Ukrainian interior ministry official told Interfax. Malaysia Airlines said on Twitter it had lost contact with the plane as it flew over Ukrainian airspace.
The plane crashed near the city of Donetsk, a stronghold of the pro-Russian rebels. Ukrainian official Anton Gerashchenko reportedly told Interfax that MH17 was shot down by a surface-to-air missile, Reuters said, but that claim has yet to be verified.
"A civilian airliner travelling from Amsterdam to Kuala Lumpur has just been shot down by a Buk anti-aircraft system ... 280 passengers and 15 crew have been killed," Gerashchenko was quoted as saying, according to Reuters.
Ukrainian officials have yet to confirm anything other than that local residents had discovered plane wreckage.
© Copyright IBTimes 2023. All rights reserved.