MH370 Search Update: One Woman Waits For A Loved One To Come Home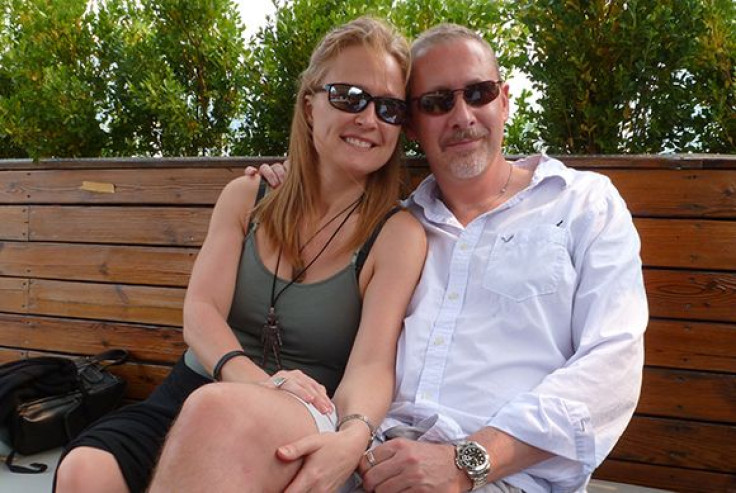 Sarah Bajc posts Facebook updates for her boyfriend, Philip Wood, to see. "Just in case my being heartbroken without you isn't enough, here is another reason to come home," she wrote recently, with a photo of his favorite brand of whisky. "Woodford Reserve in Beijing! I bought both bottles!"
Last March, Bajc was busy packing up her Beijing home. Wood, 50, was flying in from Kuala Lumpur, where he relocated for his job at IBM, for their last weekend in the Chinese capital and to help with the final stages of the couple's move to Malaysia.
Sarah, 48, is still in their Beijing apartment -- and still waiting for Philip, a passenger on Malaysia Airlines flight MH370, to come home.
Bajc, a high-school economics teacher and mother of three (from a previous marriage), has lived in Beijing for seven years. She was excited to be moving on, but now she can't.
Though Bajc still teaches full-time, much of her life is dedicated to finding out what happened to the Malaysia Airlines plane and the 239 people aboard when it disappeared on March 8.
"There has been no progress," she told International Business Times in an email. "Zero proven facts. Zero unadulterated evidence or information shared."
Frustrated by official search efforts and by what she sees as Malaysian government stonewalling, Bajc and a handful of other MH370 family members decided to start an independent project. The group's new crowdfunding "In Search For The Truth" campaign aims to raise $5 million to help fund a private investigation.
The money will be used for three goals, she told IBTimes: "Provide an incentive to bring forward reluctant people with information; use professional, experienced experts to analyze new information; and to change aviation safety regulations and procedures."
"We hope the campaign and the media coverage will keep the search for the truth alive," she said.
"Without a fresh approach, the truth and the plane will never be found," Bajc says on the campaign's Facebook page. "Governments and agencies have given it their best shot but have failed to turn up a single shred of evidence, either because of a faulty approach or due to intentional misdirection."
Bajc's nightmare started slowly. Tracking her boyfriend's flight online on the night of its departure, Bajc wasn't overly concerned when she saw the flight's arrival listed as "delayed." It wasn't until she was browsing online news that she discovered the plane was actually missing, and that the Malaysia Airlines information was inaccurate. This would be the first of many instances of misinformation and poor communication.
After 16 days, the airline sent a text message to families of the missing passengers, announcing that the search had been suspended and everyone on board was presumed dead. The families' heartbreak and frustration were compounded by a continuing lack of communication; they say the airline even ignored their requests for translations of press conferences.
"It has been shockingly terrible, the way we have been treated," Bajc told IBTimes. "One of the obligations of Malaysia Airlines is to brief all family members on all information before it's released to the public, yet they consistently don't do that."
As a result, a network of families has come to rely on each other. "We continue to keep faith and support each other." Bajc said.
"We receive all of our meaningful information through the press and our network of private experts," she said. "The updates from the Malaysian government are usually a day or two after the information hits the news. The Australian information is more useful, but still no different from what you see."
For its part, the Malaysia Transport Ministry vowed to stay committed to solving the mystery and supporting the missing passengers' families. "We cannot and will not abandon the families of the crew and passengers of MH370," stated Hishammuddin Hussein, Malaysia's transport minister. "We will, with the grace of God, find this missing plane and so with it begins the process of healing."
Bajc has immersed herself in studying the many theories about what might have happened to the plane. None of them is persuasive to her, and until she sees "irrefutable proof -- the debris, bodies," she holds out hope that Wood is still alive. "I have been disheartened at times," she said, "but I know he would do the same for me."
For all the families, she says, the unanswered questions are excruciating. "We cannot grieve because there is zero proof that the passengers and crew are dead. It is a giant unknown."
On her Facebook page, she writes to Wood about the routines they shared: yoga practice, reading on their rooftop, making plans for their next adventure.
She recently celebrated her son's graduation from high school in Beijing, a milestone that Wood was supposed to attend. "You have been such a loving and insightful model for him these past few years. It has been wonderful to have the older kids here as well these past few weeks. It eases the loneliness and sadness," she wrote. "Please come home."
"People are giving up," she posted on her Facebook page in April. "Please help me convince them we must keep trying to find you. Just a small sign?"
She told IBTimes, "I believe someway, somehow, he can hear me."
© Copyright IBTimes 2023. All rights reserved.