MH370 Theory: Governments Aware Of Missing Plane's Location, Renowned Oceanographer Claims
The location where the missing Malaysia Airlines Flight MH370 went down is known to the governments, an oceanographer who found Air France flight 447 claimed. In an interview with the Sun, Dr David Gallo said the disappearance of the Boeing 777-200 is not a mystery.
"How could an aircraft be in the air for seven hours without someone looking for it?" Gallo said. "The issue there was that it wasn't clear we were getting the best information from Malaysia. That is one of the big issues... The primary radar data of what happened that night I don't believe that we actually saw. I think we saw the records."
"I don't think the U.S. would know, I just think any aircraft missing for that long, someone would look to see where it would be... There's plenty of satellites in that area, so my question is how could an aircraft be in the air for seven hours without someone looking for it?" he added.
Flight MH370 went missing March 8, 2014, with 239 people on board while on its way from Kuala Lumpur to Beijing. The incident is believed to be the greatest mystery in aviation history.
Authorities said because it vanished from radar soon after turning, investigators were forced to use complex mathematical equations based on three-way "pings" between the jet, a satellite and ground station to estimate its trajectory.
"There's no record of an aircraft impacting the southern Indian Ocean anywhere. I just don't know how you could miss that debris field," Gallo said. "I'm not saying that they (the Malaysian government) are hiding something, but if something happened in the first few hours they would be best placed to know what happened... At the heart of it all are the families and loved ones of the passengers who even to this day I know are suffering for this loss."
In July, Malaysia released a full report detailing the investigation into the plane's disappearance. Investigators wrote in the report they were unable to determine what happened to the Malaysia Airlines plane.
While several theories about the plane's disappearance have emerged, Wilson — a British video producer — said he spotted the doomed jet in a Cambodian jungle on Google Maps. To confirm his theory, he along with other searchers will scour the dense jungle and reach the location where the plane is believed to be present.
The biggest lead in the investigation came when a plane flaperon was found by villagers on Réunion Island. Investigators said in the report 27 pieces of wreckage are believed to be from MH370, though only three have been confirmed as parts belonging to that plane.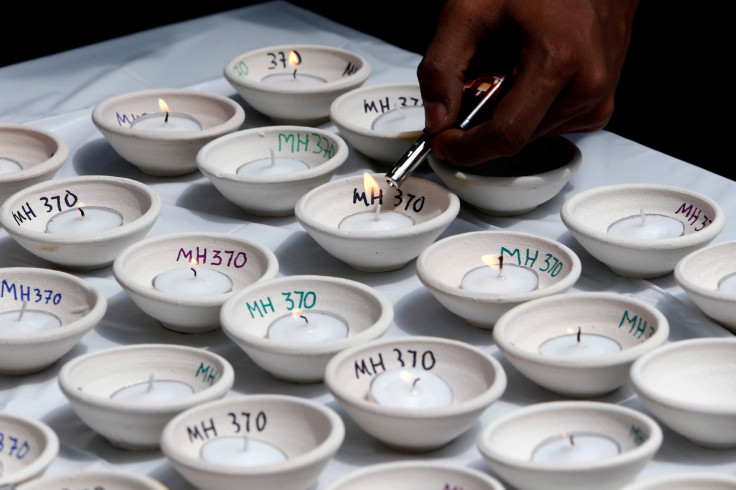 © Copyright IBTimes 2023. All rights reserved.