MH370 Update: Was The Plane's Disappearance A Rare Case Of Pilot Suicide?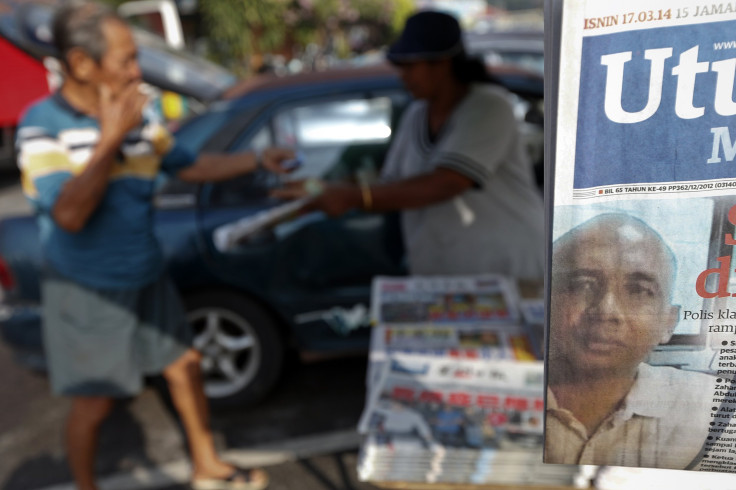 Of the 239 people who went missing on Malaysia Airlines Flight 370, two people were the most likely to have known what was happening to the plane. But authorities have yet to figure out what the men in the cockpit, Captain Zaharie Ahmad Shah and First Officer Fariq Abdul Hamid, were thinking in their final hours.
It's one of most intriguing questions in the saga of the vanished plane. One of the leading theories in the first days after the plane went missing centered on suicide. Did one of the men -- or perhaps even both of them -- have a death wish, and did they act on that urge in a way that ended the lives of 227 passengers and 10 of their fellow crewmembers, along with their own?
The world may never have an answer to this question, unless the two black boxes are found. But the possibility of a rare suicide by a professional pilot hangs over the investigation, raising questions about whether airlines do enough to ensure that pilots don't kill themselves and the hundreds of passengers who depend on them.
Almost immediately after the plane was declared missing, authorities began digging into the lives of the men who were in control of MH370 that day. They found no suicide notes, no manifestos or other evidence that they had any intentions of killing themselves. Shah's brother insisted he was "not suicidal," despite the fact that his wife had recently left him.
Tom Bunn, a retired airline captain, aviation expert, licensed therapist and author of the book "Soar: The Breakthrough Treatment for Fear of Flying," is one of many experts who doesn't buy the suicide storyline.
"I have a hard time with the suicide thing because if someone was going to kill themselves, why would they fly around for two hours?" Bunn said. "This guy's a captain, he's able to fly a plane around, he's got too much ego strength to commit suicide. And the other guy's a co-pilot; they're high achievers. That doesn't fit the profile of someone capable of suicide."
But Shah's daughter, Aisah, told the Daily Mirror that "he was not the father I knew ... He seemed disturbed and lost -- in a world of his own. He was distant and cranky."
And there are rumblings that the imprisonment of Malaysian opposition leader Anwar Ibrahim for the crime of homosexuality just hours before the flight took off could have been a motivating factor in a potential suicide by Shah, who ardently supported the politician and attended his trial earlier that day.
Investigators don't have much to go on, but some of the evidence that has been collected points to the possibility of a deliberate crash. The plane's transponders were turned off in a way that suggests a deliberate move to hide the plane's whereabouts. And once the transponders were off, the plane made a series of sharp turns that experts say would have had to be programmed or performed by someone at the controls.
If an MH370 pilot did intentionally down the plane, it would not be the first case of this kind. Last November, Mozambique Airlines Flight TM470 was lost to a suspected pilot suicide, killing 33 people. Perhaps the most famous incidence came in 2002 when the co-pilot of EgyptAir flight 990 killed 217 passengers in a suicide mission after the airline punished him for sexual misconduct. (Egyptian officials refused to accept that finding, but virtually all international investigators agree.)
Bunn argues that although authorities must take suicide risk seriously, they shouldn't overreact by establishing a screening process that weeds out good potential pilots.
"We don't really have a problem with suicide," Bunn said. "In general the FAA [the U.S. Federal Aviation Administration] does not set up a rule unless they have a really good theoretical reason, or there's a history."
Still, airlines can and should do more to ensure that pilots are mentally sound, said Dr. Carole Lieberman, the author of "Coping With Terrorism: Dreams Interrupted," and a psychiatrist who has testified in cases involving pilots' mental health.
"As for airlines' policies regarding the mental health of pilots, they lack consistency and depth," she said via email. "Pilots should be given more intensive mental-health examinations -- with well-trained psychiatrists who know to look for potential terrorist sympathies in addition to psychosis, depression and suicidal or homicidal tendencies."
Both the airlines and the FAA already conduct at least one annual mental-health screening of each pilot. It's in the airlines' interest, both financially and otherwise, to take steps to guarantee that pilots are psychologically fit for their jobs, said Craig Conroy, an aviation expert and author of "Aviation Crisis Management."
"I think airlines in general are doing a great job of that. You're talking about a $30 [million] to $200 million piece of equipment. Are you just going to turn those keys over to anyone?" Conroy said. With liability costs and possible lawsuits, an accident "quickly becomes a billion-dollar incident, so you look actuarially at that and say, 'I don't think I trust this guy. I don't want an incident.' Do people fall through the cracks? Yes they do … But I do think airlines do a very good job of psychological screening."
Of course no screening process is foolproof. "If the [theoretical] stealthy hijacker of flight MH370 is capable of eluding modern aviation surveillance systems, he might also be adept at evading the process of fitness-for-duty evaluations," said Dr. Eric A. Zillmer, professor of psychology at Drexel University.
Without new data, it's likely we'll never know if MH370 was intentionally downed. The best response to that disturbing scenario, in any case, is to try to keep other pilots from taking that most terrible of routes.
FOR FREE to continue reading
✔️ Unlock the full content of International Business Times UK for free
offer available for a limited time only
✔️ Easily manage your Newsletters subscriptions and save your favourite articles
✔️ No payment method required
Already have an account? Log in
© Copyright IBTimes 2023. All rights reserved.