MH370: Wife Of Passenger Of Malaysia Airlines Tragedy Rejects $64,000 Compensation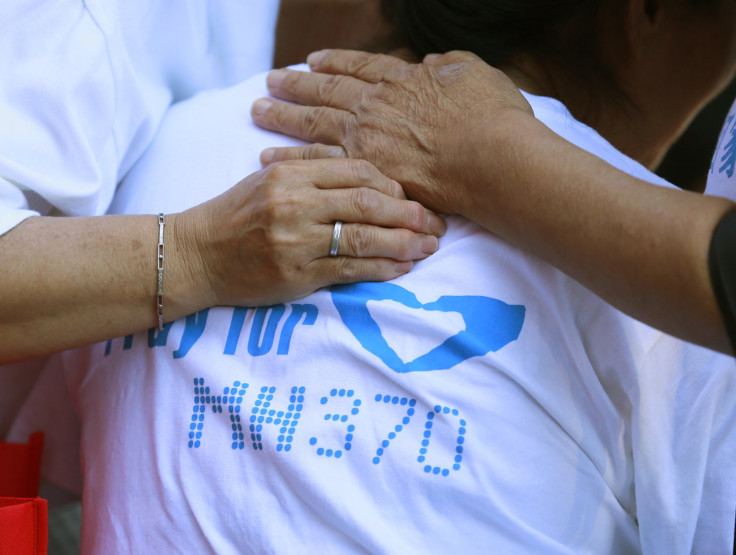 The wife of a New Zealand-born passenger on missing Malaysia Airlines Flight MH370 rejected a compensation offer of $64,000 from the airline, media reports said Sunday. Danica Weeks' husband, Paul, was among the 239 people on board the Boeing 777, which mysteriously disappeared on March 8 and has yet to be found.
Weeks, who currently lives with her two children in Perth, Australia, told Perth Now, a local media outlet, that she had received legal advice not to accept the compensation offer made by Malaysia Airlines because it was a "catch-22" situation. She reportedly said that she was being offered the money on the condition that she complete a detailed questionnaire.
"It's like doing something nice, but you do something for us by filling in this questionnaire and give us all your details, which I can only surmise will go to their insurance company so the insurance company knows what they're up for," Weeks told Perth Now.
Voice370, a group that Weeks helped set up for the families of the missing plane's passengers, also reportedly criticized the offer stating that no amount of money could compensate for the families' losses.
"Malaysia Airlines cannot undo this tragedy. However, a fair and adequate compensation for all would reflect the magnitude of the effect this tragedy has had on our lives and should be commensurate to this being the worst air tragedy the industry has ever seen," the group reportedly said.
The search for Flight MH370, which has entered its seventh month, resumed after a four-month break in September, and has so far yielded no concrete clues as to the whereabouts of the jetliner.
The Australian Transport Safety Bureau, or ATSB, said in a report that it had moved the focus of the search for the missing jetliner to an area farther south in the Indian Ocean.
However, Tim Clark, the CEO of Emirates, the Middle East's largest airline, raised doubts over the ongoing investigation of Flight MH370, claiming that he did not believe that the jetliner ended up in the southern Indian Ocean. He also disagreed with the recent updated flight path analysis report published by the ATSB on Wednesday.
© Copyright IBTimes 2023. All rights reserved.