Miami Heat Rumors: Are the Los Angeles Clippers a Threat to the Heat's Pursuit of Ray Allen?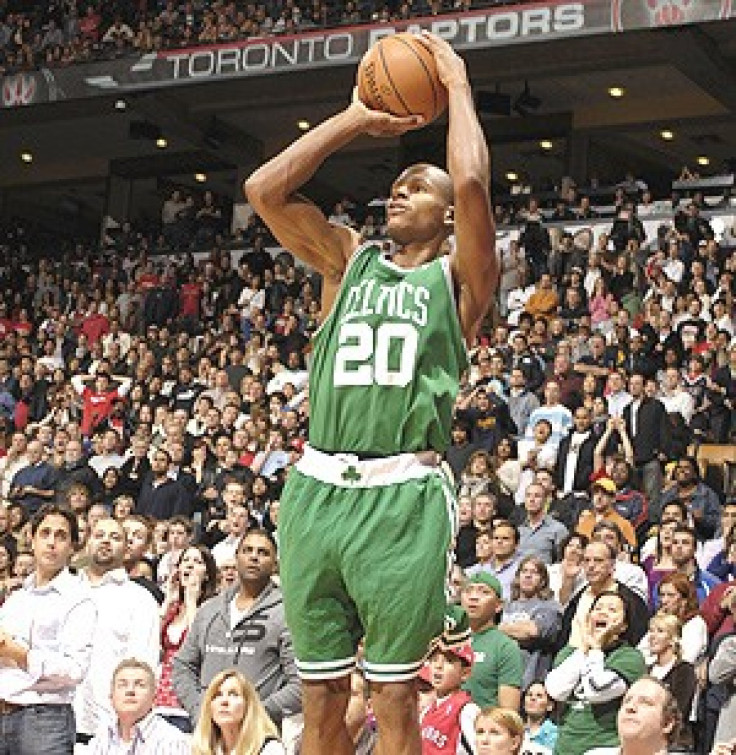 A new team has joined the race for Ray Allen, the Los Angeles Clippers.
The Clippers now join the Heat and Celtics as the most likely landing spots for the free agent shooting guard.
Allen has made it clear that the things that matter to him are the role a team can offer him and the amount of money they can offer. That might be why the Clippers are suddenly surging as a potential destination.
In Miami, Allen is a natural two, will come off the bench behind Dwyane Wade in Miami. His playing time could be substantial, and he would probably be the sixth man for the Heat, fulfilling a role similar to James Harden's in Oklahoma City, but he would not be a part of the starting rotation.
For the Heat to use him in late situations when Chris Bosh, Mario Chalmers, Wade and LeBron James are on the floor would require moving players out of position. Those five players on the floor mean that either Wade or Allen would be comfortable at shooting guard spot, bumping the other player to the small forward role, and out of position.
If that happened, the Heat would be forced to move James to power forward and Bosh to center. While they can play those positions, they would be slightly out of their comfort zone as well. It could be a difficult situation for Allen.
The Heat also have very little money for Allen, they can only offer him the taxpayer mid-level exception which would pay him just $3 million, the lowest total any of the teams could offer him.
In Boston he would again be stationed behind a younger player. Texas product and Celtics draft pick Avery Bradley developed into a very promising starter throughout the season and though he missed most of the playoff run with an injury, he will return to the rotation this fall.
The Celtics also acquired Jason Terry via free agency on Wednesday. The former Maverick has won the sixth man of the year award, and plays a similar game to Allen, meaning there is even less opportunity for him there.
Boston has Bird Rights on Allen and could bring him back for however much money they are willing to pay. However, the Celtics have tied up most of their money in other, younger places. They look to be attempting to remake their team anticipating the end of the big three, and bringing Allen back for big money would be counterproductive.
In Los Angeles, there are none of these problems. The Clippers have a starting slot ready and waiting for Allen. Randy Foye, who started at the two for the Clippers for most of the season, is an unrestricted free agent who appears to be close to signing with the Knicks.
The Clippers also used Mo Williams and Nick Young at times in that slot, but neither is a viable starter at the shooting guard. Allen would slot in nicely for the Clippers and his three-point shooting could make for a devastating inside-out game with Blake Griffin.
The Celtics have announced that their offer to Allen is for $12 million over two seasons. Miami can offer three years at the $3 million MLE figure, making a total of $ 9 million which might be enticing to Allen.
However, the Clippers have a full $5 million MLE as they are not into the luxury tax threshold, so their offer could be 3 years and $5 million for a total of $15 million if they need to outbid Boston.
Allen is being heavily recruited by the teams involved. He is visiting Miami Thursday to get a feel for their pitch and the organization. James tweeted a photo of him in a Heat jersey earlier in the week, and sources say that both he and Wade have been in touch with Allen.
Not to be outdone, Chris Paul has also reached out to Allen as well. Though there have been no specific reports, it is fair to assume that Kevin Garnett, Rajon Rondo, Paul Pierce, Doc Rivers and many other members of the Celtics are also making their pitches to Allen who has been a friend and teammate for three seasons.
The decision could come soon, despite all the conflicting reports and the massive amount of information that is involved. Allen said he hopes to make his decision by the weekend.
© Copyright IBTimes 2023. All rights reserved.