Michael Sam Helps Twitter User Who Promised To Buy Drinks For 'Everyone' If Rams Rookie Sacked Johnny Manziel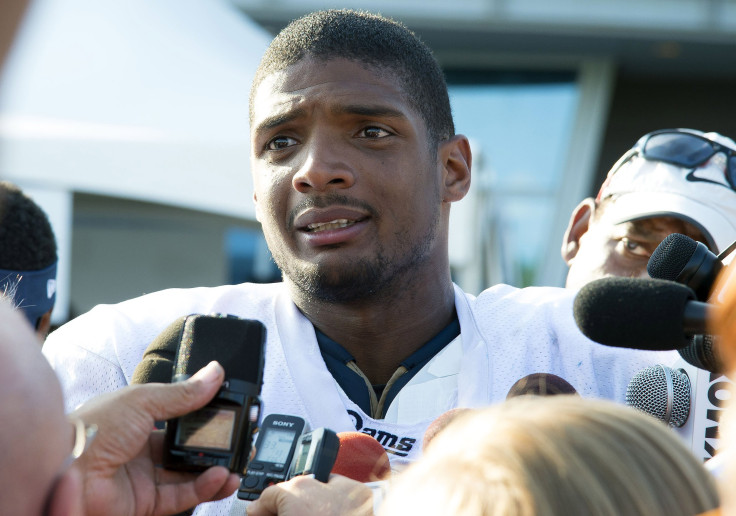 St. Louis Rams rookie Michael Sam bailed out a Twitter user who promised to buy drinks for everyone in the world if the defensive end managed to sack fellow rookie Johnny Manziel during his team's preseason game against the Cleveland Browns on Sunday. The Twitter user, identified by his handle "@SquareKnight" or the name "Fisher King," made the audacious proposal in the morning hours of Saturday, Aug. 23. "If Michael Sam sacks Johnny Football & gives the money sign," he vowed, "drinks are on me. For everyone in the world. Forever."
For the first three-quarters of the Rams-Browns game, it appeared that "Fisher King" would not have to make good on his bet. However, in the game's fourth quarter, Sam beat the Browns' right tackle off the edge and dragged Manziel down for a sack. Sam then rose to his feet and delivered his version of Johnny Football's patented "money sign" celebration.
Though impressed by Sam's feat, "Fisher King" quickly felt the weight of his miscalculation. The Twitter user posted a series of tweets regarding his mistake, including a lament for his bank account.
Before long, Sam found out about "@SquareKnight" and offered the beleaguered fan an alternative. Instead of buying drinks for all of humanity, the Rams rookie suggested that he make a donation to the Boys & Girls Club of Greater St. Louis.
The Twitter user followed through on the charitable donation. Moreover, he referred to Sam as a "class act."
A seventh-round draft pick out of the University of Missouri, Sam has recorded three quarterback sacks and five total tackles this preseason. However, he is considered a long shot to make the Rams' final roster. St. Louis will announce its final roster cuts over the weekend.
© Copyright IBTimes 2023. All rights reserved.