Michele Bachmann: Is Her Campaign for President Finished?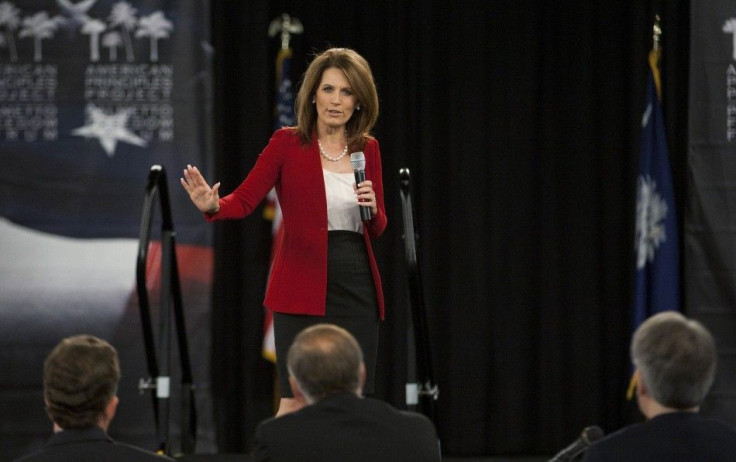 Michele Bachmann was never the frontrunner in the race for the Republican presidential nomination, but until late August, she was a major player. Now, she's barely part of the conversation.
Texas Gov. Rick Perry's candidacy has completely changed the race since Bachmann, a Minnesota congresswoman, won the Iowa straw poll on Aug. 13 -- and it's not just about shifting poll numbers. Bachmann has slipped precipitously in the Washington Post-ABC News poll, from 12 percent in July to six percent this week, but the points alone could be recoverable if she still had a strong base from which to build.
The real problem -- the one that could mean the end of her campaign -- is that she is losing the Tea Party vote.
Bachmann is one of the movement's best-known figures, having founded the House Tea Party Caucus. Given that 60 percent of Republican or Republican-leaning voters called themselves Tea Party supporters in the most recent Gallup poll, strong backing from that constituency could be enough to propel a candidate to the nomination.
The challenge for candidates like Bachmann is what comes after the nomination. Winning the primaries means nothing if someone can't gain broad enough support to defeat President Obama next November, and that has been a deal-breaker for many voters who would otherwise back Bachmann wholeheartedly. She is seen as too polarizing to unite voters outside her base -- a perception backed by several polls that show Bachmann trailing in a hypothetical matchup with Obama. As a result, even her base is moving away from her.
The candidates seen as most likely to defeat Obama -- Rick Perry and former Massachusetts Gov. Mitt Romney, both of whom were statistically tied with the President in the Washington Post-ABC News poll released Wednesday -- are the frontrunners now. Voters are definitely leaning toward more conservative candidates, but perceived electability will probably trump ideology, all else being equal.
Perry, who is a staunch conservative but has never been affiliated with the Tea Party, is now outpolling Bachmann on her own turf. A full 35 percent of Tea Party supporters said they would vote for Perry, compared to 14 percent for Bachmann. For perspective, Romney, whom many Tea Partiers have criticized as too establishment, particularly because of the health care law he supported in Massachusetts, has just as much Tea Party support now as Bachmann does.
She also faces stiff competition from a Tea Party figure who isn't even a candidate: Sarah Palin. The Washington Post-ABC News poll put Palin (who has repeatedly postponed a decision on whether to run for president) ahead of Bachmann, 14 percent to six percent.
If Bachmann can't even maintain her own base's allegiance, she will find it nearly impossible to win the primaries, much less the general election.
In addition to her declining poll numbers, Bachmann has had to contend this week with the departure of both her campaign manager and her deputy campaign manager -- the latest installment in a long history of staff turnover throughout her career in Congress.
It is true that the road to the nomination is a marathon, not a sprint. Frontrunners often change, and in past elections, candidates who shot to the top of the polls early in the game, as Perry did, have often faded. But at this point, it would be a real long shot for Bachmann to pick up the pieces. If she has not surged in the polls by the end of the current round of Republican debates, which kicked off on Monday in South Carolina and continued on Wednesday in California, you can probably count her out.
© Copyright IBTimes 2023. All rights reserved.