'Microplastics' In Great Lakes Pose 'Very Real Threat' To Humans And Animals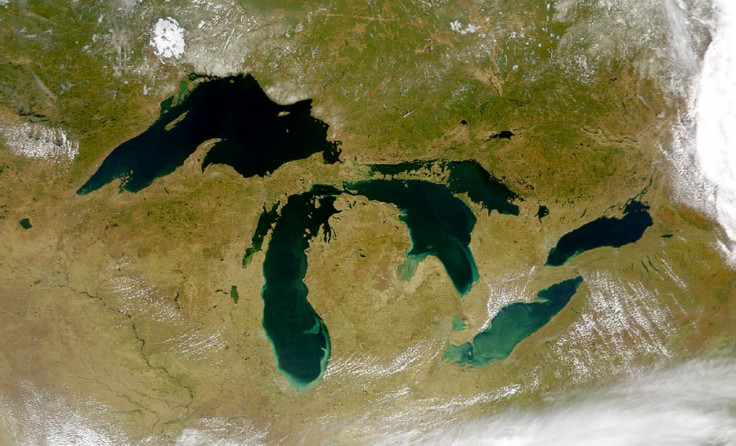 All those "microplastics" – little bits of plastic, some of which are visible only under a microscope, often found in personal care products like face and body washes – are polluting the Great Lakes. Officials are calling on local governments and industries to address the issue of microplastics in our waterways and to adopt measures to keep them from continuing to end up in the Great Lakes.
"Even though you cannot see them, they pose a very real threat to human and wildlife health," John Dickert, mayor of Racine, Wis., and secretary-treasurer of the Great Lakes and St. Lawrence Cities Initiative, told The Associated Press.
North America's great lakes are the largest bodies of fresh water on Earth, and contain one-fifth of all the world's surface fresh water. Over the past few years, scientists have found that the lakes are increasingly polluted with microplastics, which they believe often come from the abrasive "microbeads" used in personal care products. The bits of plastic are so small that they flow right through the screens at waste treatment plants and end up in the Great Lakes, where birds and fish eat them unawares.
"Unfortunately, once they get into the water, they get widely distributed," Sherri Mason of the 5 Gyres Institute, a nonprofit based in California, told the Associated Press. "You can't just go out and filter all the water." Last year, Mason and a team of scientists took samples from all five Great Lakes by skimming the surface with nets.
Analysis of the samples showed plastic bits in Lakes Erie, Huron and Superior, with the highest concentrations in Erie. Two samples from Lake Erie alone contained 600,000 microbeads per square kilometer.
"That's two times higher than any published number from any sample anywhere in the world," Mason told WKBW in June.
In recent years, environmental groups have put increasing pressure on cosmetic and personal care producers to phase out microbeads from their products. Often used as exfoliants in skin care scrubs, soaps and shower gels, microbeads are one of the major sources of plastic pollution because the plastic is meant to be washed down the shower drain.
"I think the companies know that once it gets out to consumers that they're washing their face with plastic, they're going to have a problem," 5 Gyres spokesman Stiv Wilson said in June.
There's even an app you can use to determine if a product you're buying is safe for the environment, or if it contains the dangerous plastic microbeads. Called "Beat the Micro-bead," the app lets you scan the barcode of a product before you buy it and will tell you if it contains plastic microbeads. The "Green" light means it's safe to use. Safer alternatives to the microbeads include grape and apricot seeds.
© Copyright IBTimes 2022. All rights reserved.
FOLLOW MORE IBT NEWS ON THE BELOW CHANNELS