Microsoft CEO Satya Nadella Pledges Cooperation In Chinese Antitrust Probe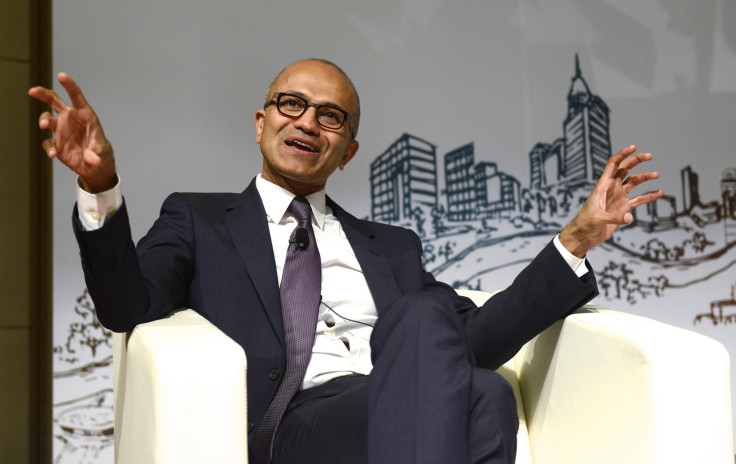 BEIJING (Reuters) -- Microsoft Corp. CEO Satya Nadella promised to cooperate fully with Chinese authorities in their antitrust investigation into his company during a meeting with a top regulator in Beijing, the Chinese government said. Microsoft has been ensnared in an anti-monopoly investigation launched this summer by China's State Administration for Industry and Commerce, or SAIC, which has already seized evidence from multiple Microsoft offices across China and summoned high-level executives for questioning.
Nadella, who took the helm of the world's largest software company in February, met with SAIC chief Zhang Mao Friday in what was portrayed as a conciliatory encounter by the SAIC, one of three antitrust agencies in China.
Microsoft will turn over information requested by investigators in a timely fashion, while the company is confident the government probe will be fair and transparent, Nadella told Zhang, according to an account published on the SAIC website. Nadella also said the Chinese government's regulatory practices helped create beneficial conditions for the growth of Chinese and foreign companies, the SAIC reported.
Zhang pledged a fair and transparent investigation, and he said his agency welcomed Microsoft's questions and suggestions about the investigation, according to the SAIC.
Microsoft declined to comment about the government meeting, but said in a statement it is "serious about complying with China's laws and committed to addressing SAIC's questions and concerns."
Nadella, whose planned visit was first reported by Reuters last month, swung through the Chinese capital as part of his first trip to Asia as CEO. He spoke to students at Tsinghua University in Beijing, where he extolled China as a source of human capital and a vibrant innovation culture, according to the official China Daily.
Nadella is the latest foreign technology-company executive to arrive in Beijing in an attempt to defuse tensions with regulatory authorities, whose muscular enforcement of a 2008 anti-monopoly law has unsettled Western companies.
Qualcomm Inc., which is facing a potentially record-breaking fine, sent President Derek Aberle to Beijing in August to meet with the National Development and Reform Commission, or NDRC, the antitrust agency probing the San Diego-based chipmaker.
(Reporting by Matthew Miller and Gerry Shih; editing by William Hardy)
© Copyright Thomson Reuters 2023. All rights reserved.