Midterm Election Results 2014: North Carolina Sen. Kay Hagan Loses Against Republican Challenger Thom Tillis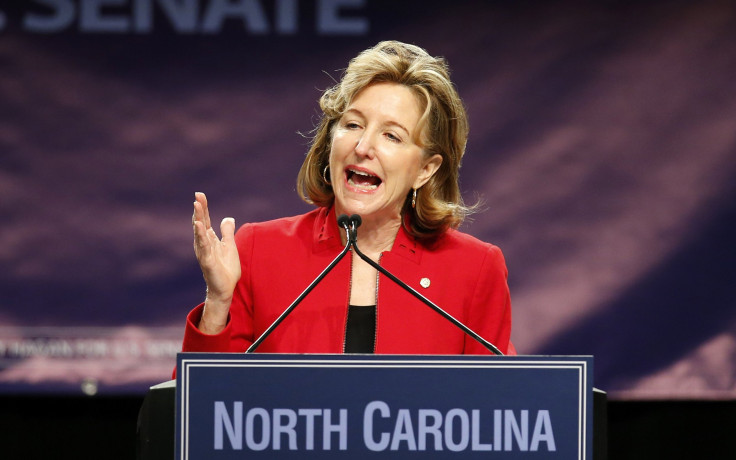 Democratic Sen. Kay Hagan lost her North Carolina seat to Republican Thom Tillis Tuesday, marking a bitter loss for Democrats and a big win for Republicans who made Hagan a top target in their drive to retake the Senate majority and dominate both chambers of Congress. The victory saw Republicans cinch control of the U.S. Senate.
Tillis, a businessman-turned-politician, managed to overcome anti-establishment rivals in the primary and wary support from Tea Party activists. "You can't defeat Kay Hagan with a factionalized (party)," he said at one point, according to
CBS News
.
Tea Party champion Sen. Rand Paul, R-Ky., campaigned alongside Tillis in North Carolina in the final month of the race. Some Tea Party conservatives remained apathetic toward the Republican candidate while others felt they had no other choice. The Tea Party Patriots mobilized volunteers in North Carolina to help Tillis' campaign, after they heavily backed one of his opponents in the primary. "Tillis wasn't our second or maybe even third choice in North Carolina," said Kevin Broughton, communications director for the super PAC Tea Party Patriots Citizen Fund. "There is a chance Thom Tillis won't care about Tea Party folks when he gets into office, but there is a certainty that Kay Hagan won't give a hoot."
Controversial Democratic campaign ads targeting black voters in the final days may have backfired on Hagan. One pro-Hagan ad included a photo of a lynching and a radio ad referred to the killing of Trayvon Martin. Tillis, the speaker of the North Carolina House of Representatives, was portrayed in the latter ad as a candidate who "won't fight for us," referring to the black community.
"Instead, he made it harder for communities of color to vote by restricting early voting and voter registration," the ad goes on to say. "Tillis even led the effort to pass the type of 'stand your ground' laws that caused the shooting death of Trayvon Martin." The racially charged images and language were seen as a desperate effort by the Democratic Party to energize African-American voters in favor of Hagan, who previously served in the state Senate from 1999 to 2009.
© Copyright IBTimes 2023. All rights reserved.