Mike Brown's Family, Pathologist Discuss Teen's Autopsy Results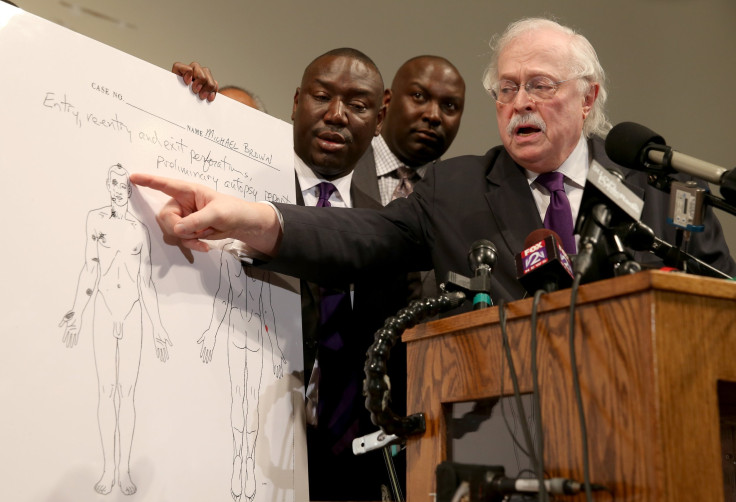 Mike Brown could have survived all of his wounds except for the shot that struck the top of his head, said Dr. Michael Baden during a press conference Monday in Ferguson, Missouri. Baden, a former chief medical examiner for the City of New York, conducted a preliminary autopsy on Sunday at the request of Brown's family. The muzzle of Officer Darren Wilson's gun was at least one to two feet away from Brown at the time of discharge, he said.
Brown's family sought an independent autopsy because they didn't want to have to rely on the results of the autopsy conducted by St. Louis County, said Benjamin Crump, a lawyer for the family. The results of the autopsy completed by the county medical examiner haven't been released.
At least six bullets struck Brown and two may have re-entered his body, Baden said. Three bullets were recovered from the body during the St. Louis County autopsy. Baden added that X-rays will be important in showing where the bullets were before the first autopsy was completed.
There were no signs of a struggle. Baden and pathologist Shawn Parcells said they still haven't had the chance to view Brown's clothing, which they say will provide additional information to their investigation. Parcells also said they were unable to determine the exact order of the gunshots, but they believe the two shots to the teen's head were the last ones.
Brown, 18, was shot and killed on Aug. 9 by a Ferguson police officer, later identified as Darren Wilson. Ferguson Police Chief Thomas Jackson said Friday that the officer who shot Brown initially stopped the teen and another man for walking in the street and "blocking traffic."
U.S. Attorney General Eric Holder on Sunday ordered that an autopsy also be completed by a federal medical examiner. Department of Justice spokesman Brian Fallon said in a statement that the examination "will take place as soon as possible."
Protests have been raging in Ferguson since the teen was killed. A curfew has been imposed in the city and Missouri Gov. Jay Nixon ordered National Guard troops to Ferguson on Monday.
© Copyright IBTimes 2023. All rights reserved.
FOLLOW MORE IBT NEWS ON THE BELOW CHANNELS