Mike Tyson Planning To Get Whole Body Tattooed Up
KEY POINTS
Mike Tyson said he wants to get his whole body tattooed up
Tyson said he is in good physical condition
Tyson KO'd his opponent while his face is still healing from tattoo
Mike Tyson revealed that he is planning to get his whole body tattooed up.
Aside from being feared inside the ring, Tyson also added more attitude to his image by having himself tattooed up in the later part of his career. His iconic face tattoo was loved by most of his fans and in fact, the fierce-looking tat was even highlighted in the storyline of Tyson's hit movie "The Hangover Part 2." However, Tyson admitted that he still wants to get "inked up."
In a recent Zoom video conference interview posted by Fighthype.com, "Iron Mike" said that at 53, he is still in "such good physical condition." And after seeing somebody as fit as him have his body all tattooed up, Tyson started contemplating about getting tattooed up from neck to toe as well.
"Listen, the other day, I was thinking about just getting a tattoo. I'm in such good physical condition. I was just thinking about getting my whole body inked up," Tyson revealed.
"I saw somebody who has his whole body from neck to toe and he was fit like myself and he looked beautiful and I said 'Wow.' He's body was all tattooed out and I thought that was beautiful," he added.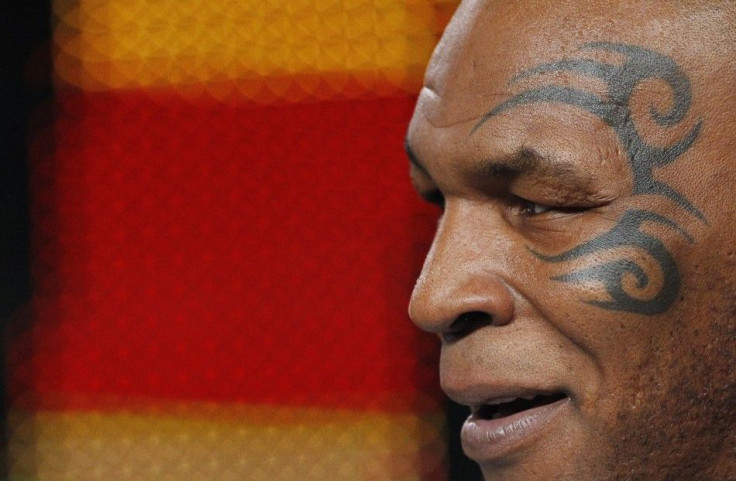 During his prime, Tyson's former coach Jeff Fenech decided to leave the training camp a week before the fight against Clifford Etienne because the former champ decided to have his face tattooed up. In a recent interview with Fox League Live (via BoxingScene.com), Fenech revealed the entire story from his point of view and admitted that he still regrets not being part of the said fight.
According to Fenech, a week before the fight, Tyson didn't show up to training. Instead, he went out to meet a friend who was a tattoo artist and ended up getting a tattoo on his face.
Fenech was so upset with Tyson's decision to skip training for a tattoo. He was certain that Tyson couldn't fight with face still healing from the tattoo. As per Fenech, it was an attempt to skip the fight because Tyson was not really prepared to fight from the beginning. The veteran coach was so disappointed in Tyson that he decided to leave that very night. But even without a coach, Tyson still managed to KO Etienne in the very first round.
"A week later he fought and knocked out Clifford in one round and I was upset. I was happy for Mike that he won, but I was also upset that I had trained him for eight weeks and I wasn't a part of that win," Fenech said.
© Copyright IBTimes 2023. All rights reserved.